Product Test: Orange Seal Tire Sealant
   Orange Seal tire sealant makes some pretty bold claims. Right on the bottle, it claims to be the "lightest tire sealant on the planet" that "clots just like blood." In a world where no sealants we've tested other than Stan's live up to their marketing hype, we had to import some of this miracle goo from the Lone Star State to test its mettle here in the desert of SoCal.
Tech features:
  Orange Seal claims that three par- ticulates in their formula make the sealant clot when the liquid comes in contact with open air. One of the ingrediants is a "nano" particulate taken from NASA ceramic technology. Orange Seal claims this technology allows them to make ultra- lightweight sealant that's able to seal up to 1/4-inch punctures and not clump over time like other sealants. They also claim it is effective for seal- ing sidewall cuts. On a greener note, the sealant is also com- pletely biodegradable. The recommended dosage of 3 to 4 fluid ounces per tire weighed roughly 3.52 ounces. By com- parison, the identical serving of Stan's weighed 3.7 ounces. (Only a 5-gram difference per tire according to our measurements.) An 8-ounce bottle of the sealant can be purchased directly from Orange Seal for $14.99 or through your local bike shop. Check out Orange Seal here.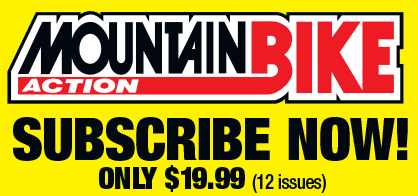 Field test results:
  We put the sealant to the test on a pair of Schwalbe Nobby Nic tires mounted to Mavic CrossMax wheels. The sealant was able to seal the bead of the tire quickly without the need to re-inflate. The neon-orange liquid is very easy to spot and allows the mechanic to notice trouble spots immediately as it seals gaps in the bead. Enough setup, let's ride. We used Orange Seal for about six weeks in the SoCal desert without a single flat, but that doesn't mean much. We regularly go this long without flat tires here. Sometimes when we're testing, we're forced to throw a few parts under the bus in the name of proving claims. In this instance, we were particularly interested in proving Orange Seal's claim that the sealant is capable of plugging 1/4-inch cuts in the sidewalls.
  For this experiment, we simulated a worst-case ride with a cut sidewall and a pinch flat. We used a knife and a section of trail with vicious square-edged rocks. First, we inflated the tire to 40 psi and put a knife straight into the center of the sidewall to make a surgically clean 1/4- inch cut. The sealant was able to plug the hole before the tire dropped past 28 psi. We then took the 28 psi tire and rode deliberately into the square-edged rocks until we got a legitimate sidewall-tear pinch flat. While we lost the remaining 28 psi within minutes, we were able to reinflate the tire and ride again. After several reinflations to get the sealant to fully take hold, the tire is still holding air and remains on our go-to trailbike as a usable tire.
  While our experiment may not exactly replicate real-world conditions, it did prove the claim that Orange Seal is capable of taking care of relatively large punctures, even in the sidewall.
  We noticed after our six-week test period that the sealant had not clumped but still evaporated. We did not find that Orange Seal has any more longevity than its competitors and will need to be replenished just as frequently.
 
  Ultimately, Orange Seal stacks up against the competition, but doesn't surpass it. It's capable of sealing fairly large punctures, and we love the neon color for spotting nanotechnology at work. Orange Seal hangs with the best tire sealant.