Product Test: Park IR-1 Internal Routing Tool
Let's not mince words here. Internal cable routing is something everyone wants but no mechanic wants to deal with. Sure, internal routing is clean, but talk to any mechanic about the subject and he or she will inevitably tell you a story about "fishing" for a cable for an hour and a half. Routing an internal cable is a bit like playing a demented game of whack-a-mole where you're left waiting for the cable to pop out of the hole by chance. Park's IR-1 tool aims to take the guesswork out of internal routing systems for not only shift cables but also electric wiring, brake hoses and any other hydraulic tubing your bike might need.

Tech features:
The IR-1 kit includes three plastic-coated 250cm cables with attached magnets and unique fittings, plus an external guide magnet. Opposite polarity magnets on cables seek and attach inside frame tubes so the mechanic can "drag" the cable or hose to the exact spot needed to complete the cable routing. The routing tool is designed to work with nearly any type of internal routing system, whether road or mountain, mechanical or hydraulic. The Park IR-1 retails for $60.
Field test results: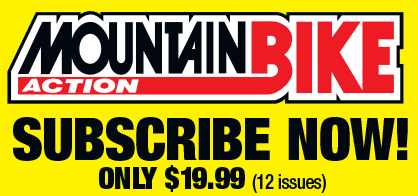 The IR-1 sounds like the type of product you'd buy from Billy Mays as a "fantastic way to route your cables." The magnetic wire system comes with everything you'll need. The only thing missing is the $19.95 price tag, plus shipping and handling and the free tote bag if you order now. We put the IR-1 to the test using a bike that truly needs help with cable routing—the Scott Genius LT tested in this issue. The bike uses seven control cables that are all internally routed.
After a brief consultation with the instruction manual, which felt more like deciphering hieroglyphics than reading a detailed step-by-step process, we dove in. In theory, the IR-1 dutifully guides the hoses through the frame in a two-step process. First, the mechanic uses the powerful magnet to guide one of the "pilot" cables through the frame. Then, once that's through, the mechanic attaches the actual cable to the guide, pulls it through and presto! Automatic internal routing with none of the headache.
http://youtu.be/bS_lrnnCiAw
In practice, the IR-1 does deliver what it promises and ultimately worked on our Scott Genius and several other test bikes; however, the system is not perfect and suffers when tubing shapes and linkages get in the way of "finding the rabbit hole." While the tool certainly makes internal routing less of a headache, we still found ourselves flipping the bike upside down, shaking and tapping, and doing all the typical moves required with an unguided internal routing system. The IR-1 struggles to guide cables and stiff hoses around tight bends and linkages, but that's not to say it's not a required tool for the most dedicated mechanics. The IR-1 makes internal routing bearable, but to say it makes it as easy to deal with as an externally routed system is simply going too far. External routing still reigns supreme for ease of use, but the IR-1 is a welcome addition to any pro mechanic's toolbox as a time and frustration saver when dealing with the internal routing that's become standard on most high-end frames. The IR-1 won't find its way into the toolbox of the average rider due to the $60 price tag and relatively few times most riders change cables, housing, and hoses; however, for the serious home mechanic or professional, the IR-1 is a well-executed tool that makes stubborn internal routing a little more palatable.

__________________________________
THERE ARE SO MANY WAYS TO GET MOUNTAIN BIKE ACTION:

Mountain Bike Action is a monthly magazine devoted to all things mountain biking (yes, that's 12 times a year because we never take a month off of mountain biking). It has been around since 1986 and we're still having fun. You can start a subscription by clicking here or calling (800) 767-0345. Also available from the Apple Newsstand for reading on your iPad, iPhone or iPod Touch.
Contact us via email at [email protected]
____________________________________