Product Test: NiteRider Pro 3600 Enduro & Pro 1800 Race Lights
It's safe to say that lighting solutions for bicycle applications may be the most flooded (sure, we'll take the pun) product category in the industry. With the availability of cheap generic designs, one company after the next can simply throw its name on a piece of plastic, send it out holding a battery and bulb, print an outrageously false lumen output across the side, and they now provide the number-one bestseller on Amazon. Fortunately for us, there will always be companies on the other side of the spectrum who believe in providing the best possible product, all while chasing down the latest technology.
We believe NiteRider is one of those companies, but 25 years of innovation says enough even without our input. Based out of San Diego, California, NiteRider began in 1989 with a waterproof light attached to a whitewater helmet that surfers could wear at night in order to have their favorite surf breaks all to themselves. Now focused primarily on bicycle applications, Night Rider provides everything from small, "visible for safety" lights to powerhouse, "next best thing to the sun" options. With the Pro 3600 Enduro and Pro 1800 Race lights being their most powerful dual- and single-bulb systems, respectively, we decided to put them to the test, side by side, to determine the situations in which each would be most applicable.
Tech features:
Both lights we chose to review are absolutely massive when it comes to true lumen output, which we recently saw tested in a tour of their facility. With their names signifying each light's lumen output, the 3600 Enduro and 1800 Race provide optimal trail illumination for those riding technical terrain for hours on end. The single toggle button atop each lighting head is lit up and raised for straightforward mode selection while riding. Four green lights make up the LED fuel gauge to show remaining battery charge. Whenever an eighth increment of capacity is drained, one of the green lights will go from solid to blinking, essentially showing battery charge in 12.5-percent capacity increments.
Each of the lighting systems includes both a handlebar and a helmet mount for versatility. For those looking to utilize the helmet mount, an extension cord is provided to cover the additional distance into a hydration pack. The lithium-ion battery pack for either light is fully charged within five hours.
When mounting either battery pack to the frame, rubber pads provide a solid connection to the bike frame to prevent frame damage or excessive movement. The 3600 Enduro system, weighed along with the included handlebar mount, came in at 827 grams (29.2 ounces) and retails for $550. The 1800 Race, also weighed along with the included handlebar mount, came in at 511 grams (18 ounces) and retails for $350.
Field test results:
Though we initially mounted the lights to our helmets, we quickly realized they're much more suited for placement on the handlebars. With self-contained lights now being incredibly powerful, lightweight and efficient, we highly doubt we'll ever have wires dangling from our helmets again. Once we made this decision and went with the handlebar mount, it quickly became apparent that NiteRider has developed the most secure method of attaching a battery pack to a bicycle. The rubber is extremely tacky, and the simple Velcro straps provide a reliable hold without excessive weight. We'd like to point out that we don't believe a single handlebar-mounted lighting system is the best solution for night riding. Using both a handlebar and helmet light ensure illumination of the trail while also providing riders with the ability to illuminate their environment or bike. We carried out most of this testing with a NiteRider Lumina 750 mounted to our helmets.
During testing, actual run-times met or exceeded those claimed by the manufacturer in each of the various modes we tracked. During numerous 3-plus-hour night rides with our trusty method of always climbing in the Low or Walk modes and only switching to High for descents, we were only able to drain one down to the low-battery light once. Operation was very straightforward with both, which is what we expect when there's only one button. Holding the button down for a few seconds, from the off position, the lights enter their flashing modes, which is where the 1800 Race began showing its strengths. While the 3600 Enduro offers one flashing mode (NiteRider flash), the 1800 Race provides three flashing modes (NiteRider flash, Beacon and S.O.S.) and an 80-lumen Walk mode. While additional flash modes would be helpful to provide extended run-times in case of an emergency, the Walk mode is one to write home about. We often find ourselves climbing fire roads where we desire the minimal amount of light that will allow us to avoid obstacles without overpowering the natural moonlight around us. Call us romantics, but we enjoy the experience of riding under moonlight when possible rather than under a spotlight.
The lumen output of the 3600 Enduro left us wondering if chirping birds were mistaking us for an early sunrise. Strapping it on our downhill bikes and heading out for a late-night meal of adrenaline, our speed was only slightly reduced from daytime descent speeds. The distance the light traveled enabled us to read the trail much farther in advance while taking high-speed lines. The immediate distance in front of the bike received more than enough light; in fact, contrasts in obstacles and terrain would occasionally blur and become blinding in tight areas or atop pale-colored terrain, such as sand.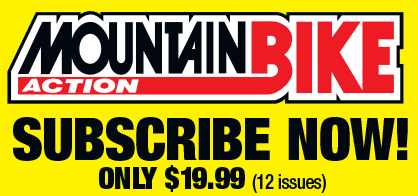 The 1800 Race provided the most well-rounded solution for the greatest variety of night riding. We're not gram counters by any means, but the 11-ounce difference is quite substantial considering all the lengths people go to to drop weight off their trailbikes. The concentrated beam pattern is indeed narrower on the single-bulb 1800 Race, but it still illuminates each side of the trail for peripheral peace of mind every time our spooky night ride leaves us feeling like the bogeyman is running beside us. While the 1800 Race puts out half the lumens of its big brother at maximum output, the amount of trail illumination is still fully adequate for the most aggressive night riding we ever see ourselves taking part in. Having the choice to use either, we grab the 1800 Race over the 3600 Enduro for nearly every night ride. Looking to harness the power of the sun for white-knuckle shuttle loops where weight isn't an issue? Sure, go for the 3600 Enduro, but most riders will find the 1800 Race to be the ultimate system for bringing illumination to their trail rides.
Pro 1800 Race
Pro 3600 Enduro

__________________________________
THERE ARE SO MANY WAYS TO GET MOUNTAIN BIKE ACTION:

Mountain Bike Action is a monthly magazine devoted to all things mountain biking (yes, that's 12 times a year because we never take a month off of mountain biking). It has been around since 1986 and we're still having fun. You can start a subscription by clicking here or calling (800) 767-0345. Also available from the Apple Newsstand for reading on your iPad, iPhone or iPod Touch.
Contact us via email at [email protected]
____________________________________