Product Test: Race Face Next Carbon 2×10 Cranks
  Canada's Race Face went through a rough period, but that had nothing to do with the quality or functionality of the company's products. In fact, the strength of their products is what got Race Face through the turmoil brought on by some bad business decisions. With those problems behind them, Race Face is ready to let products like the Next Carbon 2×10 cranks get them back on the trail.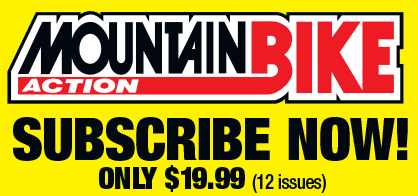 Tech features:
  The Carbon crankarms are manufactured in-house right in British Columbia, a feat that is somewhat rare these days. Three years in the making, engineers at Race Face have taken the time to shave off any unnecessary material without sacrificing strength. The result is that the arms are completely hollow and do not rely on an internal aluminum spine for strength.
  The Turbine chainrings, which come on the Next crankset, are also made in Canada. Race Face claims that the new Turbine rings are three times stiffer than their Team rings without being any heavier and offer better shifting performance.
The crankset comes with their Turbine bottom bracket designed for 68/73-millimeter BB shells. Although if your frame features a BB30 or BB92 design, Race Face has you covered with the available conversion bottom brackets. Our crankset with rings weighed in at 1.2 pounds, with the Turbine BB a mere .19 pounds and our BB30 bottom bracket, which was installed, weighing .26 pounds. The cranks will set you back $649.99. Check out Race Face's website here.



Field test results:
  The Next cranks are a mean-looking pair of cranks. The attention to detail and aesthetics are obvious. The arms and spider are especially stout and seem to scream efficiency.
  The cranks had a tall order ahead of them; we have been running our beloved SRAM XX cranks on our Orbea Alma 29er for a while and were quite accustomed to the stiffness and shift accuracy they provided. Anything less would be noticeable.
  Right off the bat, the Next cranks knocked around 3.5 ounces off of our race bike. We opted for the 38/26- tooth chainring option, which most closely resembled our stock 39/26- tooth setup. However, they offer multiple options as well as a triple version of the crank. While RF's pride-and-joy, 88-gram Turbine bottom bracket comes standard with cranks, we installed the Next SL cranks into a BB30 shell and used their adapter bottom bracket instead.
  Installation was simple, the chainline sat slightly farther out from our stock BB30 cranks, and we made the necessary front-derailleur adjustments and were on our way.
Testing cranks can make you wince at times: shifting under load, awkward gear shifts from big-big and small-small, and shifting through the roughest parts of the trail?basically doing everything we learned not to do when first taking up mountain biking. We do all of this in the name of finding out how well they will perform in the worst conditions.
  Thankfully for us, the Next SLs and their Turbine chainrings were up to the task. Shifting performance is among the best out there. Even while putting out hard efforts to the pedals, the chain effortlessly glided up from the small to big chainring and dropped confidently back to the small ring. This is a testimony to the stiffness of the rings as well as the redesign of the rings incorporating more ramps and pins to aid in upshifts.
Stiffness is a common theme in the crankset that doesn't end at the chainrings. The crankarms feel solid as any on the market while sprinting.While they are not noticeably stiffer than our XX cranks, the similar performance at a lighter weight is impressive.
  Overall, we were very impressed with the performance of the Next cranks, but that performance does come at a price. At $649.99, the Next cranks are expensive. Unless you are building up your dream bike from scratch, you probably won't look to your cranks as the most economical way to shave some weight. However, if you are building your ultimate lightweight rig but are still looking for cranks that can hold up to a beating, these should be on your shortlist.
This review first appeared in our June 2012 issue, subscribe to MBA by clicking here.