Product Test: Rudy Project Protera Helmet
Rudy Project Protera Helmet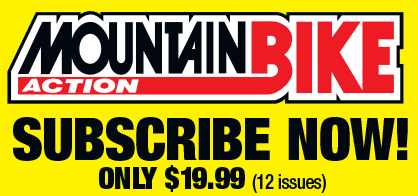 Besides protecting the brain, Rudy Project helmets are also designed to enhance performance. The brand's aerodynamic designs have helped contribute to many time-trial world records in road cycling. What's more, the company's helmets are often the number one choice of athletes entering the Kona Ironman triathlon. With Rudy Project's new Protera model, the Italian helmet maker aims to bring similar well-thought-out benefits to cross-country, trail and enduro mountain bike riders.
Tech info: The overall shape of the Protera is clean and simple. There are no aero-type fins like those that can be found stylizing the rear of other mountain bike helmets. Instead, this MTB lid is rounded— like a human head—offering a very natural appearance. Rudy Project offers the Protera for $200 in four matte finishes: black/white, white/black, blue/orange (think Yeti blue) and orange/white (think Fox Shox orange).
Using an in-mold process, the Protera's polycarbonate shell is made with a polystyrene liner to produce one solid protective piece. Rudy Project's airframe integrates a polycarbonate sleeve in the padding on the forehead to increase air flow and minimize sweating. The helmet's Dry Foam absorbs moisture, and an antibacterial wicking fabric helps keep the scalp dry. Airflow is controlled by 18 vents, with seven vents bringing air in at the front and top of the helmet and 11 other vents letting air exit through the sides and rear.
On the trail: In the dirt, the Protera's visor design could be appreciated by a wide variety of riders in various trail conditions. Fast riders who tend to look further ahead on the trail were able to adjust the visor higher and out of the way—easily accommodating goggles when dusty conditions prevailed. Thanks to the simple twoscrew system with slotted mount holes, the visor could easily be lowered when riding into the sun. Tunability isn't often a term used with a helmet, but the Protera's visor design offers ample adjustments for riders' vision needs.
Our only concern is proper fit. With only two sizes available—small/medium and large—be sure you've measured your head accurately. The RSR9 retention system offers a large range of adjustment, but a gap between your skull and the EPS could reduce the helmet's effectiveness, even when the helmet feels snug. Rudy Project provides a helpful sizing chart to assist with size selection.
Off the trail, the removable chin strap allows for easy cleaning, which is a nicety that we appreciated. Combined with the Bugstop and Freepad, the one-piece shell design made washing all the components of the helmet a much easier process. An additional benefit of the Bugstop screen was keeping hair from poking through vent holes, helping our testers maintain a pro look, even with the messiest of bedheads on that almost-too-early morning ride.