Product Test: Sidi Spider SRS Lorica Shoes
SIDI SPIDER SRS LORICA
Shoes that make your feet fly
Sidi, the world's most recognizable name in cycling shoes, has seen increased competition from their traditional rivals as well as from bike companies like Specialized and Scott. The $360 Spider SRS Lorica is their way of dealing with the competitors nipping at their heels.
Tech features: The Spider SRS Lorica uses a nylon sole, breathable Lorica microfiber upper with cooling mesh panels, replaceable tread, an integrated rubber toe guard and a molded Sidi heel cup. Each shoe's retention is accomplished with a two-way ratchet buckle that snugs Sidi's "Soft Instep Closure System" and two hook-and-loop-style soft closures. The shoes come in black or white in a range of sizes that will fit pretty much any rider's foot. Each of our size-10.5 shoes weighed 13.7 ounces without cleats. You can reach Sidi at ?(831) 883-4800.

Field test results: Sidi has had 52 years to refine their shoes' fit, and you can't help but feel this history when you slip them on. The Spider SRS Loricas are compact and minimalist. Our size 10.5s (44s in Sidi speak) looked small (until we slipped them on). There is no wasted material, and the shape of the insole's padded Instep Closure System and padded tongue work together to give you the impression that the shoe is custom-made for your foot. The retention is both secure and comfortable. Speaking of retention, the redesigned caliper buckle takes some design cues from the original (introduced in 1989), but gone is the maddening release mechanism that would get locked with trail debris. In its place is a new system that never packed up on us, was easy to adjust and easier to release. The non-clog feature is important, because at almost 1/2 inch in thickness, the buckle is susceptible to being hit by trail foliage. Another welcome feature is the rubber toe guard that protects the toe-cup area during hike-a-bike sections. Speaking of hiking, Sidi has made a running change to a firmer durometer for the replaceable-sole knobbies. That's another great idea, because while the older versions gripped like a climbing shoe, the rubber wore down quickly.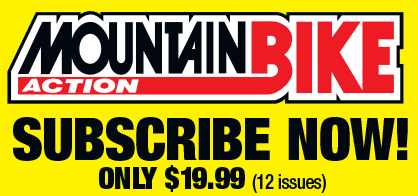 The real proof of a great shoe is how it feels while you're hammering along, and the Spider SRS Lorica delivers. We chalk this up to the shoes' incredible fit. Instead of the clunky ski-boot feel of many cycling shoes, the Spider SRS Loricas feel like slippers'slippers that can take a lot of abuse. They feel incredibly light, which makes you feel faster. The soles are stiff enough for a World Cup racer but forgiving enough for a weekend warrior. The heel cup keeps your heel from lifting, even during hike-a-bike sections, where the sole gives just enough so you don't feel like you are walking on ice. The more hours we put on the Spiders, the more comfortable they became (and that's saying a lot, because they were comfortable from the start). One final note: If you are worried about dirtying the white version, have no fear; the shoes clean up easily with a little soap and water. Unless you ride in red clay, you shouldn't have a problem keeping them looking great.
Reprinted from our January 2012 issue. Like us on Facebook