Product Test: Spank Spike Race Stem and 777 Evo Handlebar

Good vibrations: Spank knows that simply building the widest bar isn't the way to build the best bar. The Spike 777 EVO's wide profile and shape feel perfect right from the start. It also feels better at damping vibration than other aluminum bars we've tested.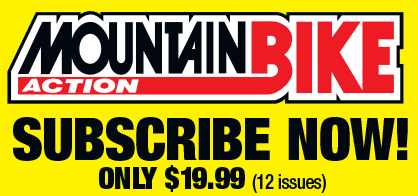 Spank first launched about a decade ago as the brain-child of South African designer Gavin Vos and German distributor Sven Mack. They sought to design upgraded components optimized for weight, performance and straight-up style. They're adrenaline junkies at heart, and the company is named for the first adrenaline rush every person gets when he or she comes into this world. 
Tech features:
Spank builds the 777 handlebar with their Super Six alloy, and they CNC-bend the bar on three planes to deliver a 4-degree up and 8-degree back geometry in four different heights from 0 degrees to 50 millimeters of rise. The array of options is designed to satisfy everyone from dirt jumpers to 29er trail riders. Spank recognized early on that riders were asking for wider and lighter bars. In response, they developed the Dual Extreme Gradual Taper with Impact Ends technology. This process optimizes the spread of material across high-stress areas and saves weight where it's not needed through FEA (Finite Element Analysis.) 
The Spike Race stem is forged into two different lengths to match the short and wide style of modern trail, all-mountain and downhill bikes. It's available in 35- and 50-millimeter lengths with a 0-degree rise in four colors to customize your ride. The stem also features a nifty snap-fit top cap. Our test bar weighed 11.2 ounces, and the stem weighed 5.6 ounces. The combo will run you a cool $120.

An add-nothing feature that adds a lot: The snap-fit top cap on the Spike Race stem looks just plain trick. The rest of the stem also works pretty well, as long as you're okay with a short and stiff setup. 

Field test results:
The Spike Race bar and stem are rock solid when it comes to construction quality. Just be sure you're ready to ride a bike with the short and wide setup.
The stem is fairly lightweight for its intended use, but it's only available in the shorter sizes for now. It worked well with our Intense Tracer test bike, but that's only because we prefer an ultra-stiff, shorter cockpit setup for a 6-inch trailbike. If you're looking for something longer, Spank also makes their Oozy stem, which is available in lengths up to 80 millimeters. If you're looking for something longer than that, look elsewhere. Our favorite feature of the Spike stem is the snap-fit top cap, which provides a seamless, smooth and aesthetic addition to your cockpit. Our only gripe with this system is that the steerer tube must be trimmed perfectly to use it, since the integrated top cap prevents the use of any spacers on top of the stem. If you plan to use the snap-fit cap, be sure your measurements are perfect before installing it.
The 777 bar is 30.5 inches wide, and we rode it at full length for the duration of the test. The 777 provides a stable platform with plenty of stiffness and without being so rigid that it vibrates your knuckles like they're in a rock polisher. We appreciate the extra material in the ends of the bars to keep them from crushing in a crash—although, fortunately, we didn't have to test that feature firsthand. Know that if you plan to cut the bars down, you will also cut off this feature. 
This bar and stem will be right at home on any gravity or heavy-duty all-mountain bike and provide a stylish, custom-looking upgrade.