Product Test: Spank's 760 Oozy and Spike 800 Vibrocore handlebars
The most important contact point with a bike is the handlebars, so why not choose bars that not only feel comfortable but provide a better ride? Spank's new Oozy and Spike Vibrocore handlebars are designed to reduce arm and hand fatigue by minimizing vibrations traveling from the terrain to your hands. This sounded too good to be true, so we grabbed one of each to see how effective the technology was at handling all-mountain and downhill riding.

Tech features: Vibrocore technology involves using a low-density, foam-like substance that fills the inside of the handlebar. The material is designed to dampen impacts felt through the handlebar, thus reducing vibrations that typically lead to hand and arm fatigue. Vibration frequencies travel well through dense materials such as the aluminum alloys that most handlebars are made from. Since Vibrocore is low density with many boundary layers, vibrations are diminished, reflected and refracted as the energy waves travel through the handlebar, reducing the degree of vibration that makes it to a rider's hands.
This technology is available on Spank's Oozy all-mountain handlebar and their downhill-specific Spike handlebar. The Oozy Vibrocore handlebar is 760 millimeters wide and weighs 235 grams, whereas the Spike Race800 Vibrocore handlebar is 800 millimeters wide and weighs 325 grams. Both bars have a standard 31.8-millimeter clamping surface, 15-millimeter rise and cost $99.
Field test results: With the Spike Vibrocore handlebars measuring 800 millimeters wide, we mounted them to one of our downhill sleds to put their hand-saving claims to the test. The Oozy handlebars, on the other hand, are designed for the all-mountain and trail crowd, so we installed them on an enduro bike to see how effective the damping technology was. What we discovered surprised us.

The Oozy handlebars looked great with their deep-red finish, and they bolted up nicely to our test mule. These bars had a very competitive weight and a natural-feeling bend; however, we didn't notice anything special about them when we first hit dirt. The Oozy handlebars felt similar to others until we pointed them down hard-packed trails with years of embedded braking bumps. That's when we noticed a difference. The handlebars had a subtle way of taking the edge off trail chatter without losing the feedback from the ground. The improvement wasn't huge, but it was noticeable. The Oozy handlebars made for a great companion on the trail.
The Spike 800 Race handlebars were a different story, though. From the moment we first dropped into our favorite downhill run, we immediately noticed a difference. The Vibrocore technology didn't take away the feel of the terrain but still reduced the hand-jarring distractions of it. We believe we were able to notice the extra damping of the Spike handlebar over the Oozy's, due to the extra amount of material within the handlebar. The Spike handlebars just might be our new favorites for the choppy trails we ride.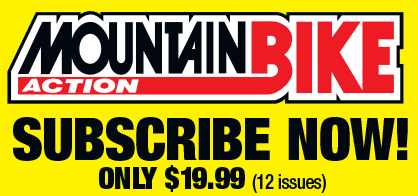 Overall, we were impressed with both Vibrocore handlebars from Spank. The Oozy bars came in at a competitive weight, had a neutral bend and minimized some of the trail chatter at our hands. The Spike handlebars offered even more comfort on the trail, and the 800-millimeter width felt very natural on technical descents. We were definitely impressed with the performance of these handlebars and the extra fun they added to the ride by keeping our hands feeling fresher. At $100 each, we would recommend either of these handlebars to our closest friends.
__________________________________
THERE ARE SO MANY WAYS TO GET MOUNTAIN BIKE ACTION:

Mountain Bike Action is a monthly magazine devoted to all things mountain biking (yes, that's 12 times a year because we never take a month off of mountain biking). It has been around since 1986 and we're still having fun. You can start a subscription by clicking here or calling (800) 767-0345. Also available from the Apple Newsstand for reading on your iPad, iPhone or iPod Touch.