Review – Bontrager Rhythm Trail Shoes
Whether you're riding clipped in or with flats, a good pair of shoes is important. Bontrager has been producing a broad range of soft goods for several years and has a good reputation for high quality and design. While cross-country racers are looking for the lightest and stiffest shoes, and downhill racers want traction for their flats, the Rhythm shoes fall somewhere in the middle. We put these shoes to the test over hundreds of miles of trails—from XC to all-mountain—to see if they could handle a full season of abuse.
Tech info: The Rhythm was designed to handle a broad range of trails and riders—from cross-country to enduro. While the needs of these riders may vary, the Rhythm has a versatile design that will work for gnarlier terrain, days that require more pedaling or even some hike-abike sections. Bontrager uses a single Boa closure system and one-piece tongue that covers the whole front of the foot for a comfortable and secure fit. For a little extra security, Bontrager built in a single Velcro strap just above the toe box. Adding to the comfortable fit is Bontrager's inForm insole that offers good arch support and cushioning. To keep up with the rigors of more aggressive riding, there is Tachyon rubber on the outsole and heel cup. The Tachyon was designed to be tough to offer some protection but also grip when hiking bits of trail. Bontrager's GnarGuard offers a little extra protection for the toe box and front part of the shoe. The GnarGuard material thins out as it progresses towards the back of the shoe to allow for some ventilation and breathability while offering some ankle protection from the crankarm. Bontrager offers the Rhythm in half and full sizes and two color options. Our test shoes weighed 435 grams and sell for $180. You can find them online at www.trekbikes.com or at your local dealer.
On the trail: Slipping the Rhythm on for the first time, we were impressed with the low-volume, snug fit. It required a little more finesse to put them on and take them off, but once the shoes were on and the Boa tension dialed, they felt very comfortable. We played around with the Velcro strap but didn't really feel that it affected the comfort of the shoes in a noticeable way. The insoles were ergonomic and offered plenty of arch support for more of our test riders. We installed a trusty pair of SPD cleats and had plenty of adjustment forward and back to dial in our fit. The cleats sit fairly shallow and made for a comfortable contact between the pedal platform and the outsoles. Putting power down into the pedals, the Rhythms were surprisingly stiff compared to other trail shoes we have tested in the past. The contact between the pedal platform and sole didn't create any hot spots for our test riders and gave them a good amount of traction. The built-in ankle protection was comfortable and didn't rub against our socks, cause blisters or irritation, even after long rides. After a few months of riding, the GnarGuard material and Tachyon outsoles showed some wear and tear but didn't look like they were completely falling apart. We did notice that the enclosed toe section of the Rhythm didn't allow for as much ventilation as we would have liked on hotter rides, but the added protection was a bonus. These shoes cost a few more dollars than some other options, but are more durable and have more protection. The Rhythms are a solid pair of shoes that will do just about anything.
Hits
• Snug, low-volume fit
• Stiff enough for longer rides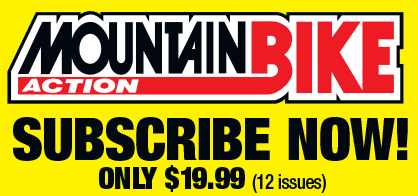 • Ankle protection
• Good traction when walking
• Ergonomic insoles
Misses
• Tough to put on
• Not as durable as we'd like
• Boa gets clogged with dust