Review – Crank Brothers Stamp 3 Pedals
Crankbrothers, located in Laguna Beach, California, is well known for its famous Eggbeater pedals, which have been used by top-level pros competing in everything from downhill to cross-country racing. Although the company prides itself on its unique clip-in design, Crankbrothers is no stranger to building flat pedals. The Stamp collection was introduced to us during Crankworx Whistler when we sat down with the folks at Crankbrothers to talk shop. The goal of the new Stamp collection was to offer two different-size pedal options, small or large, to better fit more riders. Crankbrothers called in the help of its most famous rider, Danny MacAskill, to provide input during the development process. The Stamp collection is sold in a few different models, starting with the Stamp 2 and going up to the premium-level Stamp 11 pedals. MacAskill, the humble guy that he is, chose the mid-level Stamp 3s to become his signature pedal over Crankbrothers' top-tier pedals. We figured if the Stamp 3s were good enough for Danny, then they were more than likely good enough for us.
Tech features: We received two pairs of Stamp 3 pedals so that we could put both sizes to the test. The small pedals are optimized for riders with a shoe size between 5 and 10, while the large pedals are designed for shoe sizes 10 to 15. The Stamp 3 pedals are one step above the entry-level Stamp 2 pedals, which sell for $80. The Stamp 3s feature a 6061-T6 aluminum body that measures 114 x 111 millimeters for a large pedal and 100 x 100 millimeters for a small pedal. The spindle is made from forged chromoly steel and features enduro cartridge bearings with Igus glide bearings. Both the large and small pedals have 10 adjustable pins per side, and Crankbrothers backs these pedals with a five-year warranty. Our pair of small Stamp 3 pedals weighed in at 410 grams, while the large weighed 460 grams. The Stamp 3s can be purchased in three different colors, including a black or blue option, as well as Danny Mac's signature-edition silver color. All three colors are available in size small or large and share the same price of $100.
Field test results: For most riders, it should be easy to choose which size pedal will work best based on shoe size, but one of our testers fell between the two recommend sizes, so we challenged him to find out which option suited him best. The rider spent time with both pedals and found strengths and weaknesses with each. He began by testing the smaller pair, which felt really small but offered enough support to keep him feeling confident. The advantage of the small pedals was that he could squeeze past rocks without fear of clipping them. The pins offered great grip, and although these pedals were on the verge of being too small, they provided enough of a platform to keep the rider in control. The large pedals offered sightly better traction, thanks to their bigger platform, which also allowed the rider to more easily weight the pedals through rock gardens or while blasting through turns. The bigger pedals, however, were more likely to strike obstacles on the trails. Our tester soon began to feel like Goldilocks, complaining that one pair was too small while the other was too large. Our verdict on the overall performance of these pedals was that they worked well, offering a tacky connection between a rider's shoes and pedals. They also held up well, and with a five-year warranty, you're bound to get your money's worth. At the end of the day, we would recommend the Stamp 3s to riders who have struggled to find pedals due to their feet being too big or too small.
Hits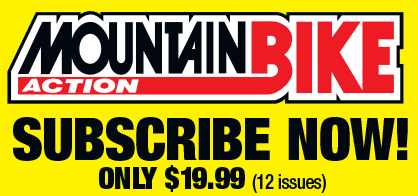 •Size options allow riders to pick a pedal to better fit their shoe size
•A variety of colors available
•Great traction and durable design
Misses
•Some riders may want an in-between size