Review: DT Swiss FR 2350 Wheels
DT Swiss built this wheelset for serious downhillers who aren't afraid to ride wide open. The FR 2350s were developed on the World Cup race circuit with the Santa Cruz Syndicate Team, and Sam Hill. The FR 2350 wheels are sold indivi- dually. The front sells for $461, and $623 for the rear.
Tech features: The red DT Swiss' FR 2350 wheels feature a 20-millimeter thru-axle front hub, and rear wheels are available in three different sizes: 135×10-millimeters, 135×12-millimeters, and 150×12-millimeters. The wheelset we reviewed features the standard front wheel and a 150×12-millimeter rear wheel. The 32-spoke front wheel features three-cross lacing, DT Pro Lock brass nipples, stainless steel cartridge bearings and is available with a DT Swiss conversion kit with a DT Swiss Thru-Bolt. Our FR 2350 front wheel weighed 2.35 pounds. The 150×12-millimeter FR 2350 rear wheel features DT Swiss' Ratchet System freehub, stainless cartridge bearings, and utilizes a 12-millimeter thru-axle. Our triple-butted, 32-spoke rear wheel weighed 2.8 pounds, and, like the front wheel, can be converted to DT Swiss' 10-millimeter Thru-Bolt axle. The FR 2350 wheelset includes rim tape, a wheel bag and centering, too, plus it comes with a two-year warranty. DT Swiss USA, (970) 242-9232.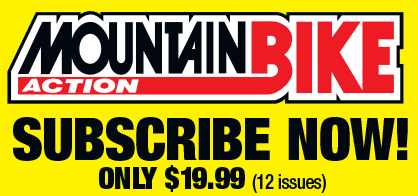 After the thrashing: After months of punishment from riding downhill trails all over Southern California and racing at Bootleg Canyon in Boulder City, Nevada, there were only slight dings in the rim. On more than one occasion during a downhill run we thought, 'Uh, oh, there was the hit that's going to ruin this wheel,' only to get to the bottom and find it in perfect condition. These experiences gave us the confidence to pin it run after run in training and not be worried when the time came to put down a race run.
Downhill-specific tires have ultra-burly casings and can be a headache to mount. They often require a motorcycle tire lever. We had no problem mounting downhill tires from Maxxis, Kenda and Specialized to the FR 2350 wheels.