Review – Henty Enduro Pack
Jeremy Grey and his childhood friend Jon Gourlay founded Henty in 2012 after struggling to find a solution for transporting business clothing to and from the office. The Tasmania-based company later added to its range of commuter and travel bags with the Enduro backpack, which launched in September of 2017. The Enduro back- pack draws inspiration from military ammunition belts, where the majority of weight is carried down low. The weight of the pack is then supported using a shoulder harness and helps keep riders cool with its breath- able mesh construction. Call it a backpack or call it a fanny pack, Henty designed this new carrying system specifically for enduro and trail riders. For that reason, we invited Henty's Enduro backpack into this month's issue of Mountain Bike Action to see first- hand if it could compete with our most trusted hydration pack.
Tech features: The Enduro backpack closely resembles a fanny pack but features a full shoulder harness with additional storage. Henty constructed the pack from a tough Cordura 500D nylon, ensuring ruggedness and light weight. Henty then designed the shoulder harness with a mesh back for breathability and a zipper pocket perfectly sized to fit a lightweight rain jacket. The pack itself is full of storage pockets inside and out and is compatible with most 3-liter hydration bladders; however, a bladder is not included. Henty claims the Enduro pack weighs 550 grams (empty) and has 5 liters of volume for storage. The chest and shoulder straps are fully adjust- able to ensure a comfortable fit, and Molle webbing was added to the outside, allowing riders to store items such as food that they want easy access to while on the go. Henty sells the Enduro pack on its website for $110. The camo color option is $130. Hydration bladders are sold separately; however, Henty claims the Enduro pack is compatible with CamelBak's Crux and Antidote reservoirs.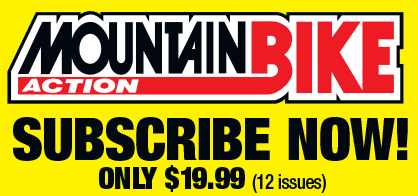 Field test results: The Enduro backpack blends the benefits of a hydration pack's supportive straps with the airflow of a fanny pack. Our testers tossed a CamelBak Crux bladder into the pack and found it fit quite well. The harness offers a comfortable fit that's adjustable for all different shapes and sizes. The pack has lots of volume for storing essential trail items and has a low center of gravity. The zipper storage pockets inside offer great organization, and the Molle webbing loops allow for bars and other food items to be placed on the outside of the pack, making them very easy to access. The pack fits securely, even when bouncing around on rough trails, and it breathes better than any other hydration pack we've worn. This backpack/ fanny pack hybrid may not appeal to every rider, but its comfortable fit and its ability to carry everything you need makes it a great option for any trail or enduro rider looking for a new way to carry their goods. ❏