REVIEW: ORTLIEB SEAT-PACK AND FRAME-PACK RC WATERPROOF BIKEPACKING BAGS
Solutions for your next adventure
If there is anything you'll learn about bikepacking it is that there are hundreds if not thousands of ways to go about taking a journey. Luckily, it can be done no matter your situation with a little creative planning. While everyone has their own way and suggestions to make for a better riding experience, there are no set rules on what a rider "must" have. Gear is and will always be a part of the conversation even if you are just an overnight traveler or multi-day wanderer. Since 1982, Ortlieb has delivered equipment for carrying what you need on your bike. Their target has remained the same since the beginning: "individuals who actively spend their leisure time in nature should feel independent from all facts they cannot influence; in other words, from the weather."
Tech features:
Ortlieb's Frame-Pack RC top tube bag is intended to give a rider the option of storing an additional water bottle and other essential gear inside. This roll closure pack is waterproof and meets the IP64 standard to keep items fully protected. It is important to note that the roll closure must be rolled at least three to four times in order to meet this requirement. The top tube option weighs in right at 200 grams with a 4-liter volume storing capacity. It is also rated to take a hefty 3-kilogram (6.6-pound) load, making it ideal for tent poles, lots of food and heavier tools. The RC top tube bag is customizable with three positionable hook-and-loop fasteners for mounting to the top tube of the frame. The other two straps can also be repositioned for the saddle and down tube.
Their latest Seat-Pack is also waterproof with a rolling enclosure but features a nifty little air release valve that allows a rider to easily purge the pack of trapped air. This also lets a user achieve a tighter compression over the items packed for a more secure attachment. The Seat-Pack also features a stiff PE inner liner for support, elastic cord fixture on top for quick storage, heavier duty fabric near saddle mounting location, and catchy 3M Scotchlite reflectors. Unlike the Frame-Pack, the Seat-Pack comes in two sizes: 11 or 16.5 liters. The smaller pack has a variable volume between 4.5 and 11 liters with a 3-kilogram (6.6-pound) capacity, while the larger choice has between 8 and 16.5 liters with a 5-kilogram (11-pound) recommended capacity. The good news is, there is only a $10 difference between the two choices when deciding what is best for you.
Field test results:
While the RC top tube pack can fit on a full-suspension bike, it's best to double (or even triple) check Ortlieb's measurements in comparison with the space you have at the front triangle of your frame. We found this pack to be best used on a full-suspension bike with a vertical shock placement. There needs to be just enough space above the top shock mount/linkage for the rear strap of the pack to be secured around the seat tube. There were some horizontal shock placements where the bag would fit, but unfortunately, there would typically be some interference when the suspension cycled through its travel.
The Seat-Pack install is painless for those with a rigid post. If you are like most modern mountain bikers, you likely have a dropper post so there are a few things to take into account. First, the lower straps will need to wrap around the seatpost stanchion so you will lose some of the travel. Second, if you are using the Seat-Pack on a full-suspension bike, it is best to check the clearance you have between your rear tire and the bag when bottomed out. To do so, gear up the pack, drop the saddle (if you have a dropper post), and let the air out of the rear shock so the shock is bottomed out. It's rare, but there is potential for the pack to get sucked into the rear wheel if this step is not checked beforehand and taken into account. Ortlieb does offer a seat pack that is meant for a dropper, but we opted to see how this option would stack up.
Even in pouring rain both Ortlieb bags kept our gear bone dry. Our favorite feature on the Seat-Pack was being able to compress the pack tightly, thanks to the one-way air valve built in. To help distribute weight we mostly used the Seat-Pack for clothing, a sleeping bag, and other compressible gear. When packed with heavier/bulky items, their weight will be a noticeable since it's high on the bike. Bottom line, the Seat-Pack is not for everyone given the clearance limitations and weight distribution, but it does hold an advantage of utilizing available space somewhere besides the frame or handlebars.
A rolling closure is not something new to our wrecking crew for a top tube pack and we have to say, it's great to have and functions wonderfully for complete waterproof protection. We like top tube bags with zippers for quick access, but sometimes moisture will creep in if not fully closed. And we've had dirt and mud foul zippers before too. Since the roll closure is not as quick to access as zippers, we'd intentionally make sure that items stored in this compartment did not need to be grabbed while riding. When loading and unloading the pack, the roll closure also gives you much more room to see and organize belongings than a traditional zipper design. Yes, we would've liked to see more size options so there is a wider compatibility range for full-suspension bikes, but no matter how much or how little gear we packed into the Frame-Pack, weight distribution never felt shifty or would throw us off course when maneuvering the bike. We could see a rider going with a handlebar pack to maximize storage options for longer treks, but overall, these two options are a great combo for hauling overnight gear on a bike-packing journey. These bags might seem like a big cost upfront at first, but if more adventures are on the horizon, these Ortlieb bags are a worthy investment towards long-lasting and reliable pack solutions. 
FRAME PACK
HITS: 
• Roll closure for waterproof protection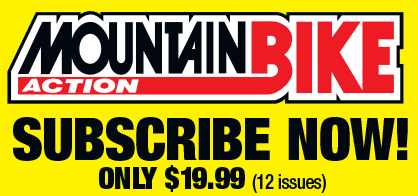 • Fits most full-suspension frames with vertical shock
• Evenly displaces weight
MISSES:
• Only one size is available
STAR RATING: ★★★★½
SEAT PACK
HITS: 
• Air-purge valve
• Sturdy/secure with no sway during riding
MISSES:
• Clearance for a dropper post and full-suspension platforms
• Top-weight motion while cornering
STAR RATING: ★★★★
Volume/weight: 11L: 345g (12.2 oz.), 16.5L: 430g (15.2 oz.), Seat-Pack; 4L: 200g (7 oz.), Frame-Pack RC
Price: Seat-Pack $170–$180:
Frame-Pack RC $160
Contact: www.ortlieb.com