SEA OTTER CLASSIC: DAY 1 HIGHLIGHTS
ALL OF THE BEST FROM THE 2021 SEA OTTER CLASSIC
SEA OTTER CLASSIC: DAY 1 HIGHLIGHTS
Day One of the 2021 Sea Otter Classic was slightly smaller than originally anticipated, but there was still plenty to see and explore! Spectator attendance was casual today, making it simple for our wrecking crew, with no need to push through others on the way to meetings. It's been a blast to see our friends and fellow riders after a wild end to the season. Typically this all kicks off at the start of the season, but so far, having the event in October has been great to reconnect and check out the latest updates. Kicking off our time here, we visited FOX Racing, TASCO, Manitou, WTB, Propain, and Giro for their latest updates. Make sure to follow us along for all the up-to-date info of the 2021 Sea Otter Classic!
FOX RACING – ALL-NEW MAINFRAME HELMET
We got to sneak peek at what is to come from Fox Racings' new clothing lineup along with details on their latest helmet – Mainframe. Priced at $89.95, the Mainframe with MIPs is an affordable helmet featuring extended coverage to protect more of your head. This new lid has a lightweight fit, with decent airflow for the price, and is designed to wick moisture away with a washable liner. Overall, great protection at a price that'll keep your wallet at ease. – www.foxracing.com
TASCO
New to the TASCO lineup, the Scout Pants are constructed with the same durable fabric as their Scout Shorts but feature two side pockets that double as ventilation ports. What sets these apart from your regular mountain bike pants is that the Scout is made with REPREVE which is a Recycled Fabric. The Scout Pants are constructed with 90% REPREVE and the rest is a 4-way-stretch polyester-spandex blend made from recycled plastic bottles. Coming in at $135 they are also a very value-minded set of trousers for a comfy fit on and off the bike. – www.tasco-mtb.com
HAYES
Hayes Bicycles, essentially, is the umbrella for its sibling brands – Manitou, Reynolds, SUNringle, and ProTaper. With all these brands together, they have created harmony in target categories. As an example, with their Enduro line, the wheel options are from either SUNringle or Reynolds, with suspension by Manitou, brakes from Hayes, and, to top things, off bars and stem by Protaper. This is done for every category with its brands and components. We could go deep with lots of info, but at the end of the day, there are some noteworthy options you might not have heard of before checking out our video/overview above. – hayesbicycle.com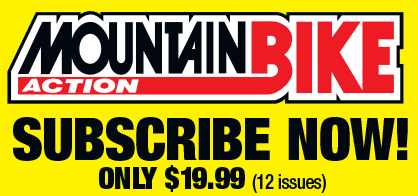 PROPAIN BICYCLES IN THE US
Well known as a European brand, Propain will now offer its direct-to-consumer mountain bikes here in the United States. They will begin with only a few models (Tyee, Spindrift, and Hugene) with limited customization until they are able to fully match what is offered on their EU site. We are excited to see what else Propain has in store for the future as they begin to venture across the pond. Also, if you are attending the show, stop by their booth for a chance to win a frame. – www.propain-bikes.com/us/
WTB – NEW VIGILANTE & VERDICT
WTB has updated two of its most popular enduro tires – the Vigilante 2.5 and Verdict 2.5. These already great loose-condition tires get even better with new knob shaping and redesigned siping to reduce knob flex, increase cornering support and extend tread life. Tread profiles also feature a smoother transition from center to side knobs for better cornering predictability.  The other big update to WTB's mountain bike tire line is the addition of SG2 puncture protection to all TCS Light single-ply mountain tires. This bead-to-bead lightweight nylon layer defends against punctures and pinch-flats. It also provides improved sidewall stability and overall tire support without the weight associated with WTB's TCS Tough dual-ply casing. WTB mountain tires with SG2 puncture protection start at a retail price of $76.95. These updated WTB tires will be in shops and online at WTB.com in the coming months. More details over at MBA's First Look of WTB's Newest Tires
GIRO – LATCH SHOES
These all-mountain flat pedal shoes incorporate a new Mute Foam midsole technology designed to silence your ride. They also feature an innovative Tack Rubber outer sole compound that works with the Mute Foam with the intent to increase foot to pedal contact, grip, and rider stability. Additionally, Latch features a breathable microfiber upper, hydrophobic structural inners for quick-drying, and minimal seams that add durability with a sleek look. The Giro Latch mountain bike shoe is available from authorized Giro retailers and www.giro.com for $150. Our wrecking crew has yet to spend any time on this latest pair of shoes, but be sure to keep a lookout for a full breakdown in an upcoming review!
FOLLOW US ALONG FOR MORE ACTION
---
FOLLOW US ALONG FOR MORE ACTION
MOUNTAIN BIKE ACTION MAGAZINE