Our September 1998 issue featured a ton of '99 bikes and products that were ready to hit the bike shops. Besides the test of the Cannondale Fulcrum DH seen on the cover (with test rider Christ Hartwig in the saddle), there were numerous other stories of interest. 
Brian Lopes was in his racing prime back then. He narrowly beat John Tomac to win the NORBA National downhill at Big Bear, California, one of the biggest races in the country.
We featured some of the rising junior and U23 racers, including future downhill champ Kathy Pruitt, then 15. She had become a pro motocross racer first at 13, then took up mountain biking the next year and was racing pro downhill at 14. Among the other young riders mentioned in the article were future superstars Jeremy Horgan-Kobelski (a multi-time national champ), France's Miguel Martinez (the 2000 Olympic gold medalist) and Australia's Cadel Evans (the future World Cup champ and Tour de France winner). 
We also highlighted 10 cool spots to ride in hot weather. Among the places mentioned were Mount Pinos and Mammoth Mountain in California; Lake Tahoe, which lies on the border of California and Nevada; the Snake River in Oregon; Helen, Georgia; Deer Valley, Utah; Fairbanks, Alaska; Flagstaff, Arizona; Mount. Snow, Vermont; and Whitefish, Montana. 
One of the most striking changes from those days to now is how many pages of mail-order advertisements were in the magazine. Irvine Bike Source had an eight-page ad. Jenson USA had four pages. Mail Order Sports and Pricepoint each had one page, and Supergo had six pages. The internet would drastically reduce that number in years to come.
One of the more fun articles in the issue was one where we asked some of the most famous people in our sport what they would do if they were the king of mountain biking. Ned Overend told us, "I would eliminate dust." Keith Bontrager said, "I would abdicate my throne immediately and go for a ride. Being king is no fun; just ask one."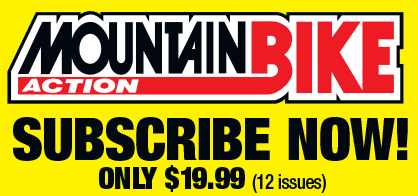 ---
THERE ARE SO MANY WAYS TO GET MOUNTAIN BIKE ACTION