Tested – SKS RideAir Inflator
Easy-breezy tubeless tire seating
SKS brought its RideAir system all the way from Germany to solve the tubeless-tire-seating problems of riders everywhere. The aluminum tube is designed to be pressurized with an ordinary floor pump so that those ready-to-play air molecules can be released into any inflatable device. For mountain bikers, this is of particular interest, as tubeless tires often require a quick burst of air to seat the beads before the tires will inflate. That's exactly what the RideAir system is designed to deliver.
Tech info: SKS is best known for its inflation systems, be it floor pumps or CO2 regulators. The RideAir is the company's newest venture into inflation and features an aluminum tube that will inflate a tubeless tire with the push of a button.
The RideAir is a canister that you can pressurize with a floor pump to 230 psi then save for later. When the time comes, the pressure can be released to give a burst of air that can inflate anything from a bike tire to a yoga ball. It could even be used to top off your car tire if necessary. The canister uses a valve that's compatible with every valve—from Schrader to Presta and even Dunlop. It's claimed to inflate a 29er tire to just under 30 psi or a 27.5+ tire to just under 20 psi, which should be enough to limp home in an emergency. We brought one of these $70 "miracle cans" to our headquarters to see if it could truly save the day. If you want one of your own, they can be purchased at any local bike shop that sells SKS pumps, including any REI store.
On the trails: First off, we didn't take this thing on the trails, although we could have, as the RideAir system is built to fit into any conventional water-bottle system. We did take it to the trail head charged up with the maximum recommended 230 psi of air. Our first attempt with the inflation was a success when we were stuck with a flat and had to install a tube and tire boot to fix a torn sidewall at the trailhead. The RideAir boosted our tire to a rideable 28 psi and literally saved our day.
Once home, we tried the system to seat a tire. While it does give a quick boost of air, the system is far from flawless. Anyone who's tried to seat a tubeless tire knows that certain tire and rim combos can be stubborn, and this thing only expels a single shot of air before it's spent. Additionally, it requires a heck of an effort to pressurize the thing using a floor pump, especially if you don't have a small-barrel, road-specific pump. If you try to inflate this thing to the recommended 230 psi with an MTB pump, you'll probably just break your pump. If you only inflate it halfway, which is what most MTB pumps will do, it won't work very well. So, if you're going to use the RideAir system, make sure that you have a reliable way to inflate it first.
There's nothing more frustrating than failing to inflate a tubeless tire with a floor pump the night before a big ride. The RideAir system can be a lifesaver in that situation. It could also be used by a dedicated pro mechanic whose livelihood depends on changing a flat as quickly as possible. It could also be a quick burst of air you keep in your car in case things go awry at the trailhead, because SKS let us know this thing can handle the high pressures and heat of living in a car even throughout the summer. It worked well during our test and will find a home in our MBA test vehicle as a quick way to remedy a flat when we need it most.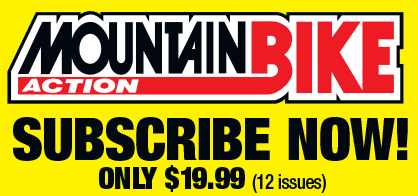 HITS
• Quick inflation works well to seat tubeless tires
• Handles high pressures and can be transported in the car
• Valve and push-button system are easy to use
• Compact and easy to transport, even in a bottle cage
MISSES
• You only get one shot of air, so get it right the first time
• The triceps workout is a bear when inflating the thing