Making 12-speed more affordable
It's no secret that SRAM has been pushing hard to eliminate front derailleurs since the release of its Eagle XX1 last spring. This year SRAM made another hard push with the launch of a more price-point-driven Eagle GX group. Eagle XX1 was our pick for Best Component last year and has been a favorite of most of our test riders. With the introduction of the Eagle GX, we were eager to put some miles on this kit to see if it was as good as its higher-end counterparts.
Tech info: Like the higher-end XX1 and X01 kits, the GX is a 12-speed drivetrain using a 10-50 cassette, giving riders a 500-percent gear range. Riders can choose between a trigger and grip shifter, depending on their preference. Each shifter is compatible with other Eagle drivetrains. We opted for the forged aluminum trigger that is MatchMaker X compatible.
The rear derailleur uses aluminum cages and stainless steel hardware. Like other Eagle rear derailleurs, the GX has an oversized 14-tooth lower pulley to accommodate the larger 50-tooth cog. SRAM uses its Type 3 roller clutch that can be adjusted depending on rider preference and Cage Lock for easy wheel changes. The GX derailleur is also compatible with the higher-end Eagle 12-speed drivetrains.
The heart of the Eagle GX is the XG-1275 (also the most expensive piece) with a 10-50 gear range. SRAM uses steel cogs and X-Glide 2 technology for more precise shifting. Wrapping up the system is the crankset that uses 7000-series forged-aluminum arms. Riders have the option of standard GXP spindles or BB30/PF30 spindles. The GX cranks are available in 165-, 170- and 175-millimeter arm lengths.
Retail pricing varies from $495–$545, depending on which crank and shifter combination riders choose to run.
On the trail: We installed our Eagle GX kit on a Giant Trance Advanced frame. With all the cables routed and cranks installed, we set out to dial in the shifting. SRAM included a guide to help set up the rear derailleur in relation to the cassette. This was handy but not perfect. We still had to finesse the B-tension screw to fit the perfect balance. During our testing, we opted for a 34-tooth front chainring that worked well on our local trails. Some riders may want to opt for a smaller 30- or 32-tooth if they are concerned about having a low-enough climbing gear.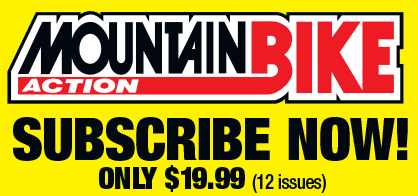 Our first ride on the trail proved that the GX was a quiet drivetrain that resembled the higher-end XX1 and X01 versions. Under a load, the rear derailleur shifted well, hitting each gear without much delay from the shifter. The jump from the 42- to 50-tooth cog didn't give us any chatter or hesitation, even under a load. There is no denying that the 50-tooth cog has been a bit of a game-changer for most of our test riders. The front chainring did a good job of maintaining chain tension during our testing and added to the quiet feel and performance of the GX.
During our testing, the Eagle GX was consistent, but most of our test riders weren't very impressed with the feel of the shifter lever. The shifter has a slightly chunky feel that isn't as refined as other drivetrains in this price range. SRAM does hit the mark by giving riders more than enough range to ditch their front derailleurs and enjoy a simpler setup overall.
HITS
• Competitive price point
• Broad range of gears
• Clean integration with brakes and remotes
• Durable and burly design
MISSES
• Shifter action could be smoother