TEN REASONS TO RIDE BENTONVILLE ARKANSAS – AKA "THE MTB CAPITAL OF THE WORLD"
A MUST-SEE GUIDE TO THE "MTB CAPITAL OF THE WORLD"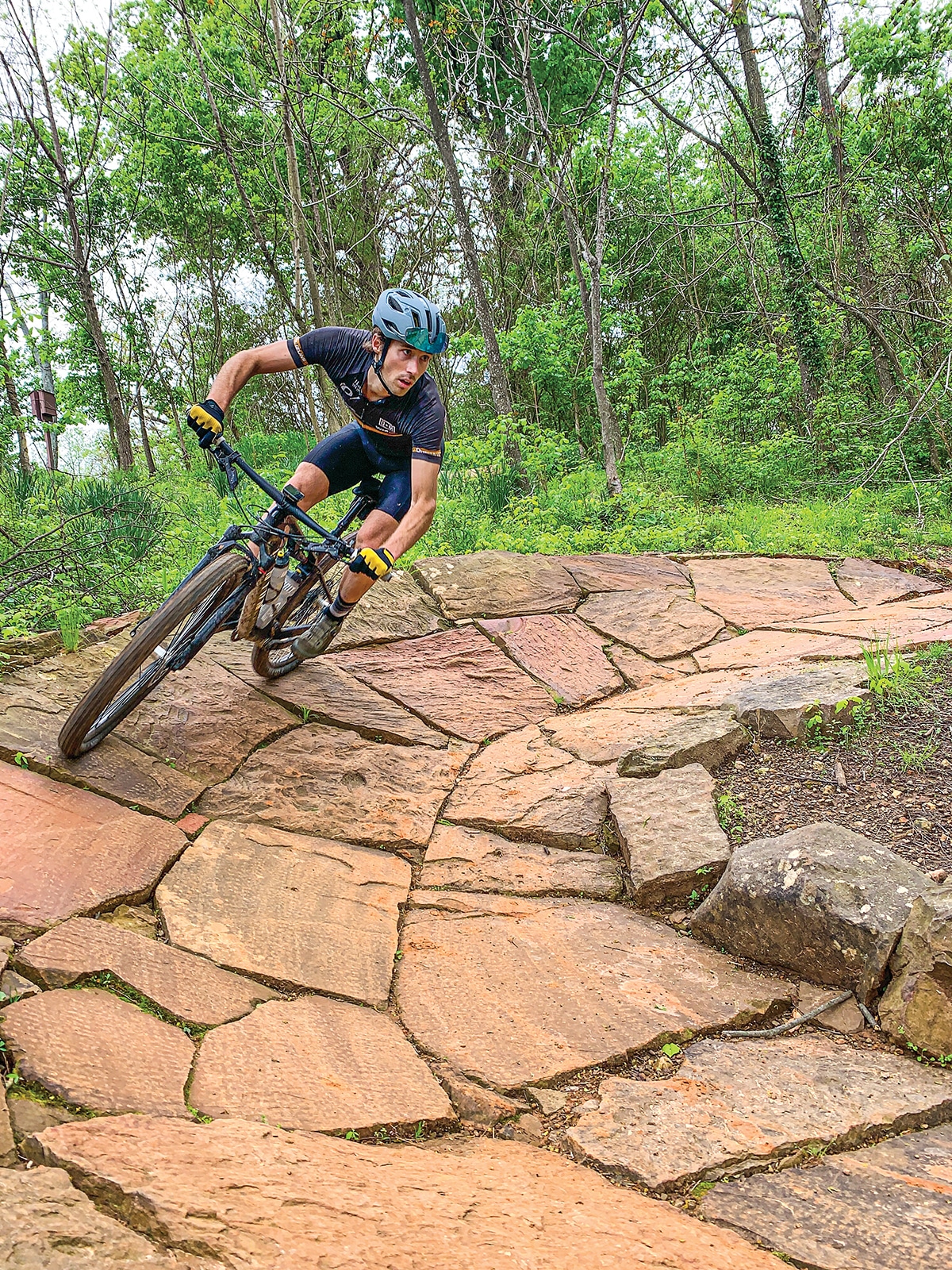 1. SLAUGHTER PEN TRAIL NETWORK
This is just a pedal away from a downtown hotel room and might be the best-known trail system in the Bentonville area. While it has some main routes, it is growing daily with support from OZ Trails and NWA Trailblazers. They are professional trail builders on board for shaping the zone. Each time you visit, there will likely be more as the team of builders is constructing and doing upkeep daily. The Slaughter Pen system includes trails ranging in difficulty from beginner (on the All-American and Seed Tick Shuffle trails) to expert (on Scott Allen Alley and Medusa trails), with connector trails taking riders between the various systems. Simply put, our editors couldn't believe how vast this network is, and the best part—it's a short pedal away from more of what Bentonville has to offer off of the bike. Overall, it has clean-flowing lines that are all marked for upcoming obstacles, major downhills, technical rock gardens/roots and huge berms.
2. CRYSTAL BRIDGES MUSEUM OF AMERICAN ART
Everybody owes it to themselves to stop by and take in Crystal Bridges and its extensive art collection. Its name is taken from a nearby natural spring and the bridge construction is incorporated into the building. Its world-renowned aesthetic architecture was designed by Moshe Safdie. It has a series of pavilions installed around two spring-fed ponds, house galleries and an impressively large glass-enclosed gathering hall. This space exhibits five centuries of American artwork from early America to the present. There is no reason not to see this spot (www.crystalbridges.org), as it is always free to view, with five miles of sculptures and walking trails linking the museum's 120-acre park right to downtown Bentonville. Every mountain biker we know who has visited this museum, even those that are not art aficionados, has been left blown away and touched in some way by what they saw.
3. WRIGHT'S BARBECUE
Just up the street from the 21c Museum Hotel is Wright's Barbecue. Their goal is to create and build an atmosphere that pulls people in while being a true destination barbecue spot. Wright's methods to success include dedication, hard work and love for smoked meat. They source pecan wood from downed central Arkansas trees. From the start of each week to when it ends, their fires never stop burning. It's an overnight process, but in the end (www.wrightsbarbecue.com) delivers fresh food when you need it right after a big day on the bike.
4. PHAT TIRE BIKE SHOP
Don't feel like traveling with your bike? Phat Tire has got you covered just like they did with our visit. This is a small, local bike shop that is passionate about its mission to make Bentonville a bicycle-friendly community and get people on bikes to experience the area. You can rent just about any type of bike you'd want for the area, fuel up, get gear, and have your bike serviced if you brought it along. Located just a block from the Bentonville City Square, you can't miss it or be inconvenienced by how close it is to the rest of town (www.phattirebikeshop.com).
5. THE BACK 40
The bulk of Bentonville's trails are man-made, flow-type trails, so if you find yourself craving trails that are a little more raw in nature, check out the Back 40. These 40 miles will make you feel like you are in the middle of nowhere, but you can ride to them from Slaughter Pen via the Greenway and Blowing Springs. Most riders will want to take a shuttle or e-bike on the way there, though. Parking at the Lake Ann Trailhead will put you in the epicenter, but there are several other access points as well (www.oztrails.com). The system of trails weaves its way up and down the ridges and valleys that undulate across the east side of Bella Vista. There is a mixture of grinding climbs that alternate into fast, swooping descents. The 21-mile Back 40 Loop encircles the whole network with additional miles of trails criss-crossing over each other. The most noteworthy sections to make sure to see are The Ledges, a trail that gets its name from the karst ledges riders have to traverse along the route. Portions of Rago have also been rebuilt to include rock features and jumps.
6. COLER MTB PRESERVE
Located an easy pedal from downtown (about a mile) is a highlight of Bentonville's trail system—the Coler Mountain Bike Preserve. Yes, this land has been set aside specifically for mountain biking, and what's been built here is an incredible network of trails with some unique amenities. At the very top is what they call "The Hub," a massive rideable steel structure with tentacles extending outwards that lead into the area's different routes. These trails range from the natural "ledgy" terrain of Rock Solid to straight-up bike-park-style the Hammer with its double-black-diamond drops and step-ups. If that's not enough, Coler also has camping opportunities on-site and Air Ship Coffee (www.airshipcoffee.com), a coffee shop that's only accessible by trail—no cars allowed!
7. WALTON'S 5-10 AND 1950'S AMERICA
No trip to Bentonville would be complete without a stroll down memory lane and being taken back to 1950s America. Whether a walk through the "Andy Griffith Show" or perhaps Back to the Future, downtown Bentonville is the crown jewel of old-fashioned Americana. At the center of it all stands Walton's 5-10, aka the original Walmart. Now a Walmart museum, a visit to this original store is the only way to understand the importance of the Walton family and the namesake store, as Walmart considers Bentonville home (just like Seattle to Amazon). A stroll through the museum, complete with an ice cream cone just outside, is the perfect way to enjoy some downtime and reminisce about how things "used to be" (www.walmartmuseum.com).
8. 21c MUSEUM HOTEL
This is a contemporary art museum experience that is conjoined with a boutique hotel. Regardless of whether you choose to have this be where you put your head down at night, the exhibits themselves are worth a visit. Located on the northeast corner of the Bentonville City Square and a short walk to Crystal Bridges, the 21c Museum Hotel Bentonville has 104 rooms, an immersive art museum, a cultural center, and is home to The Hive restaurant (www.thehivebentonville.com). The overall area covers 12,000 square feet, with art throughout all parts of the property. Just when you think you're at the end, you'll find there is more to discover around each corner. The galleries are open every day and the exhibitions rotate. Make plans to visit and keep tabs on the latest changes by checking out their website (www.21cmuseumhotels.com).
9. IT'S E-MTB-FRIENDLY
Much like most of Europe, mountain bikers and e-mountain bikers coexist in perfect harmony out on the trails. All are electric bike legal, creating the opportunity to easily reach and ride the Back 40 from downtown, lap Coler until your arms fall off, or pull a big ride before and after lunch.
10. BENTONVILLE BIKE FEST
Bike festivals—we all love them. They take us to the best locations that our beloved sport has to offer—from Sedona, Hurricane, and Moab to Monterey, Whistler, Fruita, and beyond. They are all gems of mountain biking destinations in the most beautiful locations you can dream of, so it should come as no surprise that when we were asked to attend the Bentonville Bike Fest (BBF) last summer, a couple of us had to Google whether mountains existed in Arkansas. 
We are pleased to say that every preconceived notion and bias turned out to be wrong. We were humbled, surprised and blown away. The Bentonville Bike Fest was amazing. 
There are simply too many pleasant surprises to list, so let's just hit on a few. For starters, the festival is free! If you've attended some of the festivals for other locations listed above, you'll know that the words "free" and "festival" are unheard of in cycling. This simple fact automatically made the festival a favorite of ours, because it ultimately made the decision to bring the family along a no-brainer. Upon entering the festival, the very first thing we took note of was the emphasis on children, as Strider had set up a racecourse for children (to ride Strider bikes), in addition to an area for kids to learn how to ride trials bikes (and demo them for free).
This came as a very pleasant surprise not only to us but particularly to our kids, who spent the better part of an entire day demoing kids' bikes and entering various races. 
This isn't to say that it's just for kids, however. The event has organized rides throughout the weekend—from mountain to gravel, which caters to the enthusiasts. In addition, there are trials events, workshops and races throughout the weekend.
A definite plus to the BBF is also its scale and size; it's simply just right. Unlike some festivals where you need to bring your bike just to ride from your car to the festival, only to be surrounded by 10,000 others for four days, the BBF hosts approximately 150 exhibitors, which in our opinion is just right. 
When we asked what makes the BBF so special, Jessy Heard, the director of partnerships, said it best: "There isn't another event out there like Bentonville Bike Fest. Our founder has been to hundreds of cycling events throughout his career, and his vision comes from years of experience. We have created a formula of the best elements—free entrance, races, group rides, clinics, a full schedule of entertainment, over 100 exhibitors, kids' activities, free swag/water/snacks, a beer garden with food trucks, and attendance from some of the hottest and most talented pro athletes around. We also have events around different styles of riding: MTB, gravel, road, enduro, flatland and trials. There is so much to see and do, all within a town that has made cycling culture its top priority. It's the perfect place for such an epic festival." 
If you're looking for a way to enjoy the summer without spending hours in line at Disneyland (and spending hundreds in the process), then you need to make your way to the Bentonville Bike Fest (www.bentonvillebikefest.com), which is taking place June 17–19, 2022. You'll be grateful you did.