Tested – Kenda Nevegal 2 Pro 27.5×2.4 Tires
The return of Kenda's most legendary tire 
Back in 2003 Kenda introduced a tire designed to perform exceptionally well over many types of terrain. That tire was, of course, the Nevegal, a tire so well known it requires little introduction. Over the years the Nevegal held its own, but Kenda knew its most legendary tire needed to be updated if it wanted to continue to hang with the other top brands. The Nevegal 2 Pro pays homage to the Nevegal's classic look while incorporating modern rubber compounds and casing technologies. The Nevegal 2 Pro is an all-new tire looking to recapture its spot in the limelight.
Tech Features: Kenda's engineers optimized the Nevegal 2 Pro for the most popular forms of modern mountain
biking—enduro racing and trail riding. The new Nevegal features ATC (Advanced Trail Casing) technology, which consists of two main features: the KAB (K-Armor Belt) and KSCT (Kenda Sidewall Casing Technology). The K-Armor Belt features a tightly woven sheet of material using a proprietary fiber designed to increase puncture resistance and require less rubber, resulting in a lighter-weight tire. KSCT uses a cross-woven polyamide insert that covers the sidewall of the tire, providing a stronger sidewall that is more resistant to slices and abrasions. The Nevegal also uses a new rubber compound known as EN-DTC (Dual Tread Compound). This technology gives the center knobs and outside knobs a different rubber compound that results in greater cornering performance and less rolling resistance. The all-new Nevegal tires weigh 810 grams in a size 27.5×2.4-inch tire. The tires are also available in 29-inch versions and can be purchased in two widths: 2.4-inch or 2.6-inch. The prices range from $70 to $80 each, depending on options.
Field test results: The new Nevegal tires mounted up to a pair of DT-Swiss rims with no issues at all. In fact, we even set them up tubeless with a regular floor pump and our favorite sealant—Orange Seal. Once the tires were mounted, we noticed little-to-no air loss; however, our test riders always pump up their tires before hitting the trails. Once out on the trails, these tires provided good traction for climbing. On loose dirt, the Nevegal rarely spun out, even when pedaling out of the saddle. These tires have a manageable weight that most trail riders will be comfortable with, and they may even feel light to some hard-core enduro racers. We experienced zero issues with punctures or flats throughout our testing, proving to us that the Nevegal can handle aggressive trails. In corners, we felt comfortable laying our bike over and found this tire to be ideal in the rear due to its quick-rolling nature; however, true enduro racers looking to push hard into turns may want to opt for an even more aggressive front tire, such as Kenda's enduro-ready Hellkat tire. The majority of trail riders, on the other hand, will find the Nevegal can handle the trails well and will boost confidence over a variety of terrain. Kenda did a great job resurrecting its
legendary tire and successfully brought the classic tire into the modern age. Kudos to Kenda.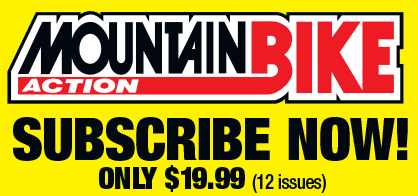 HITS
• Legendary name with modern technology
• Easy to set up tubeless
• Great traction and relatively light weight
MISSES
• Hardcore enduro racers may look for a more aggressive front tire