Through the Lens: The photography of Scott Markewitz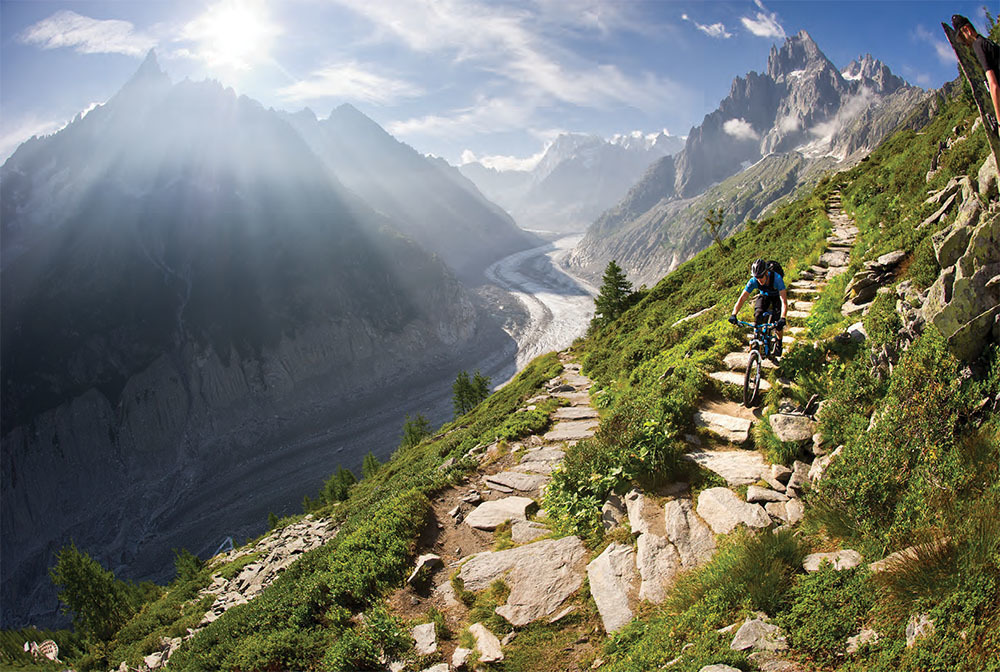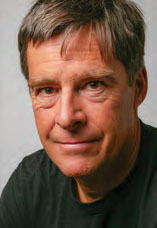 What many mountain bikers don't realize is that Scott Markewitz may be even better known for his ski photography, which has been a visual staple of the skiing industry for more than 30 years.
Living in Salt Lake City, Scott has easy access to America's top ski areas and mountain bike trails. As both an accomplished skier and seasoned mountain biker himself, Markewitz can always find another reason to head up into the mountains, whether he's going there to take more great photos, do some skiing, ride his bike or simply scout some new locations for his next big shoot.
Photo Gallery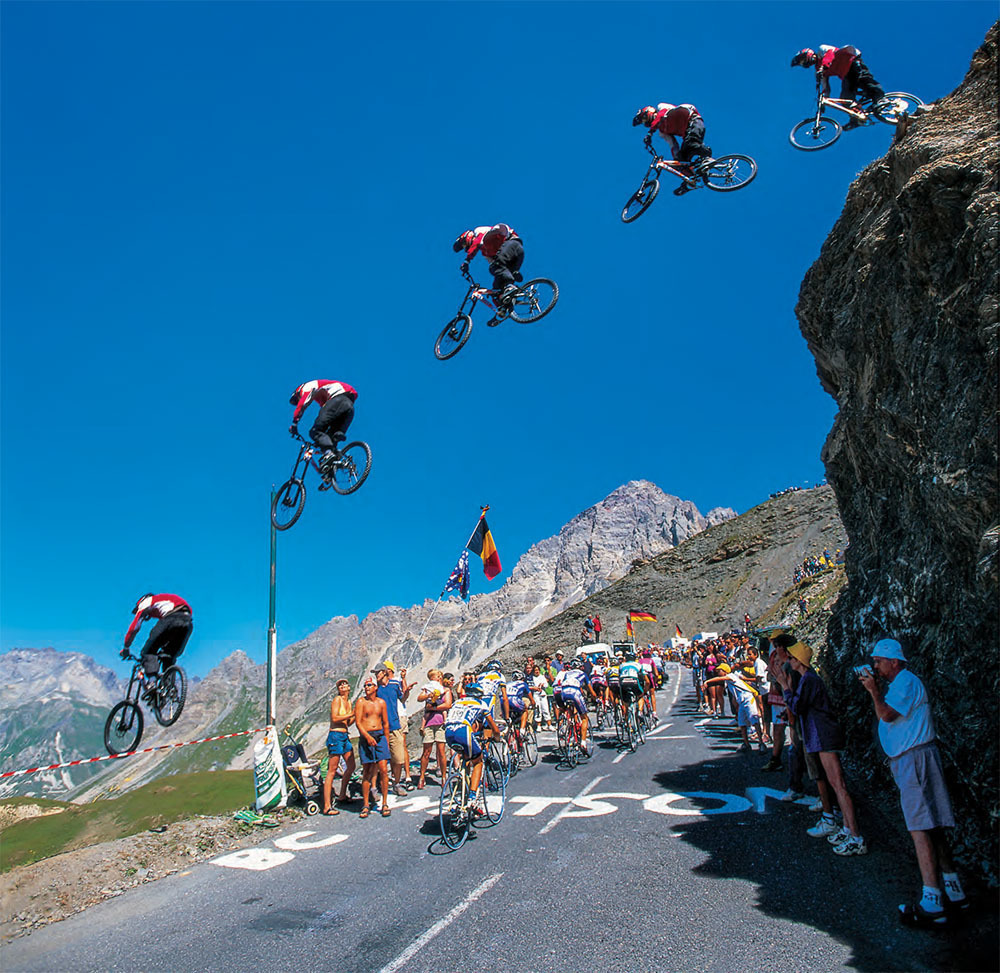 Dave Watson jumping over the Tour de France peloton at the Col du Galibier in 2003: This is a long story, but it all started when the editor of the French magazine Big Bike contacted me with the idea of having someone jump over the Tour de France peloton on a mountain bike. They didn't want the word to get out in France in case the Tour officials found out, so they asked me to set it up with a North American rider. I contacted Freeride Entertainment to find a rider, and they lined up Dave Watson for the stunt. He went over to Europe in the spring and found this spot near the top of the Col du Galibier and built a takeoff, but there was too much snow to practice, so they decided to come back in the summer before the Tour came through. I told him to come at least a week early, but he showed up four days before the stage, and by that time there were already dozens of motor homes parked nearby. It would be impossible to practice without getting noticed, and when the day arrived, Dave wasn't sure if he was going to do it. But, we made all the preparations.
The film crew set up. We had helpers to move the crowd, and I had four cameras to capture the moment: two on tripods on the hillside with radio remotes, one with me and one I gave to a friend. Dave put a tarp over his bike and helmet, put on regular clothes over his bike clothes, and waited and watched as the riders started to come into view on the climb. He let a few groups go by, including the lead pack, then finally spotted a group with enough space so there would be no risk to the riders when he jumped. As he whipped off his clothes and jumped on his bike, the crew cleared the crowd and he was off. It was almost perfect, but he came up about 3 feet short and got bucked off his bike on the landing, crashing hard. A policeman immediately ran down and helped him to a nearby motor home. Seeing this, the crew stayed back for a while and gradually trickled in to check on Dave. Dave was fine, but the policeman was still there, and we had no idea what was going to happen. After the tour and team cars had passed through, all of a sudden a police bus stopped in front of the motor home. We thought this was it; Dave was going to be arrested. Instead, the policeman got in the bus and it drove away!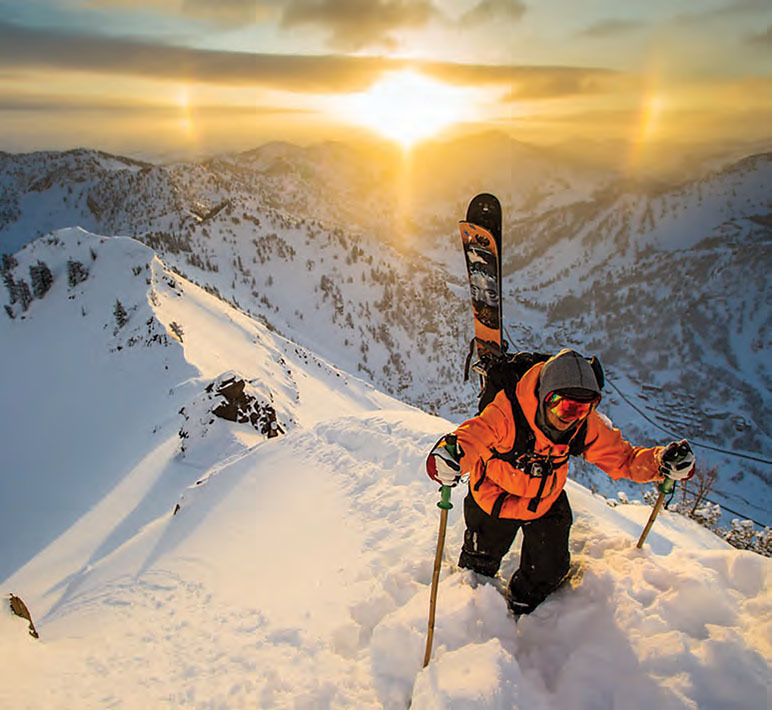 The climbs back up the slopes can be even harder for the skiers than they are for the mountain bikers.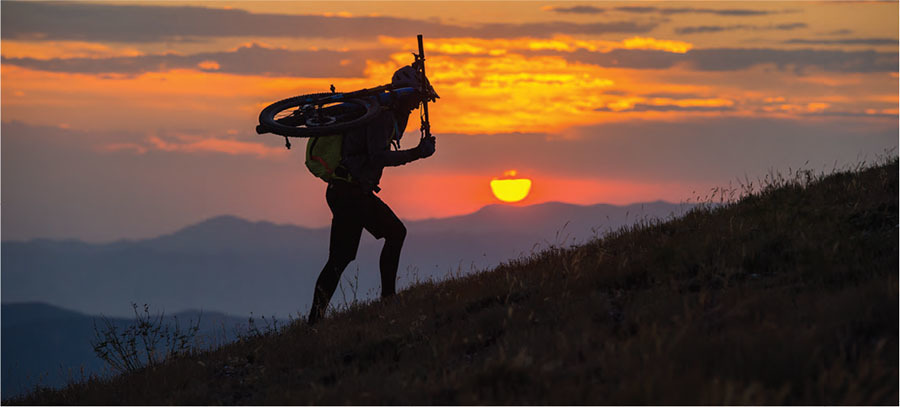 MBA: Where did you grow up?
Scott: I was born in California but moved around a lot when I was younger and lived in several parts of California, then New York, England, New Jersey and Colorado before finally settling in Utah.
MBA: When did you start riding mountain bikes?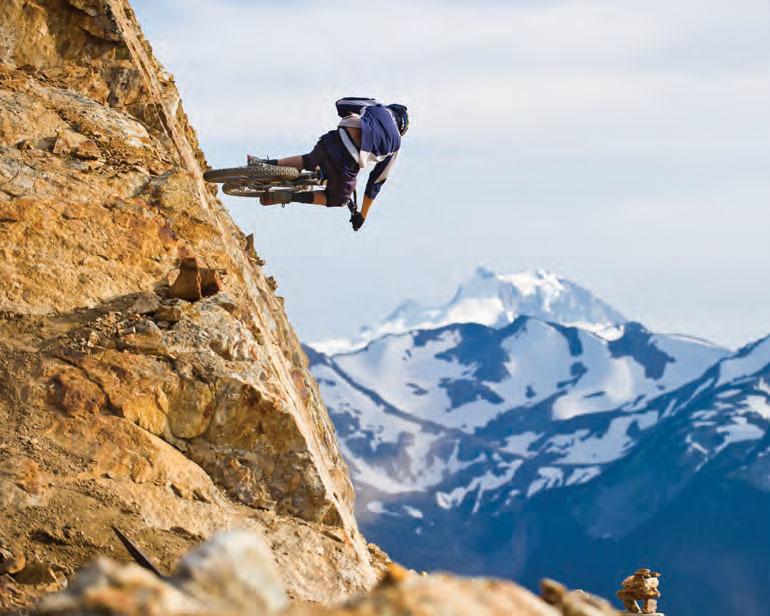 Kurt Sorge in Whistler, B.C.: This is a shot of Kurt at the top of Whistler Mountain that I shot during the Deep Summer photo competition in 2012.
Scott: I got my first mountain bike in the late '80s. It was a Marin Eldridge Grade.
MBA: How did you get interested in mountain bike photography?
Scott: I started by photographing the things I love to do myself, first with skiing and [then with] mountain biking. My first mountain bike photos were taken on local rides with friends, and I built on it from there.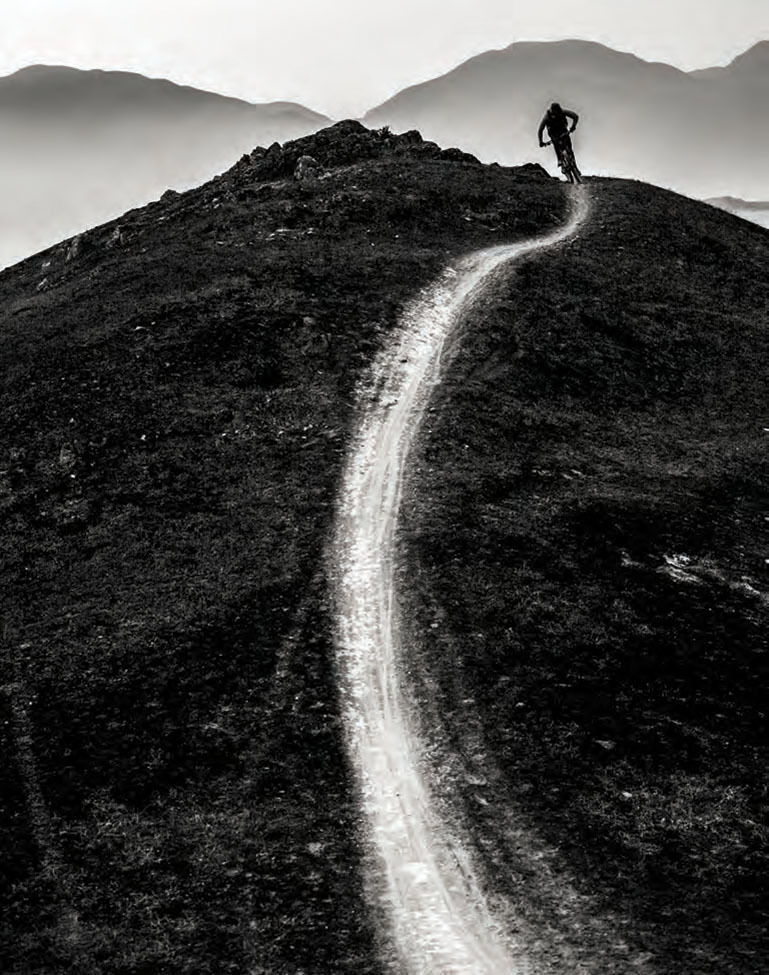 Matt Myles, riding in the hills outside of Lima, Peru: We were in Peru shooting for Specialized, and this was one of our first days riding some local trails as a warm-up for some bigger rides ahead. We did a crazy shuttle ride straight up the mountain to get to this trail, and on the way down we had to out-sprint a pack of dogs that came after us near a local farm.
MBA: How and when did you get your first photos published?
Scott: My first published photo was the cover of Powder magazine's "1987 Buyer's Guide," and soon after that, I started getting mountain bike shots published. Some of my first published mountain bike shots were in Mountain Bike Action, including at least one or two covers.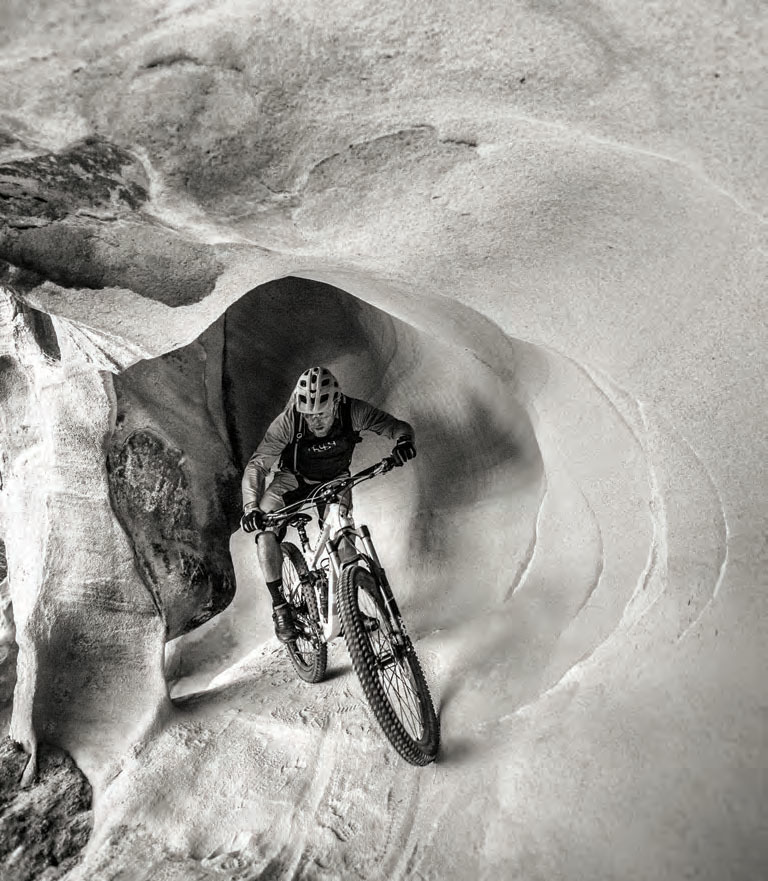 Richie Schley, riding in the hills above Laguna Beach, CA: Laguna has an impressive network of trails and a few secret spots like this cool cave where I captured this shot of Richie.
MBA: What else were you doing in those days?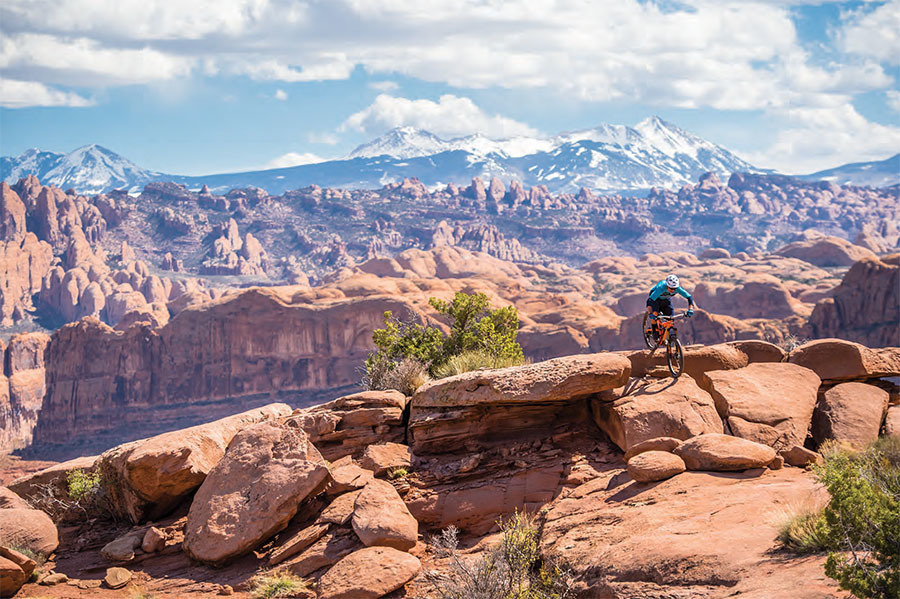 Nate Hills riding some slickrock features in the Rockstacker area on the back side of Amasa Back in Moab, Utah, with the snowy La Sal Mountains in the background.
Scott: When I first started shooting, I was a pro skier, skiing on the Pro Mogul Tour, and skiing in films and for photographers. I learned a lot by watching other photographers in action, and it was a natural progression for me to jump to the other side of the lens.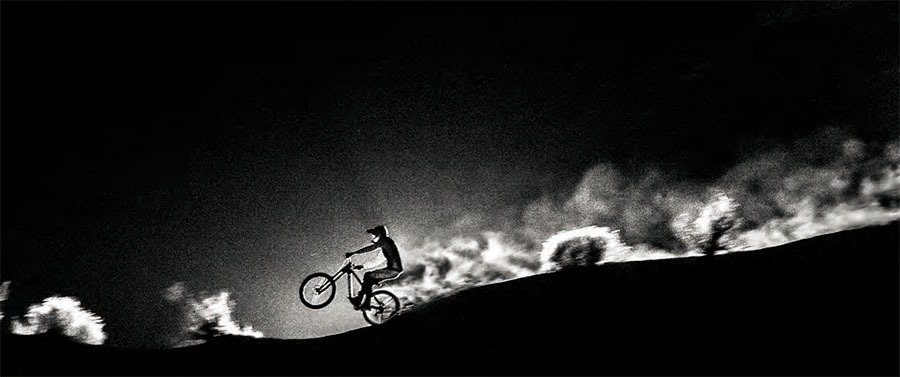 Brandon Semenuk riding at night in Virgin, Utah, during filming for the movie Revel in the Chaos: Brandon took mountain biking to a new level on this shoot, riding some big Rampage lines at night. This was one of the final shots, riding an easy ridge with some cool lighting.
MBA: Were you going to school or working back then?
Scott: I had just graduated college and was working as a waiter when I decided to buy a camera and start shooting. It was a pretty quick transition to full-time photographer from there.
MBA: How many years have you been shooting mountain biking?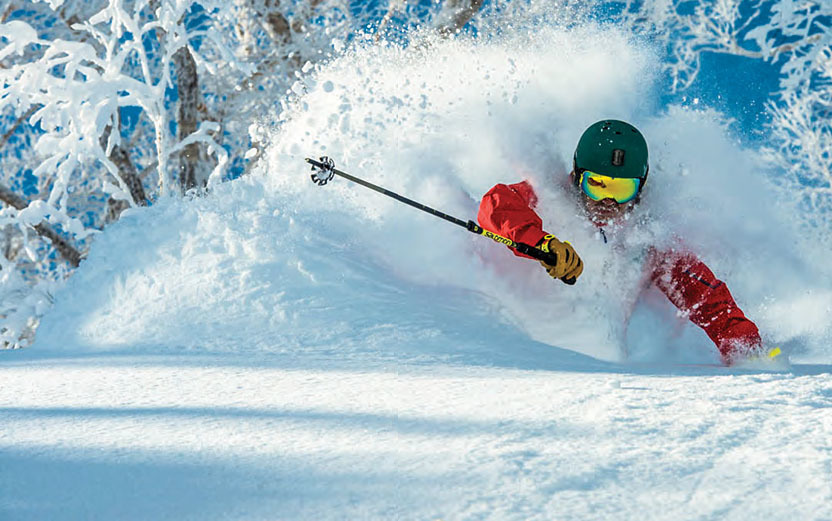 During the winter Markewitz works as a ski and snowboard photographer, shooting magazine covers, posters and advertisements for some of the top ski companies in the world.
Scott: Thirty.
MBA: What are some of your favorite places when it comes to shooting mountain bike photos?
Scott: Utah, British Columbia, California, and the Alps.
MBA: Who are some of your favorite riders?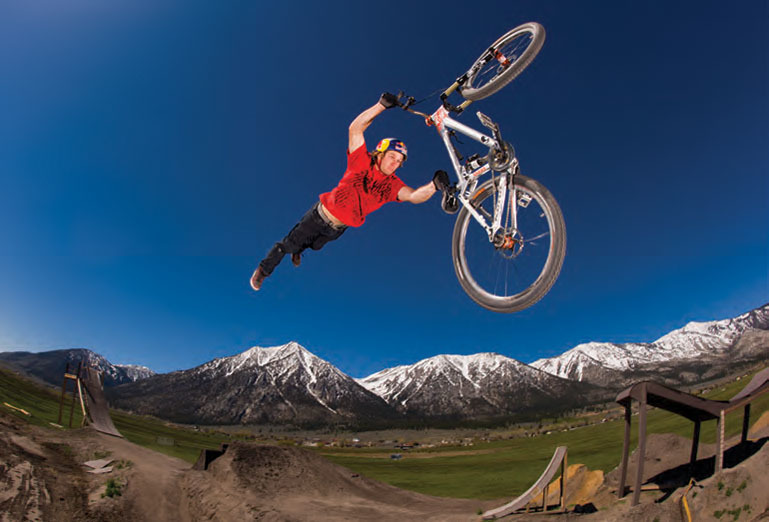 Paul Basagoitia, jumping on his track in Minden, NV: Paul's track was in a wide-open field at the base of the Sierra Nevada Mountains. It was an ideal place to shoot with great backdrops and so many cool angles and shooting positions. Every time I had a trip through there, I would stop by to see Paul and get some shots. It was always one of my favorite places to shoot, and we got a lot of great shots there.
Scott: It's really inspiring to be able to work with many of the best mountain bikers in the world and photograph them as they push the limits of their sport further and further. They're such a passionate group of people who absolutely love what they do. You can't help but have fun working with them. It's hard to make a list of favorite riders, but some of the names that stand out include Richie Schley, Wade Simmons, Brett Tippie, Fabrice Taillefer, Paul Basagoitia, Bearclaw [Darren Berrecloth], Brandon Semenuk, Kurt Sorge, Cam Zink, Hans Rey and Brian Lopes, to name a few.
MBA: What other kinds of things do you like to photograph?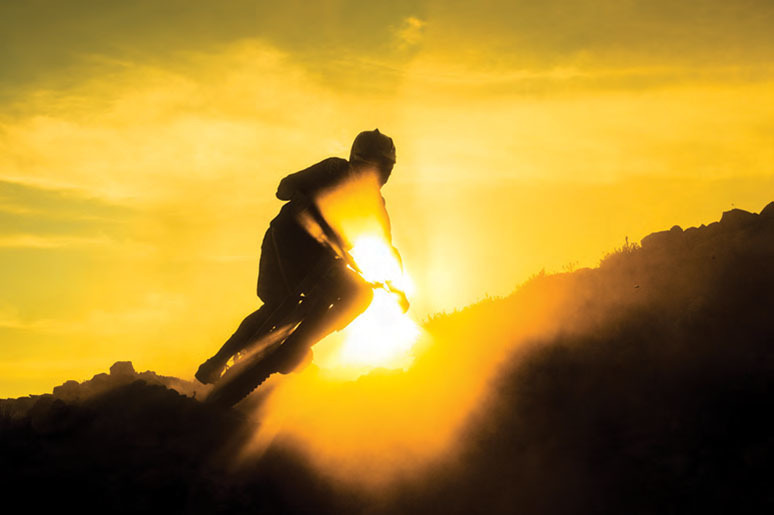 Kyle Jameson on the Top of the World trail in Whistler, B.C.: This image was shot during the Deep Summer photo competition in 2013. The trails were really dry and dusty that year, and the low sun in the sky created a really cool effect as it blasted through the dust blowing up from the riders in front of Kyle.
Scott: I like to photograph people enjoying life and doing what they love to do, especially athletes who are the best in their sports, whether it's skiing, running, golf, climbing or other sports.
MBA: What's the hardest part about your job?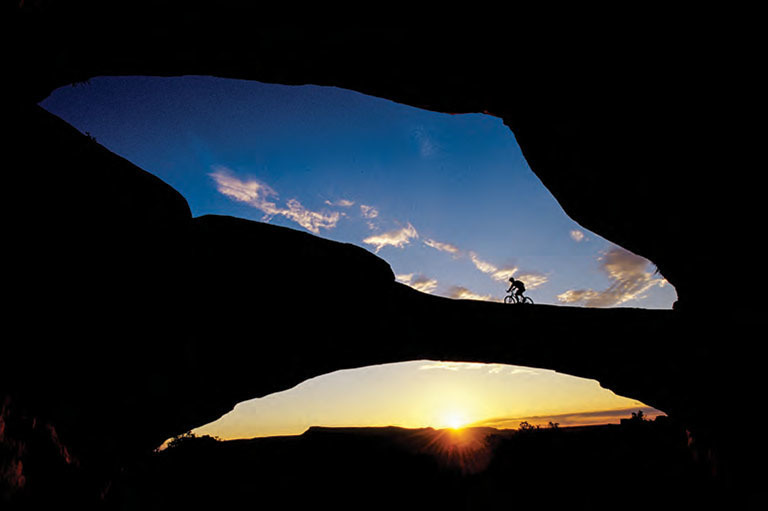 Shawn Hanka riding on Uranium Arch in Moab, Utah: This location has all the elements for a great shot—a big flat arch that you can ride across that opens up to the west for a dramatic sunset shot. It's a little out of the way but fairly easy to find.
Scott: Photography is a challenging business and a constant hustle to maintain a steady flow of assignments. There's a lot of competition out there, and you have to work hard to stay relevant and on top of the game.
MBA: What's your favorite camera right now?
Scott: Nikon D5.
MBA: What are your favorite lenses?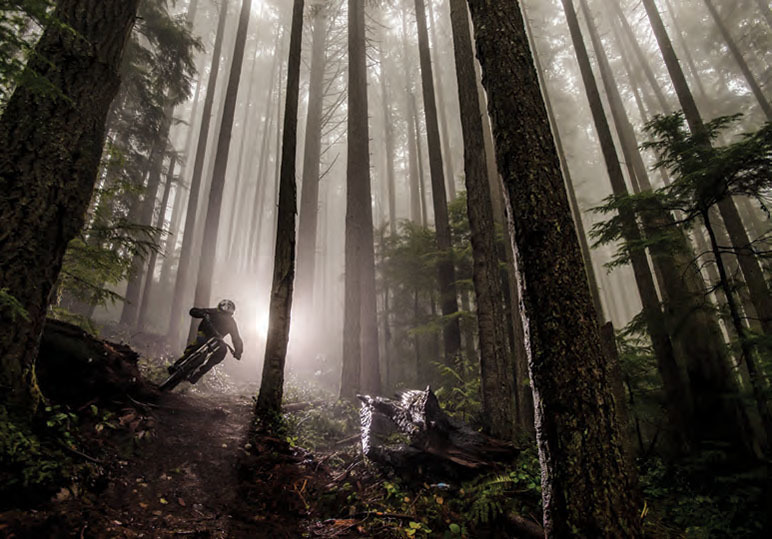 Nico Vink in the forest near Gibsons, B.C.: This shot was taken during filming of the rain segment for Brandon Semenuk's Rad Company movie. The Freeride Entertainment crew built a trail specifically for this shoot and brought in rain machines and lights to create the effects for the segment. Pretty ironic when you think about how much it rains in B.C.
Scott: I always carry 70–200mm, 28–70mm and 17–35mm lenses with me on every shoot. Sometimes I'll add a fisheye or some additional primes, but these three are my go-to lenses that I use for the majority of my shots.
MBA: If you could give aspiring photographers three tips to help them get better photos of mountain biking, what would you tell them?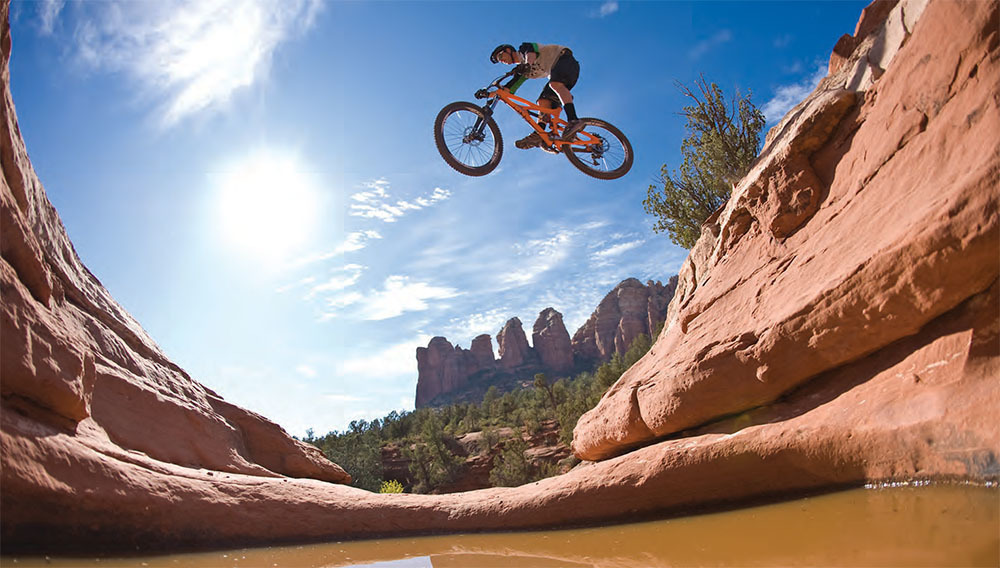 Brian Lopes jumping one of the Seven Sacred Pools in Sedona, Arizona: We were on a trip with Brian and other mountain bike legends, including Hans Rey, Richie Schley and Wade Simmons. We had heard about the pools and wanted to check them out. When we got there, Brian immediately lined up this jump across one of the upper pools and stomped it first try. None of the other riders wanted to try it. I don't think there are many riders who could pull it off.
Scott: 1. There is no bad light. Learn how to look at light as your camera sees it, and use it to get great shots in any condition.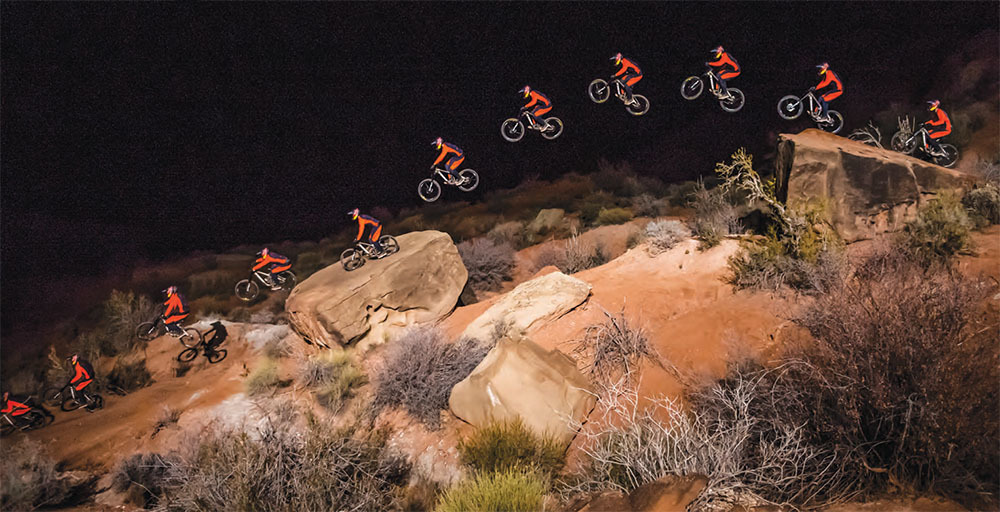 Brandon Semenuk jumping a gap to rock in Virgin, UT, during the filming of the night segment for the movie Revel in the Chaos: This was one of the wildest and most dangerous stunts I've ever seen and photographed. The first time Brandon attempted it, he jumped past the rock and landed hard on the flats, probably a 70-foot jump, and somehow stayed on his bike. This was his second jump, where he nailed it perfectly and even threw in some style. At the time he said it was the scariest thing he had ever done. It was definitely the wildest stunt I had ever seen and photographed.
2. Experiment. Try something new every time you go out to shoot, and don't be afraid to try any idea that comes to mind. It might not work at first, but it could give you insights for another shoot that help you create a really incredible photo.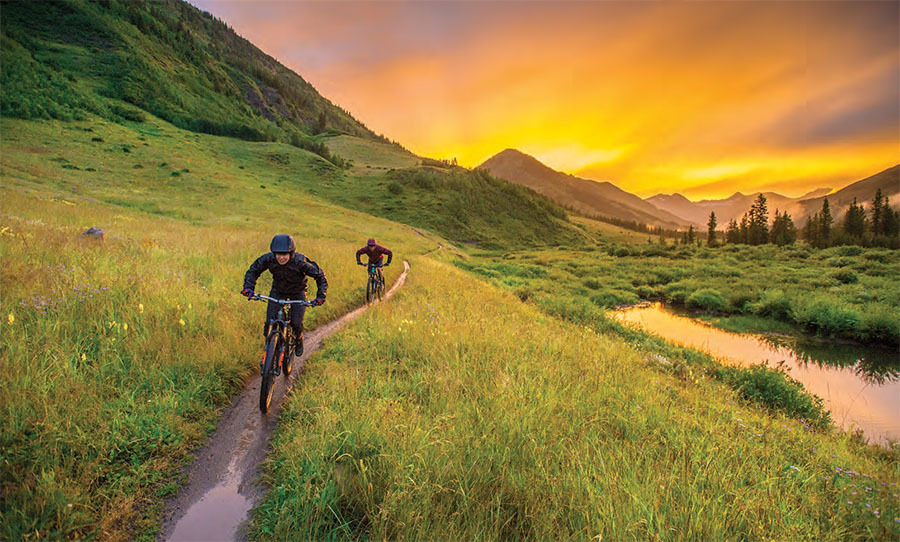 Nate Hills and Sarah Rawley riding in Crested Butte, CO: We were there getting some shots in the rain for Pearl Izumi. Near the end of the day, the rain let up, and this incredible sunset started to light up the clouds at the end of the valley. It was a magical moment that we never could have planned for.
3. Pay attention to composition. When you're shooting mountain biking, it's easy to get tunnel vision and miss what's going on in your frame around the action. Pay attention to the edges of your frame and the details in the image so that everything in your composition is the way you want it.
---