Throwback Thursday: Things Were Simpler in 1988
We introduced this photo of Shimano's six-speed rear cog in our September 1988 issue by saying, "Less and more: Shimano has already released a new 32-spoke version of the Deore XT hub set, but next year you can expect wider 135mm hubs, 32-spoke holes and seven-speed spacing. More gears, less spokes and a wider hub."
We said of this photo: "Mortgage the house: AXO BodyGuard cycling shorts retail for $80 a pair. What makes them worth the extra dough is the unique lycra-covered high-density foam padding that that helps fight road rash." Back in 1988, $80 for a pair of shorts was a steep price.
We picked the 10 best bikes of year in our September 1988 issue. This one, the Nishiki Pinnacle, was one of them. It came with a 69-degree head tube, a 73-degree seat tube angle, Shimano's Deore XT gruppo and 17.5-inch chainstays. We thought the chainstays would have been better if they were a little shorter. We suggested 17 inches. We liked the Selle Italia perforated saddle but didn't like the grips, which we felt were too hard. Still, for $850, all things considered, we thought this was one of the best bikes of the year.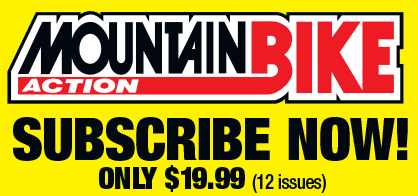 Here's what we said about this photo: "The new kid: First Year Pro Tom Rogers was putting in an impressive ride at Durango until his chain broke. At Round Three in Big Bear, Tom finished ninth after a tremendous battle with Clark Natwick. He also caught the attention of Nishiki who signed him after the race." Rogers, who now works at DVO Suspension, would soon go on to become a top pro in both cross-country and downhill.
"Gel saddles are going to be the hot new wave of cycling comfort," we wrote in 1988 of the Vetta Gel saddle. " An elasto-polymer gel is trapped inside the saddle, to cushion the sensitive parts of your anatomy."  Almost all mountain bikes on the market in 1988 were completely rigid with no suspension, front or rear, so a little more "cush" when riding was something many riders appreciated. Rock Shox suspension forks would debut a year later. Rear suspension would take longer to catch on, even though it was introduced in the early 1980s by Brian Skinner and Dan Hanebrink.
"Gary Fisher took the shape of the Magura Ergo grip and combined it with original Grab-On foam to produce the  ultimate mountain bike grip," we said of the Fisher Pyramid grips.