TILT INDUSTRIES BALANCE TRAINER REVIEW: THE TRANSFORMER TRAINER
The perfect off-trail training tool?
Tilt Industries Balance Trainer Review: The transformer trainer
Manual machines have been around for years now. These mostly homemade contraptions that lock the rear wheel and limit how high the front wheel can go have been helping riders learn to wheelie and manual. A few more elegant solutions have popped up recently, and Tilt Industries out of Utah is leading the charge with its new balance trainer.
Tech features:
Tilt's balance trainer is constructed of lightweight aluminum and is collapsible. It even has a built-in handle for easy transportation. A ratcheting strap secures the rear wheel into the trainer. The tighter you keep this strap, the more lateral stability it creates, so this is an adjustable feature. A second strap clips securely to the front of the trainer and to the front wheel. It is adjustable for different-length bikes and rider balance points.
That's the trainer, but it has a few other tricks up its sleeve that make it much more than that. First, it doubles as a bicycle repair stand. For an extra $160, you can add an aluminum repair stand arm. This arm is height adjustable via a quick-release lever on the trainer. The head adjusts for bike rotation, and the clamp features a simple crank-style clamping mechanism. If that's not enough, Tilt also made the trainer double as a wall bike storage stand. With two included lag bolts, you can mount the stand to the wall for secure bike stowage via the front wheel. The lag bolt holes are keyed so that the trainer can be slid up and off the bolt heads without removing them.
Field test results:
The Tilt trainer is a well-engineered piece of gear. And, for the price, it had better be. The attention to detail is excellent and setup is a snap. The biggest hurdle is removing the chain, since that creates resistance and doesn't really allow you to balance; it allows you to cheat. So does using the rear brake, so Tilt recommends that you do not. Oddly, Tilt does not mention wheelying or manualing at all—only balance. We are guessing that they are following their lawyer's advice on that one.
Wrecking crew riders who can already manual and wheelie well didn't seem impressed by the trainer. Not only did they not want to spend time on it, they didn't seem to need or want the practice. On the other hand, novice riders or those who just couldn't wheelie (see page 8) were much more interested in using the device. Every one of them noticed a steady improvement in not just skill but arm, back, and leg stamina. It's a real workout, especially when you first start and your motions are not fluid.
As a work stand, the Tilt trainer is on par with a mid-level work stand. It's fairly stable, but compared to the quick-release heads and rock-solid feel of high-end stands, it's just not quite there; however, we think the option greatly increases the value of the trainer. Without the work stand option, it would be hard to justify spending double the price of a typical trainer.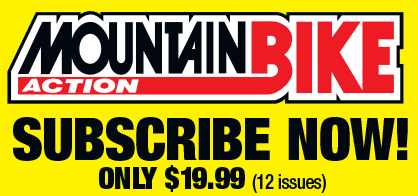 Who needs this trainer? Someone who wants to hone his or her balance and wheelie skills, as well as endurance. Sure, we would all rather ride our bikes than sit inside and balance on our bike's back wheel, but it's actually way more fun to use than any other workout machine that we can think of. Yes, it's very expensive for what it is, and it is not for everybody. If you want a well-built, all-in-one manual machine and work and bike storage stand, this is your only option, and it's a pretty good one at that.
HITS:
• Well built
• Versatile
• Teaches new skills
• Builds endurance
• Fun
• Folds down for storage
MISSES:
• Expensive
STAR RATING: ★★★★
Price: $320; $420, combo trainer and work stand
Contact: www.tilttrainer.com