Tips From The Pros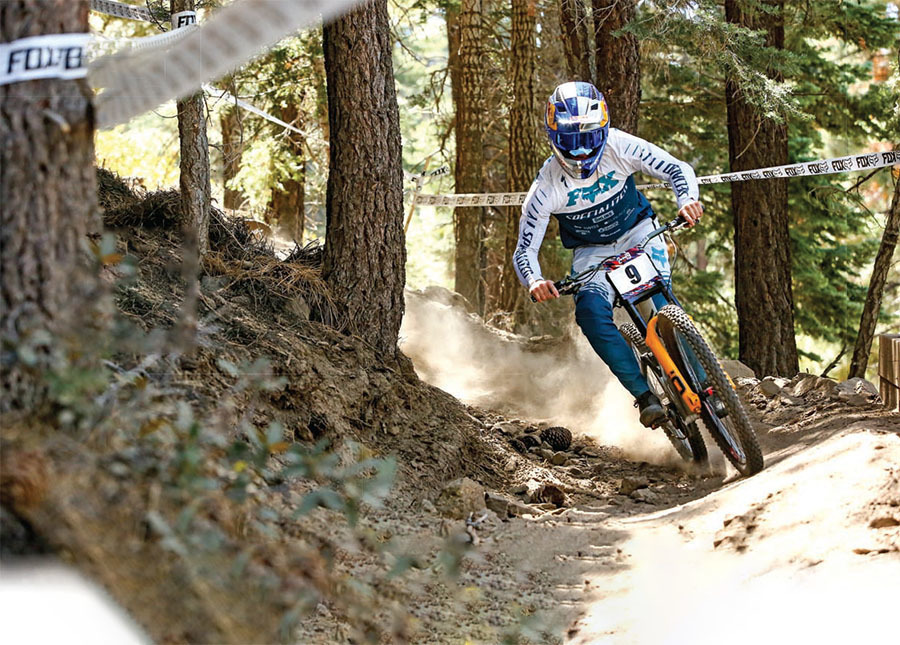 Loic Bruni—shown here at the 2019 Fox U.S. Open in Big Bear, California—was using CushCore tire liners for flat protection when he won the 2019 World Cup title.
Many mountain bikers had to learn their skills and techniques on their own. They learned what works and what doesn't through the experience of trial and error. We've been sharing tips in MBA for nearly 35 years. Here are some tips that have helped us over the years.
STOP LETTING FLAT TIRES RUIN YOUR RIDES
Tires slowly lose air over time, so it's important to check your tire pressure before every ride and inflate your tires to the ideal pressure before you start.
A tire pressure between 20 and 30 pounds per square inch (psi) is usually a good starting point for trail riding.
Tire pressures of 30 to 35 will give you more pinch-flat protection in rocks, while lower pressures (18 to 27 pounds) will generally give you better traction. Pay attention to the tire pressures that work best for you in different situations. If you're riding a fat bike (a bike with tires that are 4 to 5 inches wide), you'll probably want to ride with tire pressures around 10–12 psi when riding on normal trails, but you might want to try going as low as 5 psi in sand or snow.
Keep a floor pump with a pressure gauge in your vehicle. That way you'll have it anytime you need it, whether you are home or parked near the trailhead.
Make sure you carry a spare tube, a miniature pump and a flat-tire repair kit on your rides. Most of the time, you probably won't need them, but when you do, they can be a lifesaver.
Carry patches with you on a ride if you use inner tubes or tire plugs if you are using tubeless tires. You don't want to have to walk your bike home every time you get a flat. You might be able to stuff a flat tire with grass if you have no other options (MXA's Jody Weisel and Pat Carrigan have both done that in the past when they were on long rides with no other options, but some of our readers who've tried this technique have told us that it didn't work for them). In any event, you'll be better off if you can fix your own flat tire on the trail and re-inflate it properly.
Switch to tubeless tires if you race or get a lot of flat tires. You'll get fewer flats if you're running tubeless tires with a good sealant in them. You might also want to get a tire insert, such as a Cush Core, for extra flat-tire protection. Carry a spare tube and a patch kit as backup protection when necessary.
Replace your tubeless tire sealant every three to four months or so. Hot weather might necessitate more frequent sealant changes. Sealant tends to dry out and quit working over time, so it's best to replace your old sealant before it stops working.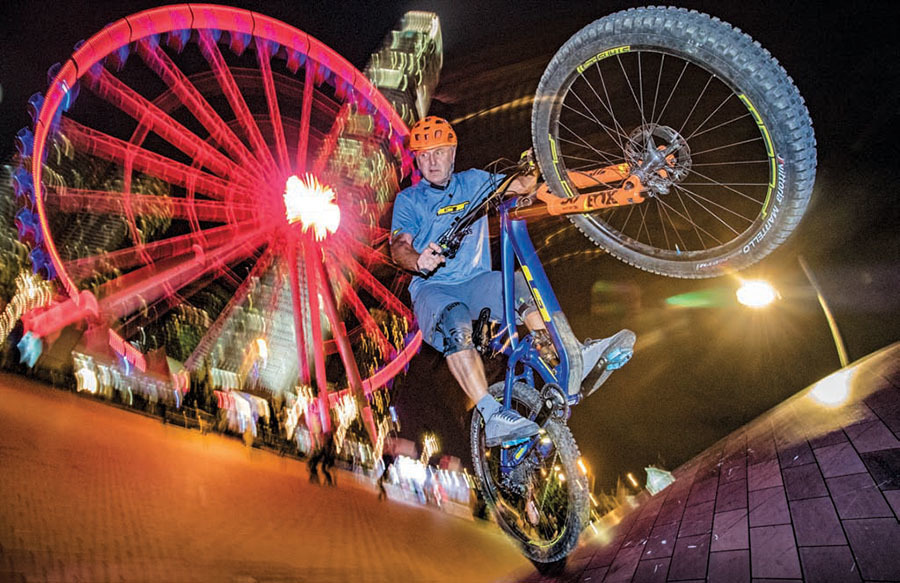 IMPROVE YOUR BALANCE SKILLS
"Balance is perhaps the most fundamental skill in mountain biking," says Hans Rey. "Learning it is essential for low-speed technical situations. Here are a few basic exercises you should be able to do: 1. Locate an extremely slight slope. Point the nose of your bike downhill and roll along as slowly as possible. 2. Find a long, painted line on a flat surface and slowly trace the line with your tires. 3. Practice a figure-eight, rolling in a continually tighter and slower formation. 4. Pedal carefully along the length of a low curb or beam. The trick is to concentrate on where you want to go, not where you don't," advises Hans. "If you look over the edge of a drop, you'll end up there. It helps me if I look 3 to 5 feet ahead of where I am."
CARRY MORE WATER THAN YOU THINK YOU WILL NEED
Take extra water on a ride, especially when it's hot. Medical experts say that our bodies can lose up to 4 liters of water per hour through breathing and perspiration, but we can only absorb 1 liter of water per hour from our digestive systems when we're drinking it. Make sure you're well-hydrated before the start of a ride, and remember to drink water every 15 minutes or soft and even more often if you're thirsty. If you don't have enough water on a hot day, you can get heatstroke and possibly even die, so don't take any chances. But, be careful about drinking too much water on a hot day without taking in some salt, too. Exercising in hot weather lowers the level of salt in our bodies when we drink too much plain water, so add some salt to your water on a hot day to prevent hyponatremia.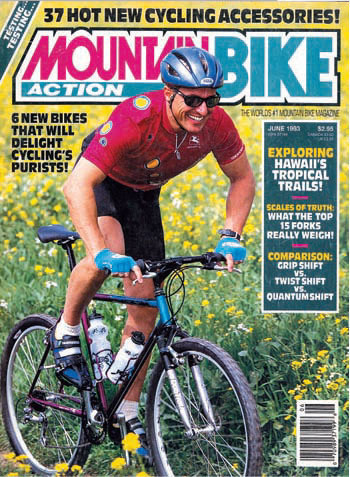 MASTER BRAKING
Toby Henderson (a former pro downhiller, MBA test rider and the founder of Box components) shared this tip with our staff years ago: Keep one finger on your front brake lever and two on the rear brake lever. First off, this helps you remember which lever controls each brake. Second, the different amounts of pressure can help keep you from locking up the front brake and sending yourself over the bars. Third, the different amounts of pressure can help you modulate the power to your brakes. As mentioned, this helps you remember which brake is which, and that is extremely helpful if you try a friend's bike that has the lever positions reversed, a setup known as "moto-style" that is often used by riders who ride motocross bikes on the side, where the right lever controls the front brake.
GET SOME GOOD COACHING
Find good riders who are willing to coach you. You can ask your friends and family members to teach you, or you can take a mountain bike skills course and spend a weekend learning the techniques that the pros have mastered. Gene Hamilton (of BetterRide) and Lee McCormack (of Lee Likes Bikes) offer two of the most popular mountain bike skills courses in the U.S. (Gene's course is also offered in South Africa during America's winter months.)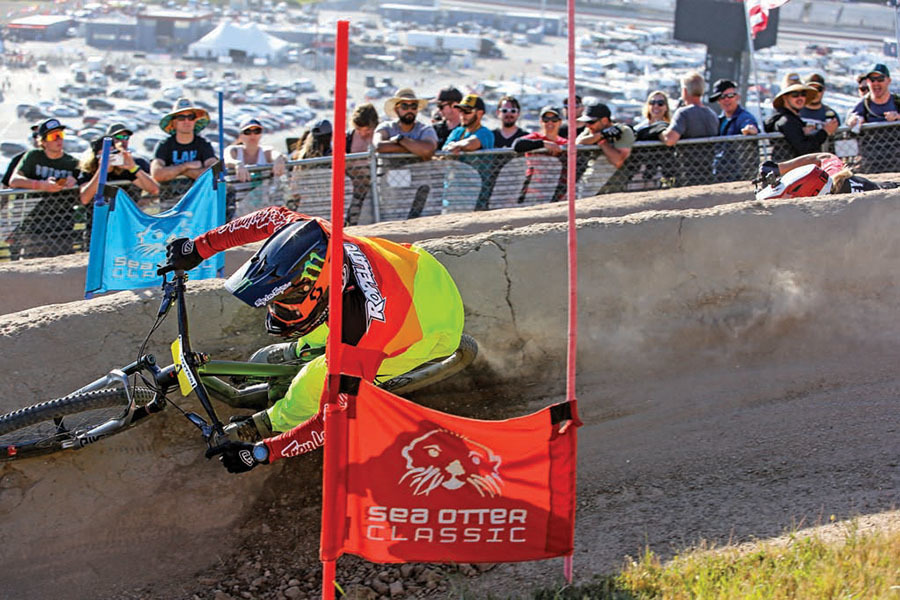 Mitch Ropelato (left) and Cody Kelley (right) are two pros who have praised the benefits of Gene Hamilton's BetterRide coaching workshops.
Local bike shops may offer their own skills courses, and they can be good, too. The mountain bikers who lead the skills classes are usually very good riders and good teachers or they wouldn't be able to continue doing it. Even if you're already one of the best riders in the country, you can probably still learn some things through good coaching to make you an even better rider. Some of the top riders in the world have told us that they've benefited from mountain-bike skills coaching sessions (including former downhill world champion Missy Giove, downhill national champion Mitch Ropelato and enduro star Cody Kelley), so don't assume that you're already too good to benefit from experienced coaching.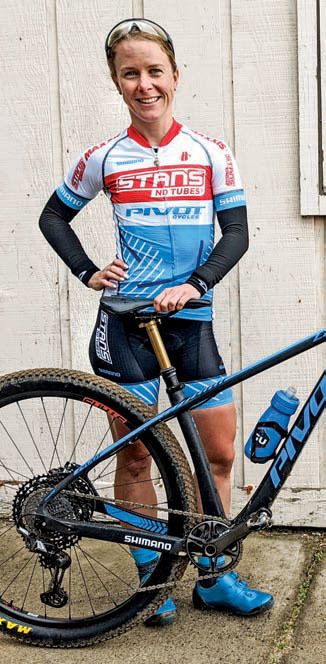 GET A DROPPER POST
"My first tip for learning mountain bike skills is to invest in a good dropper post, such as a Fox Transfer post," says Chloe Woodruff. "A dropper will allow you to learn how to stay centered and balanced on your bike and allow for greater bike/body separation, so you can begin to learn more advanced skills."
MISCELLANEOUS TIPS
If you're racing cross-country, do your best to stay close to the lead group, then pass the other riders one at a time. Focus on passing the rider who is right in front of you until you get past that rider. Then, focus on passing the next rider. Keep passing them until you get past every one of them. Catherine Pendrel once told MBA that was how she won her two Elite Women's XC World Championships—picking off the other racers one at time. Of course, she had to acquire the fitness to do that first, and that took years of riding and racing.
Dress in layers. Be ready to shed one layer of clothing at a time as the temperature warms up on a ride. If the weather might get colder during a ride, take a windbreaker or jacket with you in your pack. Leg and arm warmers can also come in handy, especially if you're riding in the late afternoon and might end up staying out past sunset.
Ride with others when possible. It's safer and more fun. If you don't have any friends to ride with now, check with your local bike shop to see if it offers any group rides.
---
Mountain Bike Action is a monthly magazine devoted to all things mountain biking (yes, that's 12 times a year because we never take a month off of mountain biking). It has been around since 1986 and we're still having fun.
Call us at (800) 767-0345