TITANIUM TUESDAY: MOOTS WOMBLE REVIEW
When a little bit of Colorado and Arkansas combine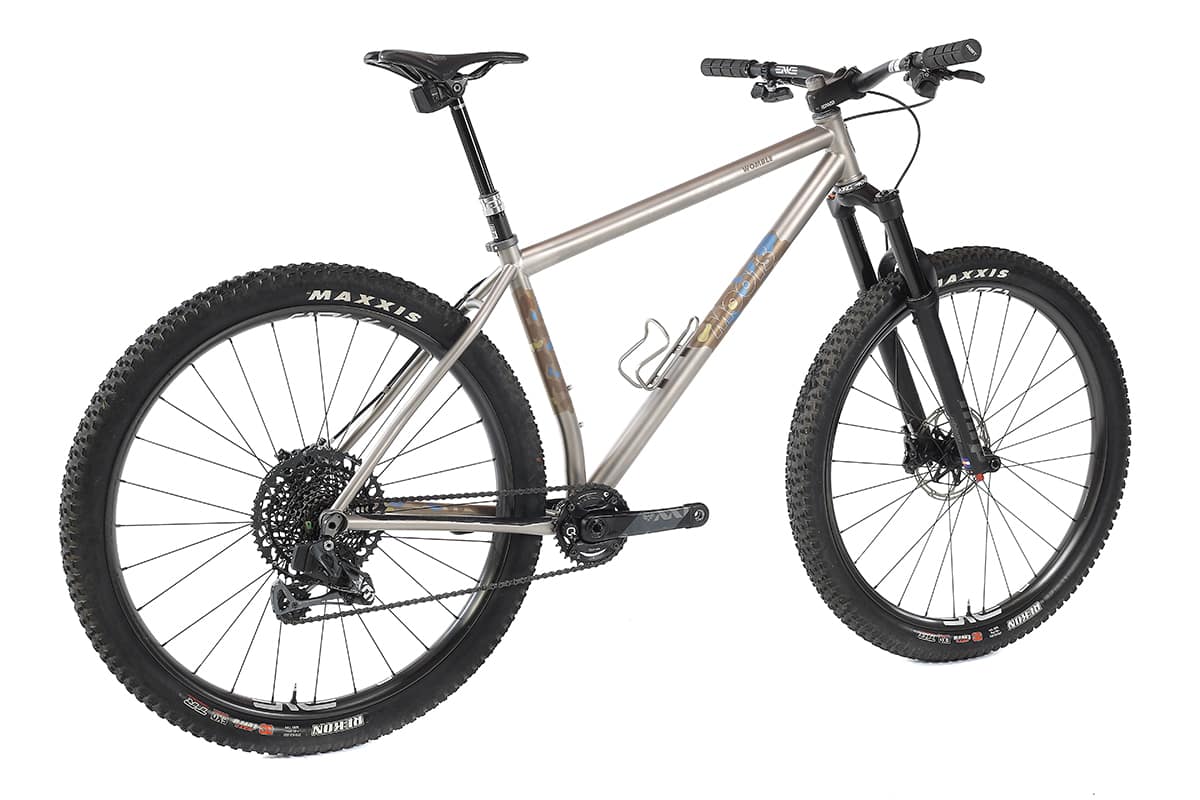 MOOTS WO

M

BLE
Okay, if you're new to mountain biking and have recently visited the Moots website, you'd be forgiven if you came away a little confused after seeing so many road and gravel bikes filling the screen. But, don't despair, because despite the brand's immense popularity in the drop-bar world, if you're in the market for a titanium hardtail, you've still come to the right place.
Moots was founded by Mountain Bike Hall of Famer Kent Eriksen in the high-elevation Colorado town of Steamboat Springs back in 1982. While the brand has changed hands a few times over the years, one thing has remained constant—the marque is famous for producing beautifully crafted, and, yes, expensive titanium frames.
The Womble is designed to be an all-day singletrack performer designed around a pair of 29-inch wheels. Curiously, despite Colorado's own renown for world-famous singletrack and mountain passes (and a promo video that touts the bike being tested in the Rockies), Moots named the bike after the Womble Trail in Mt. Ida, Arkansas.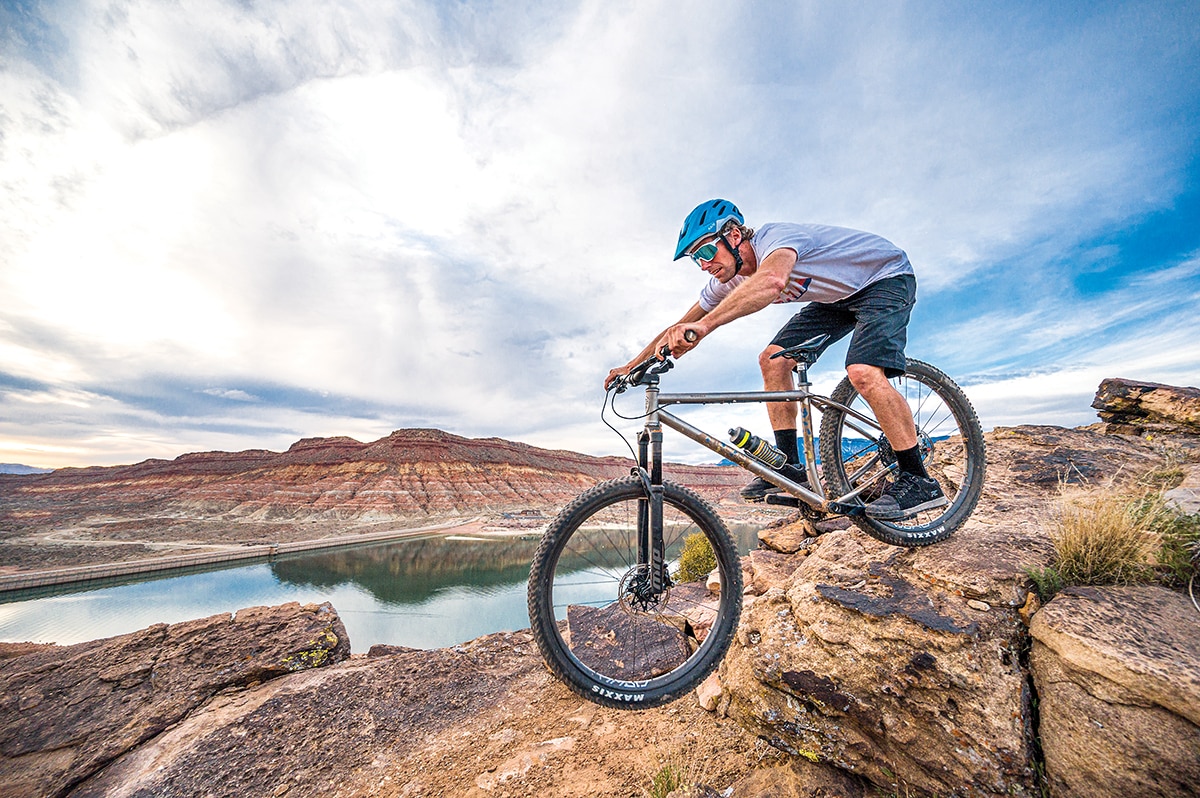 TECH
Moots designed the Womble to curry favor with the modern geometry trends, so you'll find a slightly longer front-center than they've used in the past with, accordingly, double-butted tubes in the front triangle that are the largest diameter that they've used to help maintain frame rigidity. To help make room for a 2.6-inch rear tire, the frame uses a slightly curved seat tube. Our large test bike has a 67.2-degree head tube angle, a 75.3-degree seat tube angle, and a 470mm reach. Not to your liking or needs? Moots offers completely custom geometry and a list of personal customization options—from anodizing, engraving, paint schemes, you name it! They'll likely be willing to make it come together for whatever your imagination can conjure up.
While the aid of the electronic components gives the Womble an extremely tidy finished appearance, this Moots has some other standout features that keep it clean. Looking closely, there are zero braze-ons to run a cable-actuated rear derailleur. The guides for the hydraulic line to the back are the only braze-ons that this frame has. To some mechanics' dismay, there are also closed-off cylinders that the line has to be slid through for routing. Lastly, there is no port in or out to run an internally routed dropper post cable. This wireless specific design makes for one of the cleanest frames out there. Moots does have options if you are running cables, but this build was made specific to the components that were used.
COMPONENTS
A complete Moots Womble starts at $8269, but our 40th anniversary special build comes in at just north of 12K. That includes a full SRAM AXS build, including a 150mm wireless Reverb seatpost and G2 Ultimate brakes, Enve carbon wheelset and cockpit, and the anodized camo graphics pattern. It can be built with a 140mm-travel RockShox Pike, but to keep things Colorado, our Womble has an MRP Ribbon fork.
ON THE TRAIL
"Oh, wow," was the sentiment shared by all of the wrecking crew in the first few pedal strokes on the Moots. It possesses the epitome of that magic titanium feel in spades. The Womble is no doubt an all-arounder that can manage to be ridden on a variety of trails. It can take on chunky, steeper terrain but prefers to take a fast line smoothly when possible.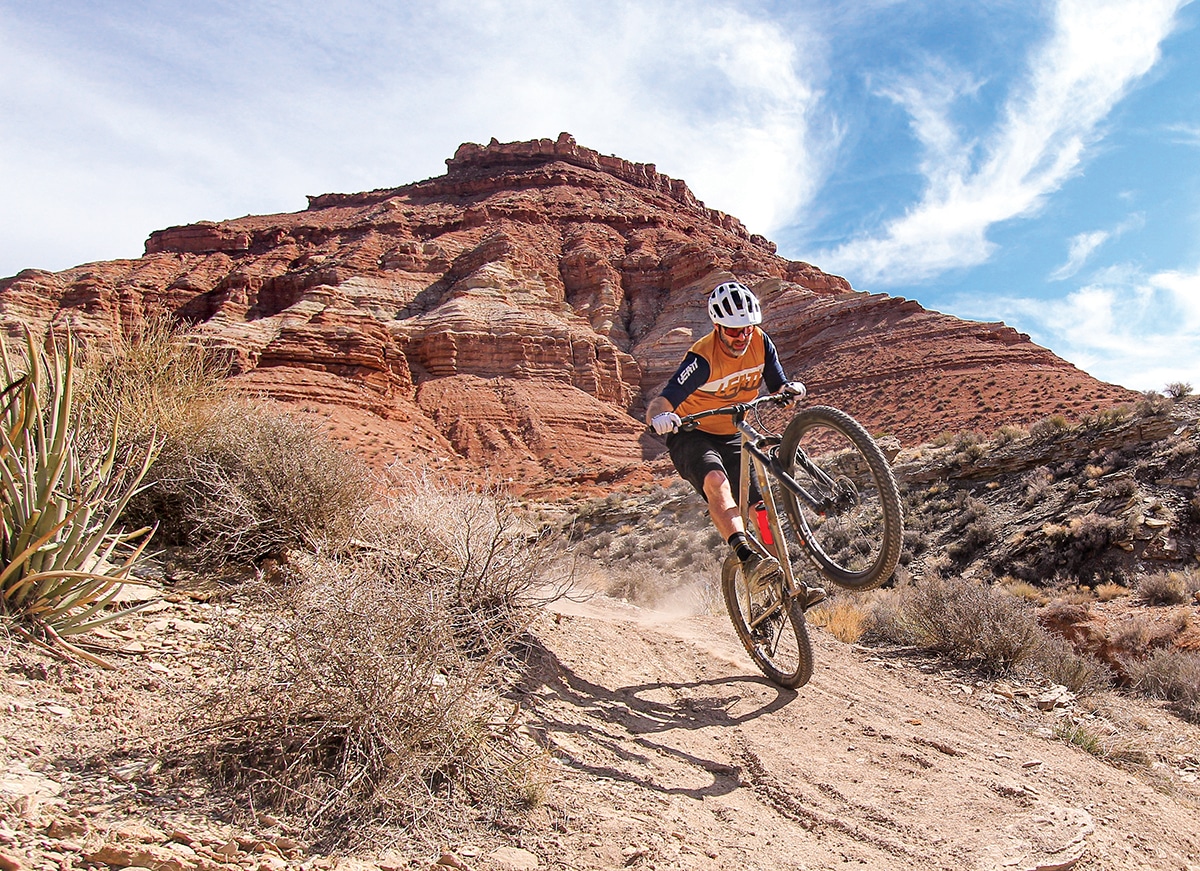 Moots has nailed the geometry for the Womble to blend comfortably on singletrack cross-country trails, roughly beaten gravel fire roads, rail-worthy flow trails, and then get loaded up for a bike-packing journey without any questions like, "Did I bring the right bike for the job?"
This bike is predictable and seemingly always enthusiastic for more speed. Sure, it's no enduro slayer, but for a hardtail, our test riders were surprised by just how far the limit could be pushed. The frame has such a natural feel when absorbing the trail. The frame seems to soak up just enough chatter to cut down rider fatigue. When we were eager for more downhill at the bottom of a trail, the Womble was yearning to make sure we got back to the top quickly and efficiently. Ultimately, the bike climbs nicely and likes to put in the work on the descents, whether it be technical terrain or local flow trails. It is, after all, a "wandering Womble," so it merits being diverse in its usage for any riding style.