How To Build A Mountain Bike Pump Track
How To Build A Mountain Bike Pump Track
After years of false starts and procrastination, the Mountain Bike Action pump track has finally come to fruition. It took the expertise and generosity of a World Champion, $2400 in cold hard cash, a 60-by-60 foot patch of backyard, and forty combined hours of manual labor to turn a pile of dirt into a ridable and sustainable pump track. The story behind the Mountain Bike Action pump track will help you decide if you need a pump track (you do) and how to get it done.
THE BASICS
A pump track is a loop of dirt track that can be ridden without pedaling. A rider uses the rollers (whoops) and berms to "pump" speed into his bike without having to pedal. You generate speed when you ride over the bumps by pulling up and then pushing down. You pull up on your bike when you first come to a whoop or roller, and you push down on your bike once you crest it. It's kind of like a dance. It's all in your hips. You enter the berm in an attack position, and when the force of the turn wants to compress your legs, you push back and that makes more speed. The harder you push, the faster you go. You increase your effort through the turn, so you're pushing the hardest as you exit the turn.
THE SAGA
After riding a secret pump track built by Marzocchi in Valencia, California, and spending time on the pump track at Ray's Indoor Mountain Pike Park in Cleveland, Ohio, we were hooked. We decided we needed our own pump track. We grabbed Lee McCormick's book, Welcome to The Pump Track Nation, and marked out a simple, triangular track. No dirt was imported, and we built the rollers by removing dirt between them. We built berms by moving dirt from holes dug behind the berms' faces.
The result of our labor was severely blistered hands, whoops that were unpumpable, berms that didn't flow, and a great mosquito breeding ground. We are not blaming Lee's instructions for our failure. It was a combination of lack of expertise and underestimating the labor and materials necessary to complete a viable pump track. Many pump tracks get started and never get ridden. Weeds covered our unridable track, and it remained dormant until a chance encounter with Eric Carter.
Eric was talking about pump tracks when we mentioned the story of our failed attempt to construct one. To our surprise, and maybe his regret, Eric offered to design and build our pump track if we would follow his instructions. You don't turn down a World Champion who makes a once-in-a-lifetime offer like that.
THE INSTRUCTIONS
Eric used Google Earth to get an idea of what the available space had to offer. He figured we would construct something a tad more interesting than a triangular track, and we would need to import 50 yards of dirt. Many times soil can be had for cheap if someone close is putting in a pool, but we had a limited window of opportunity to work with Eric, so we went with Peach Hill Soils in Somis, California (near where the track was to be constructed).
Meeting with the soil company was the most intimidating part of this entire process. There are lots of different soils to choose from, and none of them are labeled "pump track dirt." We explained what the dirt was to be used for, and Peach Hill Soils gave us a blend of sand and clay that seemed to pack down tightly. Four truckloads and $1800 later, the dirt was piled in the yard, and we spent a sleepless night worrying about whether this stuff would work for Eric's grand scheme.
THE TOOLS
Eric made it simple by supplying a link to the exact type of tractor he needed to work his magic. We rented a Bobcat S630 Skid Steer Loader for the day to move the dirt. Next, we rented a torture device called a Rammer. This scary pogo stick of a tool uses a four-stroke motor to jump the heavy pile driver and pack down anything that gets in its way. We would use this to pack the dirt that Eric would move. The cost for equipment rental was $600. Finally, all the shovels and rakes that we could find were collected for the big day.
THE CONSTRUCTION
If you plan to pull off the 10-hour pump track miracle growth project, you can't have any loose ends on P day. When Eric showed up at nine in the morning, we were ready to rock with the dirt delivered, the equipment ready to go, extra fuel and food and drinks.

To our surprise, Eric didn't have a blueprint. He walked the 60-by-60-foot yard deliberately and mulled things over in his head. A few minutes later, he came up with the basic design concept–in his head! Eric fired up the Bobcat and started building the five berms that would link the whoop sections. Once he finished a berm shape, the Rammer was kicked to life and used to pound dirt from tacky topsoil into firm hardpack. After the berms were finished, the whoops were constructed and pounded by the Rammer. Shovels and rakes were used for touch up on the berms and whoops. Except for a lunch break, the crew worked non-stop until just before sunset. It was then that Eric decided the time had come. Was this quitting time? Nope, it was time to ride.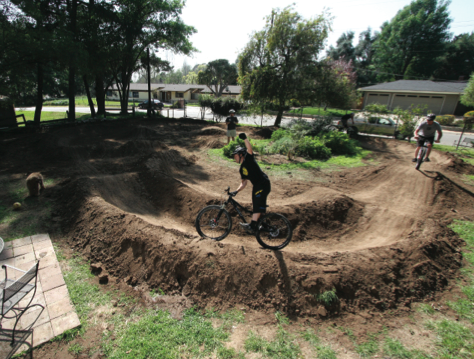 ONE-DAY PUMP TRACK
What seemed impossible in the morning was now a reality. We were riding a pump track that had been a pile of dirt just 10 hours earlier. We would have ridden the next ten hours, but the days aren't that long in Southern California.
The next morning, with the rented tools returned and the other tools in the shed, we were ready to shred. Eric's track allowed for lots of line options, fast berms and great flow. The parallel berms that seemed a little redundant during construction turned out to be the most fun part of the track because they allowed passing and head-to-head pumping.
Still, we could tell that Eric wasn't totally satisfied. Something was missing. He grabbed a shovel and started moving dirt to form another whoop. We watched perplexed until he packed it down and got back on his bike. After pumping three laps to get up to speed, E.C. hit the new section that allowed him to reverse directions. This simple addition gave a rider the option to go from riding the track clockwise to counter-clockwise without stopping. Very, very sano, Mister E.C.
TIPS AND TRICKS FOR YOUR TRACK
Liability waiver: Hate to admit it, but it is a good idea to consult an attorney about what a pump track opens you up to. It's guaranteed that your pump track will attract every kid in the neighborhood, and while we are not aware of any pump track fall resulting in a serious injury, there is always a possibility.
Get it done: Our track sat dormant for over a year because of false starts and lack of materials. If you decide you want a pump track, don't stretch out the construction over months. Set a weekend, call in all the favors you can and get it done. The sooner you are riding it, the more motivated you will be to improve it.
Import the dirt: Digging holes on the property for the necessary dirt creates major drainage issues. Find free fill dirt or bite the bullet and buy it.
Import more dirt: The 50 yards of dirt was delivered in four truckloads. It seemed like way too much. It wasn't. Eric would have liked to build a roll-in ramp to the track. The dirt ran out before he got that far. Conservatively, we could have used 75 yards of dirt.
Know the rules: Communities may require permits to import over a certain amount of dirt. Two days after we put in our pump track, we got a visit from a city official tipped off by an anonymous neighbor. Tipped off about what, we are not sure, because no laws were broken and the official went home with his citation book in his pocket. Still, don't wing it. Find out from the soil supplier what the rules are.
Get the right dirt: Sandy dirt that doesn't pack or dirt loaded with rocks will not work for your track. The dirt has to pack as hard as adobe and needs to be clear of debris. If the dirt doesn't pack, your track won't work.
Get expertise: If somebody tells you they know how to build a pump track, ask to see a track that they have built. Better yet, go ride it. "I've met so many people who say they know how to build a pump track who don't have a clue," explains Eric Carter.
Down the drain: Eric installed drainage at the lowest berm of the track where he anticipated water would collect after a rain. He was right. The drain prevented our pump track from becoming a pump pool.
You're never done: Think of your pump track a work in progress. You will find ways to modify and improve the track the more laps you put on it.
U-Turn: You will ride your track in both directions. Not stopping to do it is even better. A reverse-direction turn makes the track twice as much fun.
Pretty it up: We have planted ice plant and sunflowers on the berms.
Neighborhood watch: If you light your track (we did) or set up speakers, point them away from neighbors' property.
THE HIDDEN BENEFITS
Is pump track riding really mountain biking? No. You don't even pedal the bike. But, it is an excellent form of cross-training. You will use the skills you develop on the pump track every time you ride a trail. You will look at riding differently after realizing how much forward momentum you can generate with a well-timed pump. You will develop more cornering confidence, too. Your upper body gets a better workout during a 20-minute pump track session than it will on a two-hour ride.
A pump track becomes a social gathering place for the neighborhood. It is not uncommon to have riders from ages 7 to 60 throwing down laps. The track is a great place to chill with friends and family. We added a table, chairs and a fire pit to the pump track area.
THE BIKES
The best news about a pump track is that you can ride anything but a downhill race bike on it. We have pumped laps on a 5-inch-travel trailbike after dropping the saddle. Twenty-niners and long-travel bikes will prove more of a challenge for anyone but an accomplished pump tracker.
But if you are going to all this trouble to build a pump track, why not go all the way? Hardtail jump bikes like the Specialized P series, Scott Voltage, Giant STP, Trek Ticket or Haro Bikes Thread Two rail on a pump track.
GETTING PUMPED
Learning to pump comes quickly to experienced riders. We have seen riders pumping multiple laps on their first visit to the track. New riders have a lot of fun learning, because pump tracks are not scary or intimidating, and unlike with mountain biking, you are not out in the wilds when you get tired. New riders should not even worry about pumping. Have them ride the track to get a feel. The pumping will follow.
A PUMP TRACK IN EVERY NEIGHBORHOOD
Well, there you have it. It is not mountain biking, but you do it with a mountain bike and it will improve your riding. You will get to know neighbors you've never talked to before (hopefully in a positive way), and it is a fast, easy way to blow off steam after a hectic day at school or the office. Welcome to the pump track world.


---
THERE ARE SO MANY WAYS TO GET
MOUNTAIN BIKE ACTION
Mountain Bike Action is a monthly magazine devoted to all things mountain biking (yes, that's 12 times a year because we never take a month off of mountain biking). It has been around since 1986 and we're still having fun.
Start a subscription by clicking here or calling (800) 767-0345.