VITTORIA SYERRA TIRE REVIEW – CROSS COUNTRY SPEED WITH TRAIL BIKE GRIP
Outperforming expectactions
Vittoria is an Italian tire maker that's been in business for 70 years. Since 1953 they've been known for their performance road tires, but more recently they have ventured off the road traveled by skinny wheels and onto the trails. Their relatively new mountain bike lineup features tires to handle everything from cross-country and mixed-surface riding to enduro trails and gravity riding.
The Syerra is a trail tire that Vittoria claims "addresses the needs of the emerging downcountry market." While we're not entirely sure about the terminology (actually, we hate it), we're certain that as cross-country bikes become more capable, tires must evolve to handle more varied terrain. Technological innovations have enabled tire construction to get lighter and faster while retaining durability. This new crop of lightweight trail tires—whatever they may be called—is a blast to ride. They are designed to reduce rolling resistance without giving up grip, and that's exactly what Vittoria aimed to accomplish with their Syerra tire.
Tech info:
The Syerra is a short-knobbed tire from Vittoria. It's designed to work on mixed terrain with an emphasis on reduced rolling resistance but still retains enough grip to handle rough trails. Vittoria builds the Syerra with a combination of four different rubber compounds, including their proprietary graphene rubber for grip. The tire comes with an anti-pinch-flat (APF) sidewall with a rubber insert for stiffness and flat resistance. This tire is tubeless ready and is compatible with inserts if you want to run them that way. The Syerra is currently only available in the 29-inch by 2.4-inch size tested here.
Field test results:
Mounting our Syerra tires to a lightweight trail bike went smoothly. The fact that these new tubeless-ready tires hook into a rim without the need for bead lubrication or a compressor is a great feature in our book. With tires pumped to 22 and 24 psi front and rear, we hit the trails. We didn't use any inserts for this test, just some WTB sealant on our relatively standard 29mm-wide rims.
Out of the gate you will notice the Syerra accelerates quickly and without much buzz from the knobbies. This tire is meant to feel smooth compared to what came off this bike. Adding to that oh-so-smooth feeling is the relatively large air volume of a 2.4-inch casing. That's a real measurement, and not one that's inflated (pun intended) just so they can put a larger number on the sidewall. This tire lives up to its size claims. According to our scales, the weight was 10 grams heavier than what Vittoria claimed on their website, but we'll let that slide. These tires still feel very lightweight for the terrain they are designed for. The sidewalls feel thin but not anorexic.
On the climbs, the Syerra lends a hand by reducing rolling resistance and rotational weight compared to most other trail tires with a sidewall insert. Most of our favorite trail tires of this size can weigh up to 1000 grams, so these are noticeably lighter. Uphill, these things are great.
When descending, the short-knobbed profile grips more than we expected, especially on hardpack surfaces. We even found ourselves trusting these on some very steep trails with loose-over-hardpack conditions. In fact, these tires were used on a first attempt back after a crash on a steep and gnarly trail segment called "Ride the Rut!" On our return to that trail, our test rider rode that rut successfully, thanks in part to the grip from these tires.
When cornering aggressively, the tread holds consistently and predictably enough to make the relatively lightweight sidewall squirm a little. This is the price you pay for a lightweight tire with a large air volume, but it's well worth it for the types of SoCal trails we tested these on. We had concerns running them hard amid all the sharp rocks, ledges and cacti; however, our tires lasted the duration of the test without a flat.
Braking traction is adequate and predictable, although the tires have their limit when the surface gets overly loose or steep. Same goes for the cornering grip on the descents. The round profile and large air volume grips predictably but won't hold a hard cornering line as long as a squared-off, aggressive trailbike tire.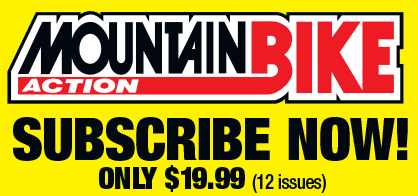 Ultimately, the tread outperformed our expectations and felt like an upgrade over the stock tires we replaced for this test. The weight savings is noticeable and is enhanced by the quick-rolling tread pattern that felt supple and smooth over all kinds of terrain. The grip is predictable and sufficient for most applications, making the Syerra a great upgrade tire. These tires can make a trailbike feel quicker without giving up too much performance in other key areas; however, they don't work as well on super-loose terrain. Super-aggressive riders may not like the lightweight casing, but they just ride so nice and smooth.
HITS:
• Fast
• Grippy
• Predictable
• Durable
• Low rolling resistance
MISSES:
• None
STAR RATING:★★★★★
Price: $81
Weight: 860 grams
Contact: www.vittoria.com