Where did my brand loyalty go?
Where did my brand loyalty go?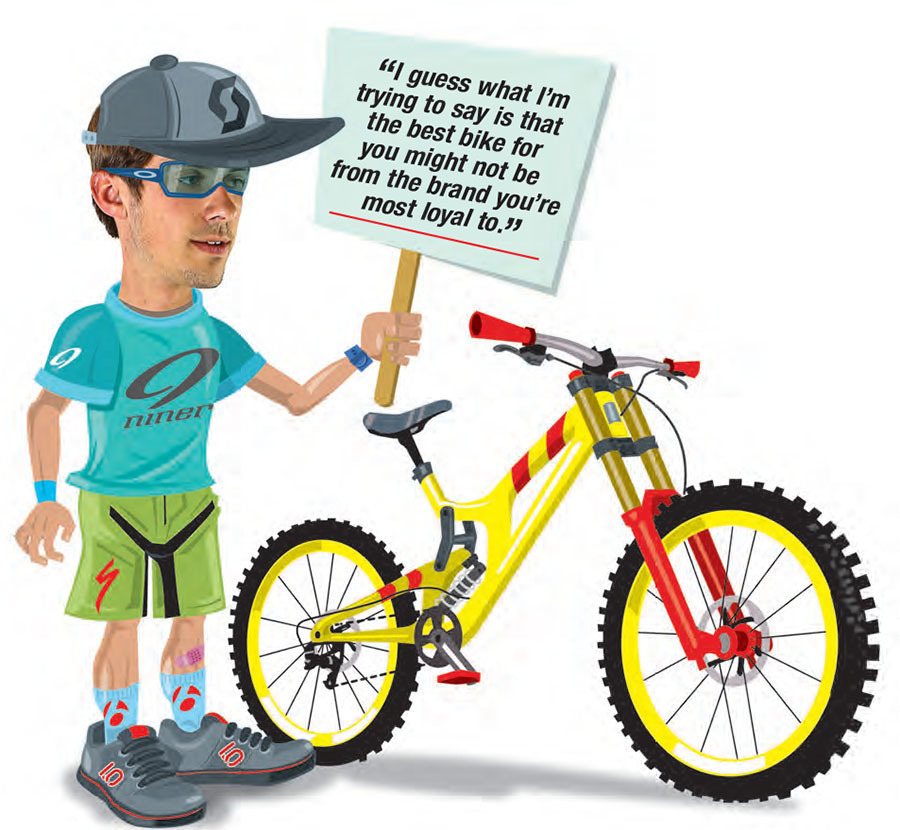 As I sit down to write this, I realize my clothing brand loyalty has disappeared. Just like that—poof! It's gone. Seriously, I'm sitting here wearing a Niner T-shirt, a Scott hat, a pair of Bontrager socks and Specialized shorts. Need I say more? Sometimes I feel like a walking billboard, but the fact of the matter is that each item of clothing fits me well. The same thing has happened to my brand loyalty when it comes to bikes. Long before my magazine days, I would have argued that whatever bike I was riding at the time was the best bike in the world. I would have been adamant about it and close-minded to your opinion in the same way a Chevy guy argues with a Ford owner.
MY BEST FIT
Now, however, as an editor, my daily ride is constantly changing, and so is my brand loyalty. By the time I begin to feel comfortable with the bike I think fits me best, I receive an e-mail saying it's time for that bike to go home. Fortunately, a new bike takes its place. Over the years my favorite brands have changed. One year I might fall in love with a Devinci, only to find the next year that I'm kind of a Canyon fan now. Then a new Santa Cruz will come along and change my mind until another flashy rig catches my eye. I guess what I'm trying to say is that the best bike for you might not be from the brand you're most loyal to.
SO WHAT'S THE BEST BIKE FOR YOU?
I'd hate to leave you hanging without any useful information, so here are a few key pointers to help you find the bike that's best suited for you.
• Forget about the brand name written on the side of the bike. More often than not, paying attention to the name will cause you to prejudge the bike's performance.
• Find competitive bikes within your budget, and try to demo as many of them as possible.
• Focus on components over frame design. Unless you're an elite-level rider, the differences in suspension systems will be minor. Look at the pros. They bounce around from bike company to bike company and manage to produce similar results.
• Whatever bike you buy, remember to cherish it and treat it well. A positive relationship with your bike means it will last longer, run smoother and continue to bring you joy as you ride it. Sure, there might be a newer model you'd love to buy, but it's important to be grateful for the bike you currently have.
• Never feel the need to stick to just one brand. There are so many great bikes on the market, and if you only ride one brand, you're guaranteed to miss out.
GO RIDE!
All right, all right. Enough talking. Grab the bike in your garage, no matter what brand it is, and go ride the wheels off it. I'll be out on the trails doing the same.
---
THERE ARE SO MANY WAYS TO GET MOUNTAIN BIKE ACTION