WHY SHAUMS MARCH WAS LET GO FROM SCHWINN
WHY SHAUMS MARCH WAS LET GO FROM SCHWINN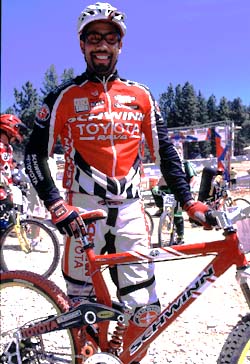 SHAUMS TALKS ABOUT HIS SITUATION
Most professional racers are busy preparing for the new season by dialing in their bikes and focusing fully on training. Not Shaums March. The Schwinn-Toyota factory downhill pro (and one-time NORBA National winner) was suddenly fired from the team about a week ago. We talked to Shaums to get the full scoop on what happened.
Mike C: Shaums, what happened with Schwinn?
Shaums M: Schwinn didn?t want me on the team anymore! I don?t know, I guess I didn?t fit in any longer. I guess their program didn?t fit in with what I was doing and how I was representing myself. Last year they wanted me off the team too, and I had some notices that were sent to me, but I got back on the team for the end of the year. This year I guess they made a corporate decision that they wanted to get ride of me.
MC: What about your contract?
SM: Contracts always have loopholes and they used a loophole. It basically said Schwinn had the ability to say I was not to their standards and it was at their sole discretion to let me go. So, there was no way of fighting it because it was at ?their discretion.?
MC: What happened at Sea Otter this year? Was that the finale for you and Schwinn?
SM: At Sea Otter I hadn't been on a bike since November and they brought me bikes that didn?t work. I had to put them together myself and then race them in the downhill. Schwinn wasn?t happy. I told them I wasn?t ready to ride. I had doctor's notes, but they said it just didn?t look good for me.
MC: Your injury has kept you out of action for awhile.
SM: Yes, that was Schwinn's fault. Schwinn injured me and then they got rid of me because I?m injured now. I hurt my shoulder at the first National last year; I needed full reconstructive surgery including tendons, ligaments and three new pins.
MC: How much of the season were you out?
SM: I missed all the European World Cups and I was weak for all but the last two NORBA Nationals. Then my shoulder was strong and Schwinn finally made me a new bike. Schwinn wasn?t acknowledging our (the riders) problems with our bikes, they were saying it was us, and, finally, we had measurements and things to support our side, so they finally changed our bikes. Then we started to do better.
MC: What are your plans for this season?
SM: It's still up in the air, but prospectives are Iron Horse with a new Shaums March bike and I'll be riding for Red Bull and a lot of my other small sponsors. I have a couple of other small things going on too.
MC: Mentally was this a big disappointment, or will you be eager to prove yourself now?
SM: Schwinn dumping me hurt me mentally for about a day. I hate when people don?t like me; that's my biggest fear. I realize it's not that Schwinn doesn?t like me; it was a corporate decision so I?ll go on with life. I?m actually really excited because Schwinn was holding me back from all my ideas and things I?d like to do for the sport in general. Schwinn wanted me to be a racer 100-percent of the time, and Shaums March wants to be more than that. I?m excited because I can do a lot more now. I?m going to have fun with it and everyone is going to be involved with what I have planned for next year.

SCHWINN'S REPLY
We talked to Schwinn after our interview with Shaums and they elected to take the high-road in the situation. They would only say that it is unfortunate it didn't work out between Schwinn and Shaums March. They wanted to wish him good luck in finding a new team and want to help him in any way possible. As for Shaums' allegations that the bikes were faulty, they said the bikes had the normal ups and downs that go with testing new shocks, tires, etc. In Schwinn's defense, they have had long term commitments with riders like Dave Cullinan, Elke Brutsart and the retired Tim Gould.