The Science Of Picking The Right Handlebar Height
The Science Of Picking The Right Height
Bike fitting is a science to some, an art to others, and a fashion statement to many. That said, however, there are some serious benefits to understanding how the proper handlebar height and rise can seriously affect ride quality and potentially solve issues riders may not even realize are related to where their hands connect to the bike. There are many terms when it comes to handlebar geometry, so first off, let's define some:
Bar Sweep:
This is the angle at which the bar bends back from the stem to provide a comfortable angle for your hands to hold. There are two different measurements of sweep: upsweep and backsweep. Naturally, upsweep measures the angle at which the bars bend up from the stem, and backsweep measures how far the bars bend back. Typically, upsweep measurements are roughly 5degrees and only vary slightly between bars. Backsweep measurements are typically between 5 degrees and 9 degrees, with most makes and models falling right in the middle.
Bar Width:
This is the width of the handlebar as measured from end to end in a straight line. Most modern handlebars measure between 27 and 31 inches wide, with the more aggressive bikes using the wider bars and the lighter trail and cross-country bikes opting for the narrower ones. Bar width not only adjusts how wide and stable your grip feels, but also how low your torso and overall center of gravity are distributed on the bike.
Bar Rise:
Bar rise is largely personal preference but has its roots in intended use. Historically, aggressive trail and gravity bikes have been best served with slightly more rise, while cross-country bikes and lightweight trail bikes tend to use less. This largely has to do with the desired position on the bike. Since more aggressive riders tend to prefer a rear-biased weight distribution and cross-country riders tend to prefer a forward weight bias, selecting the correct rise seems easy; however, this is not a hard-and-fast rule, and many riders choose to break it. For that reason, this is the variable we chose to test for this Mountain Bike Action experiment.
The Case Study Subject:
Moto Technology Goes On A Cyclist's Diet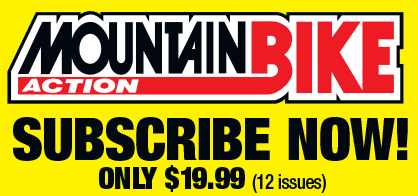 Tech Features:
Renthal's Fatbar Lite Carbon is an ultra-light carbon bar that's designed to satisfy the needs of a wide range of cross-country, trail, enduro, and all-mountain riders. The bar achieves this wide range of intended uses with an ultra-lightweight construction paired with a very adequate 29.2-inch width and a "trail-proof" and durable layup. The bar is available with a 7-degree backsweep and 5-degree upsweep in four different rises ranging from 10 millimeters to 40 millimeters. The Renthal Fatbar Lite Carbon test bars weighed between 6.3 and 6.5 ounces, depending on rise, and are available for $160 each.
Field Test Results:
Renthal recently released its Fatbar Light carbon bar after the huge success of the Fatbar aluminum, which quickly became a favorite of gravity, enduro, and dirt jump riders. The Fatbar Light seeks to strike a balance between trail and enduro durability and cross-country weight savings.
For the test, we experimented with all four handlebar heights on a trail that features everything from long paved sections and fire road ascents to steep and loose technical descents. With all four bars we were rewarded with a smooth ride, thanks to the Fatbar Lite's responsive yet supple feel that strikes a solid balance between stiffness and vibration damping.
We chose to use our tried-and-true Intense Tracer 275 for the duration of the test. The bike sports 6.3 inches of rear wheel travel and is designed to handle everything from cross-country epics to steep, technical chutes and enduro-style trails.
On the scale, all four bars weighed an impressively light 6.3-6.5 ounces, with differences between the different rises being so small we consider them negligible. Our advice: don't select the rise of your bar to save weight.
On the bike, the 29.2-inch width proved perfect for trail riding. While taller or more aggressive riders may want a wider bar, we found the nearly 30-inch size provides more than enough stability and leverage for all but the most aggressive trails.
Starting with the 10-millimeter rise bar, we immediately noticed the low front end translates to a more forward weight distribution, which provided improved climbing prowess on our Tracer by keeping the front wheel planted on the ground on steep climbs. We also noticed more front-end traction on descents, which improved cornering manners slightly. If you value climbing position as a first priority, this is your bar.
On the other end of the spectrum, with the 40-millimeter rise we noticed a bump in confidence on steep descents, thanks to the rearward weight distribution. The increase in height up front puts the rider at ease when the trail gets hairy and makes the bike feel less likely to endo. The extra confidence does come at a price, though; we found the front end tended to wander more than we like on climbs. For the gravity riders out there who prefer descending prowess above all else, this is the right choice.
The two "tweener" 20-millimeter and 30-millimeter rises were by far our favorites in the test, providing a perfect balance of front-end stability, climbing prowess, and descending confidence. Crewers were split between the two sizes, since they both provide a balanced feel on the bike, although the 20-millimeter-rise bar garnered the most praise and would be our recommendation for the largest cross-section of trail riders out there.
---
THERE ARE SO MANY WAYS TO GET MOUNTAIN BIKE ACTION