REVIEWED: MTB HOPPER PRO
Take your skills to new heights
The idea for the MTB Hopper sprouted only a few years ago. This team out of Vilnius, Lithuania, is composed of individuals with countless years of experience in various disciplines of cycling. After creating a plethora of prototypes that underwent some intense testing, the MTB Hopper portable bike ramp was released. Top pro athletes, including Cam McCaul, Wyn Masters, Danny MacAskill, Brage Vestavik, Bernard Kerr and Nicholi Rogatkin, can be seen pushing the potential of this fun tool. The MTB Hopper team believes this product can take training and events to another level. With models ranging from beginner to advanced, the company aims to inspire a perfect first jump while still catering to advanced riders pushing the boundaries.
Tech features: There are five main options in the MTB Hopper lineup to consider. The Intro is priced at $200 and is an ideal small jump for low speeds. The Lite comes in at $412 and can be carried around as a backpack and is intended to be a low-/medium-speed jump. The Coach, starting at $566, is designed to be a multi-purpose training kit perfect for both first-time jumpers and experienced riders. While this does add more to the price tag, it's worth noting that the Coach has an extension option to enlarge the ramp into a bridge/tabletop. The Pro is the option we tested. It retails for $707 with a wheel extension to easily move the ramp where needed. It is intended for airtime that requires higher speeds and is recommended for advanced riders only. There is also an option for extreme riders. Area 51 is priced at $1592 and is the tallest and most aggressive ramp in the MTB Hopper lineup.
Each MTB Hopper utilizes a truss construction design. Those unfamiliar with truss design might not realize that their own home likely uses this method. From an engineering standpoint, a truss is a structural member usually fabricated to form a series of triangles. The MTB Hopper's assembly and construction ensure stability and can still be adjusted with ease. The pieces are 100-percent water-resistant with a perforated surface to promote grip and do not get slippery, even when it's humid or wet.
Once unfolded, each ramp has a specific set of steps to follow for proper assembly. On the Pro that we tested, there were about 20 steps involved in getting the ramp ready for action. Although every section is numbered, assembly does take some practice. Once we got the hang of it, we were able to build the MTB Hopper Pro in under five minutes.
Field test results: We will start our field testing with a bit of a disclaimer: First and foremost, use this ramp responsibly. It is crucial to perform each step of assembly properly to promote safety. Second, it's best to train with another rider of a higher skill level to help you improve.
Overall, the MTB Hopper lets a rider's imagination run free. We mostly set up the jump right in front of our homes for some fun, but we also brought the MTB Hopper to our local park where we could jump down grassy hillsides. Not only did this provide a softer area to bail out while trying new tricks, it also served as a great meeting spot for others to join in. We will say that the Pro is a bit of a handful to transport alone without the wheel extension. While we were hesitant about the size of the Pro at first, we got comfortable with its functionality. It allowed us to progress quickly and develop new jumping skills.
We have been building ramps since we were kids, and any of the MTB Hopper ramps are a huge upgrade from the sketchy cinder-block and plywood ramps we were accustomed to. While we love the versatility and jump height the Pro provides, we would be just as happy taking flight off the Lite and Coach models. Sure, there is a bit of an investment up front, but it is worth every penny. At the end of the day, the MTB Hopper has become a creative tool for improving our riding skills. 
HITS:
• Large take-off for advanced riders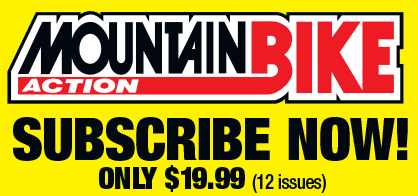 • Easy to assemble
• Folds up in minutes for transporting
MISSES:
• Cumbersome to maneuver alone without wheel extension
STAR RATING: ★★★★
Price: $707
Weight limit: 330 pounds
Dimensions assembled: 28.3″–35.4″ (height) x 31.5″ (width) x 84.6″ (length)
Travel dimensions: 29″ (width) x 31.5″ (length) x 6″ (height)
Weight: 57 pounds, 68 pounds with wheel extension
Contact: www.mtbhopper.com