TITANIUM TUESDAY: ALCHEMY'S AGGRESSIVE ARGOS HARDTAIL
A heavy-metal growler
Alchemy is a boutique brand out of Denver, Colorado, that makes everything from carbon full-suspension mountain bikes to electric gravel bikes. The newest addition to Alchemy's lineup is a 29-inch-wheeled titanium hardtail named the Argos. This handmade Ti bike got its name after a rugged section of trail near its headquarters. It features progressive trail-focused geometry and can be ordered with a long list of custom options.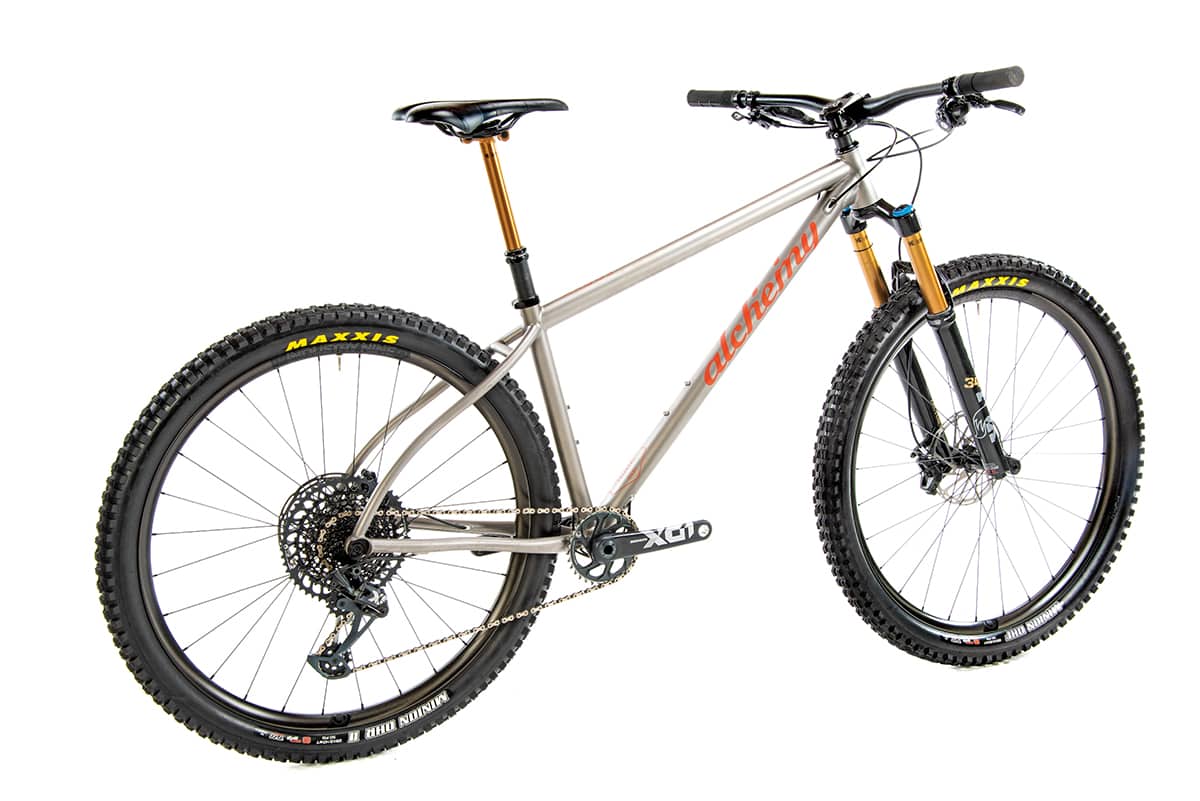 The internally routed cables give the Argos an elegant and clean appearance.
TECH
The Argos is handmade in Alchemy's facility in Colorado using custom-blended U.S.-made titanium tubing. It features progressive, trail-focused geometry with a 65-degree head angle, 75.5-degree seat tube angle and a 478mm reach on our size-large test bike. Custom geometry is also offered for those who want something a little different from the standard offerings.
There are a couple of key features that give the Argos an ultra-clean look. First, its integrated head tube features an internal headset with bearings that ride directly on built-in seats; there are no internal or external aluminum cups. This gives the head tube a sleek, clean look. Second is its use of internally routed cables and hoses. That's right, all lines are internal and it gives the bike very modern-looking clean lines. Inserts inside the cable ports bolt in to ease installation and service. The rear end of the bike looks unique as well with bent seatstays that completely surround the rear brake caliper within the rear triangle. Its bottom bracket is a very standard threaded style. A small gusset at the downtube/head tube junction indicates that this is a bike that's ready to party.
Alchemy's master welder, Jeff Wager, was formerly Serrotta's builder and has a lot of experience building Ti frames. He hand-shapes the Argos' S-bend seatstays without using a tube-bending machine—one of his signature techniques. Fun fact: when Wager is not crafting frames he is a growler in a metal band. For those who don't know what that is, it's exactly what it sounds like. He growls.
This bike's standard finish is bead blasted with Cerakote logos that can be chosen in seven colors, or you can go custom with prices starting at $500. Cerakote is a thin ceramic/polymer coating that is about 1/6th the thickness of traditional paint yet incredibly tough for a lighter finish that lasts longer. In addition to Cerakote, made-to-order custom paint can be ordered to complete the bike of your dreams.
COMPONENTS
The Argos starts at $4499 for a frame and tops out at $8299 with a SRAM AXS build. All builds get a Factory-level, 140mm-travel Fox 34 fork; Industry 9, 1/1 TR-S Carbon 29-inch wheels; and an aggressive 2.3-inch Maxxis Minion DHF/DHR tire combo. Our test bike is built with a SRAM X01 drivetrain, G2 R brakes and a 175mm-drop Fox Factory Transfer dropper seatpost. It also comes with an 800mm-wide Tag Metals T1 handlebar and is supposed to come with a 50mm-long, Industry 9 i35 stem, but ours had a 45mm-long Tag Metals T1 instead. The Selle Italia X-Base saddle might be one of the worst we have tried in quite some time. Nobody liked the narrow feel or slippery cover, so we swapped it for something more comfortable.
ON THE TRAIL
The Argos is a beast on the trail with an aggressive attitude that thrives in steeper, faster terrain. Its geometry lends itself to gravity-fed trails with a slack-feeling front end, long reach and low stance. It prefers smooth arcs through corners over squaring them off and is an absolute gas on flow-style trails. Because of the long front-center, weighting the front end takes more attention on flat turns without a berm to push against than steeper, quicker-steering bikes.
Although it has the signature Ti ride quality and feel, it's muted slightly by a stiffer, stouter feel. However, that's exactly what we wanted when gravity started reminding us who's the boss. The bike remained predictable and eager for speed right up to the edge of our personal limits. In spite of its rigid nature the rear wheel seemed to follow the trail well and took the edge off braking bumps and the noise out of trail chatter to some degree. A steep-feeling seat angle lends itself to long climbs, but it wasn't so steep as to hinder technical climbing abilities. Although this bike climbs well, it really does its best work on the descents and in tricky technical terrain. It may be no coincidence that it brings a heavy-metal growl-like aggression to the trail.