TITANIUM TUESDAY: BLACK SHEEP'S CUSTOM 32ER IS TOO WEIRD TO LIVE, TOO STRANGE TO DIE
Big wheels keep on rollin'
It's back! Our readers might remember the two Black Sheep models we tested from frame builder James Bleakley. Flashing back to 2016, Bleakley fabricated a massive 36-inch-wheeled titanium frame for us. Since then, Bleakley has discovered how to use a 32-inch wheel size to build on, and, best yet, we've had a long-term ride on this latest creation. Months after our initial review (MBA, August 2021), we're still riding it and still wrapping our heads around the big-wheeled beast. There's no missing this bike on the trails and although unorthodox, we've been surprised with how Bleakley's creation rides.
TECH
Geometry numbers come in a little different from other modern hardtail trail bikes, thanks to the big 32-inch wheels. This Black Sheep has a steepish 69-degree head angle, a 75-degree effective seat tube angle, and long, 452mm chainstays. Since no suspension manufacturer on the market offers a fork compatible with this wheel size, this frame receives a hand-built and completely custom leaf-spring titanium fork. If we had to guess, we'd say there are only a few millimeters of movement under impacts with this custom, full-titanium, leaf-spring fork. To be clear, while this is similar in principle to a Lauf leaf-spring carbon fork, actual movement is in no way the same. The reach on this custom bike measures just a hair above 421mm—that's short for a size large, especially when you compare it to other size larges in this group. With its 90mm-long stem, it fit our 5-foot-11-and-up wrecking crew well. Bleakley has welded hundreds of frames over the years, each with a specific rider in mind. His bikes feature customized geometry and sizes tailored to the rider.
This Black Sheep frame has a threaded bottom bracket, Boost spacing front and rear, and a split top-tube design. Thanks to a removable and adjustable rear end, riders can set up this frame as either a single-speed with a chain or belt-drive system, or a modern 1x multi-geared system of their choice. There is room to clear a larger tire than the stock 32×2.25-incher; however, it's important to be clear that there is a shortage of tire options. At the moment, 32-inch tire sizes are not on many bike manufacturers' demand lists. Luckily, Bleakley sources his oversized rims and tires from a unicycling company where he then laces them up to mountain bike-ready hubs.
COMPONENTS
From top to bottom, our Black Sheep is covered in shiny gold accents. Although this could be done for anyone who is building up this bike, this happens to be Bleakley's personal bike with his very own touches. Except for a few parts that are less common than others, like the fork and frame, the majority of the Black Sheep's components are interchangeable with parts common to most modern bikes. Our bike came with a single-speed setup but we converted it to and from a geared configuration a few times as well. Our test bike also came with two sets of Black Sheep titanium handlebars—one a riser and one a more curved, cruiser-type option. Some test riders found the curved bars that came with the bike quite comfortable, even when tackling off-road trails; however, most of the wrecking crew preferred the downhill stability and more confident riding position of the riser bar.
ON THE TRAIL
Because of its look and initial quirkiness to adjust to when riding, this bike is unlike anything else in our lineup. Truly, it stands on a world of its own. Was this machine made to stir up the industry and force riders to buy another wheel size? No. We feel it's designed to bring delight for a small segment of the riding population by providing a unique experience. Although some of us had our doubts, the 32-inch wheels do well on the climbs. This bike isn't cross-country fast on the climbs with the heavier rim currently made in this size. It's not quick, but it's deceivingly fast, especially when the trail lends itself to momentum. The Black Sheep likes to keep moving and hold its momentum to the power being put into the pedals. With a larger wheel, there also is a longer contact patch on the ground, providing a considerable amount of traction. Yes, even with the lack of aggressive tread, the tubeless unicycle wheels and tires provided lots of grip over everything short of mud.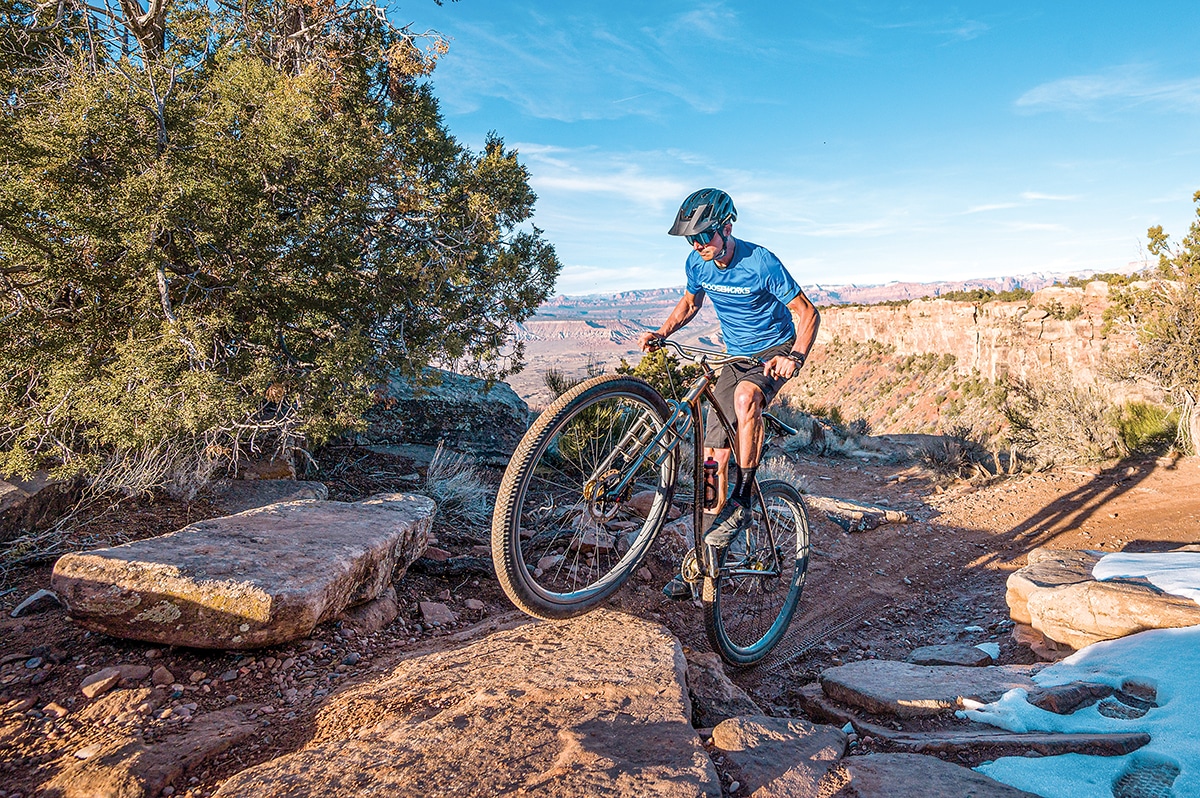 This long- and tall-wheeled bike can be a bit much to maneuver into very tight corners, but descending on a wide-open, all-mountain, rock-and-root landscape is where this hardtail became the smooth roller. The frame and fork have a resilient ride while the massive 32-inch wheels rolled right over obstacles with ease. What the bike seemed to love most was rolling down staircase-like trails, where its big wheels could handle the job of soaking up shelf-like rocks and roots. One rider experienced an odd chatter from the fork on extremely steep, high-traction situations where the front brake caused the fork to flex back and spring forward. This trail was out of the bike's scope of typical use, so most will not experience this, but we did.
With the rear end adjusted properly and securely fastened into the front triangle, there is little play, and it can withstand some hefty trail abuse or be just as efficient on a mixed-surface route to get into town. It's worth giving a torque check as there are just four bolts connecting the front and rear. We should also note that even the wrecking crew's best mechanics couldn't keep the chainstays' junction from eventually creaking. Overall, it may seem silly to include a bike like this in our test roundup, but titanium is such a supremely versatile material to build a bike out of that we couldn't resist including something off the beaten path. Bleakley's 32er is a great example of what can be done by the multitude of frame builders out there when you're not constrained by the limits of what a "normal" trail bike should be. If you give James a call, he can help you figure out the best bike to suit your riding needs and your imagination.