TITANIUM TUESDAY: SAGE OPTIMATOR REVIEW
Cross-country race mettle
SAGE OPT

I

M

A

T

O

R
Cross-country race mettle
With a 100mm fork and steep aggressive geometry, there is no mistaking Sage's Optimator for anything but a full-blown cross-country race bike. Its sole purpose in life is getting around a race course or from point a to point b as fast as possible. With trail-focused hardtails being all the rage as of late, it has been a while since many members of the wrecking crew had thrown a leg over such a titanium steed. Many of us wondered how it would stack up in a modern world full of composite designs. Sage's CEO and founder Dave Rosen was generous enough to loan us his personal Optimator so we could find out.
TECH
In a world where everything is getting slacker and seemingly more relaxed in the handling department, the 29-inch-wheeled Optimator's straight-gauge 3/2.5 titanium frame sticks to its hardcore race focus with a 69.5-degree head angle, 73.75-degree effective seat tube angle and short 42.5mm chainstays. Its geometry is designed and optimized for a 100mm-travel fork. Reach on our size-large test bike measured 421mm. It's worth noting that the Optimator is only offered in medium, large and extra-large sizes with 29-inch wheels. Smaller sizes feature 27.5-inch wheels.
The Optimator's frame comes with an English-threaded bottom bracket and a 44mm head tube that accepts press-in headsets. It has frame clearance for up to 2.5-inch tires—plenty of room for the newer generation, wide, cross-country race tires on the market. The standard finish is brushed with decals, but Sage says that they rarely sell that option any longer. Instead, most customers opt for one of Sage's custom-finish options like its ultra-durable Cerakote ($750 single color), anodized ($700), painted ($1,050), bead-blasted with masked graphics ($250), or with custom decals that start at $250. And, if you'd like to build one with your own parts, a frameset costs $4300.
COMPONENTS
Our test bike features a high-end build that Sage internally called the "Bangkok edition" build. This no-expenses-spared build comes with a 100mm-travel Fox 32 Step Cast fork with remote lockout and Shimano's XTR drivetrain and brakes. It gets the full Envo treatment, too, with King ISO hub equipped M525 wheels, an M5 carbon bar and M6 carbon stem. A surprisingly comfortable Sage Beccus saddle sits atop a 150mm-travel Fox Transfer dropper seatpost. A matching blue Chris King headset and bottom bracket tie together the blue King hubs and seat collar for a nice cohesive look. The cherry on top of this awesome build has to be the Cane Creek eeWings titanium cranks; they just look and feel right in so many ways.
ON THE TRAIL
With just one pedal stroke the Optimator's intent is clear—it likes to go fast and has a sense of urgency about it. This bike loves to climb—from long gradual climbs to short punchy ones it scoots right up. Power transfer is crisp and efforts feel directly connected to the rear wheel. Steering response mirrors this feel with a quick front end and tight-feeling rear. All it takes is a flick of the bars and a slight weight transfer to snap its way through tight corners. We expected a smooth ride and got it, but we were a bit surprised by the somewhat stiff-feeling rear end; there was no wag in this dog's tail, even under our hardest efforts or while charging rough descents.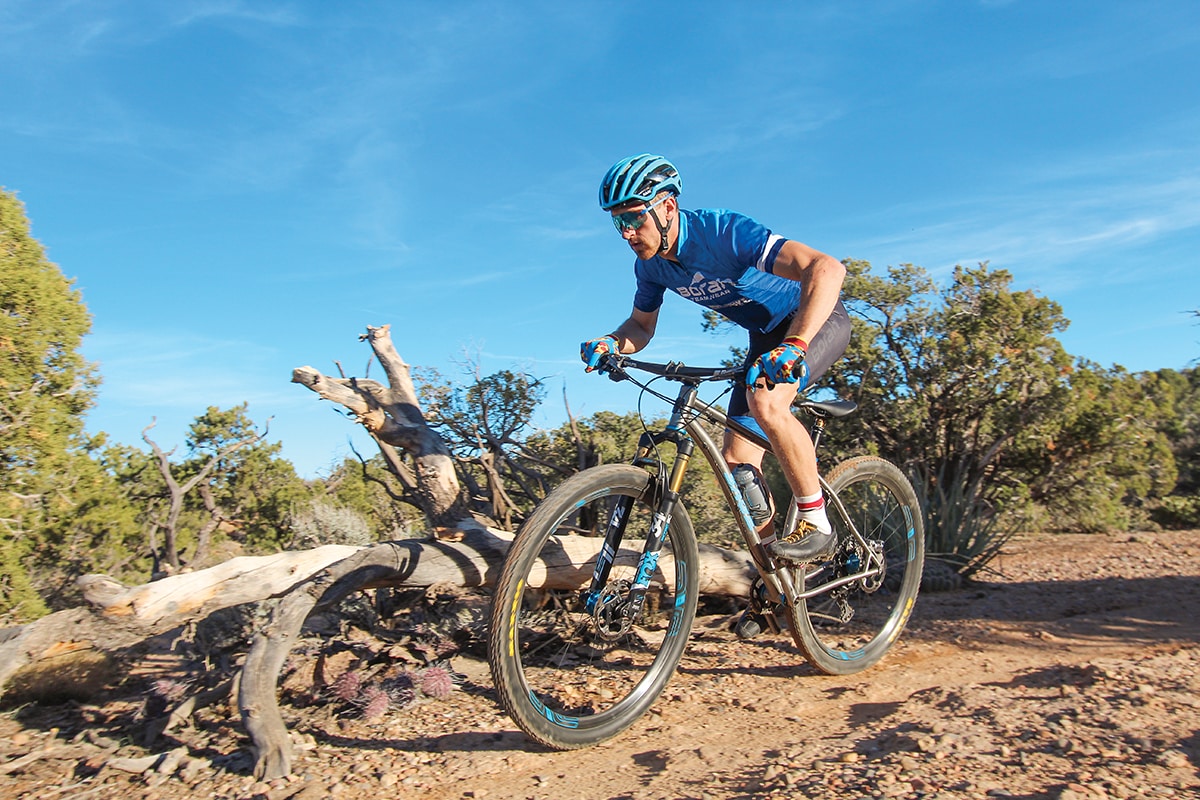 The front end, however, had a little more give to it. Sawing away at the bars like we were drag-racing to a World Cup finish line revealed a touch of windup in the front triangle. It didn't feel soft, but compared directly to similar race-bred carbon frames, it simply lacked the same rock-solid feel. There is a big upside to this compliance, however, and that's ride quality. Even over choppy uneven surfaces, the bike seemed to track extremely well and felt glued to the ground. It's ultra comfortable, too, and the longer the ride, the better it felt. It's simply less demanding to ride than some uber-stiff flyweight carbon frames. We didn't know what to expect from a modern Ti XC race bike, but every one of us was pleasantly surprised to find that it still has a place and is competitive between the course ribbons. The Optimator is fast, fun and as enjoyable to ride as it is to look at.