Mountain Bike Action Bike Test: Pivot Cycles Mach 6 Carbon Enduro Bike
Pivot Cycles

Mach 6 Carbon Enduro Bike

The Mach 6 has long been a favorite of the MBA wrecking crew for its aggressive nature, plush suspension and enduro ready personality. When we tested the first-generation bike, we were impressed with the low and slack geometry. When we tested the second one, we loved the improvements to the cable routing and aesthetics. Now, with the release of the third iteration, we had to wonder if Pivot could improve on a bike that we already thought was nearly perfect. This is the third-generation Mach 6 test.
Quick Tech
160mm Fox 36 Factory FIT4 fork
155mm travel dw-lnk rear suspension
Carbon fiber frame and rear triangle
Shimano XTR drivetrain
Shimano XTR Trail brakes
27.5″ Reynolds Carbon wheels
$8,300
29.2 pounds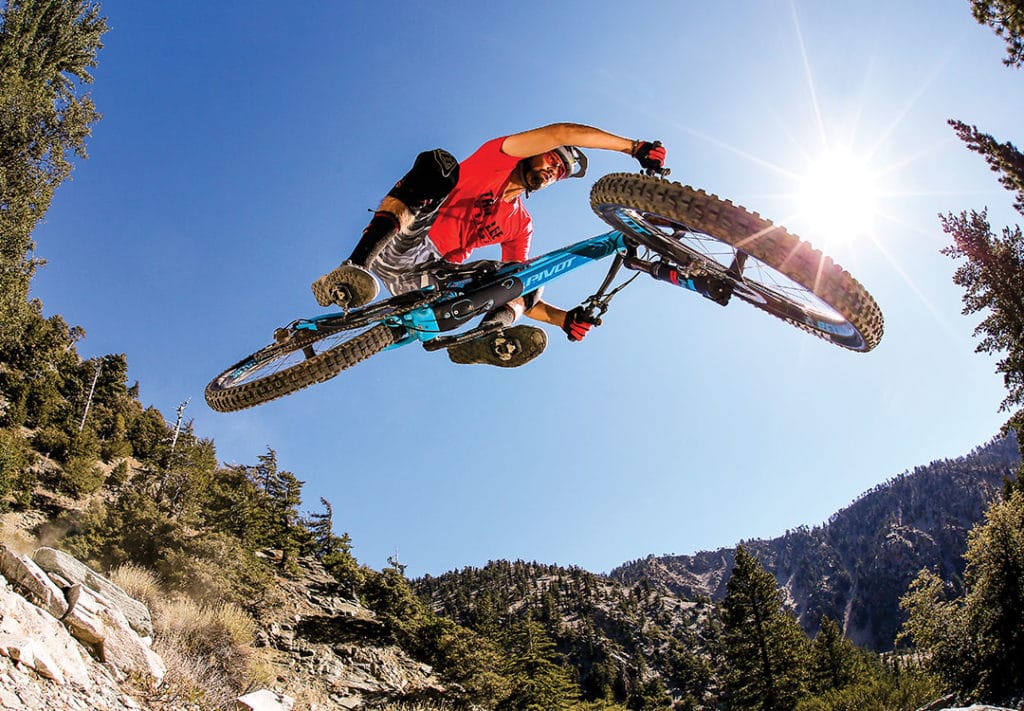 WHO IS IT MADE FOR?
The Mach 6 fits in comfortably between the Firebird and the Mach 5.5. Whereas the longer-travel Firebird is best suited for bike-park laps and the 5.5 is a lightweight trailbike, the Mach 6 could be used for either and perform well. It's an enduro bike first, but it doesn't have to be confined to the enduro racecourse to be happy.This bike sports enough travel to hit gnarly trails, yet is light enough with a tight-enough geometry that it is not afraid to climb to the top of the hill. While the intended purpose is identical to the previous-generation Mach 6, the execution allows it to work better for a wider range of applications.
WHAT IS IT MADE FROM?
The new Mach 6 keeps the same carbon construction top to bottom, held together with aluminum links that deliver the 155 millimeters (6.1 inches) of dw-link suspension. Pivot uses a high-modulus carbon blend with its hollow-box, high-compression internal molding process, which is really a fancy way of saying, "It's a high-quality carbon frame." The Mach 6 comes with fine touches like internal cable routing throughout.
WHICH COMPONENTS STAND OUT?
Pivot builds its bikes with a variety of build kits. Our XT/XTR Pro kit came decked out with XTR shifting and braking, Reynolds carbon wheels, Fox suspension and a Fox dropper post, and Maxxis  Minion tires. All of these are tried-and-true performers we wouldn't complain about on any test bike. Pivot's house-brand Phoenix handlebar also comes pre-cut to work with the WTB PadLoc grip system, which is a nice addition if you like those comfy grips. Pivot also offers multiple shock options to handle the rear suspension details. Our bike came spec'd with the Float DPX, which worked well. We also experimented with the Fox Float X2 shock during our testing (a $200 upgrade), which offers more adjustability for all of you suspension tinkerers out there. Both shocks worked flawlessly, and unless you are extremely finicky about suspension setup, we'd be hard-pressed to recommend upgrading from the stock, and less expensive, DPX.
HOW DOES IT PERFORM?
Setup: Thanks to the included sag guide and the simple airsprung Fox suspension, the initial setup was easy. We landed at 30-percent sag with slightly less in the fork, which worked well. We also experimented with the new ShockWiz system on this bike, which helped us fine-tune everything from air volume to damping rates. Flip to page 62 in this issue to hear how we extracted the most performance out of the Mach 6 suspension.
Moving out: Pivot builds the Mach 6 in five sizes—from extra small to extra large. If you can't make one of those work, you probably need a custom bike. Our stock size-large test bike fit true to size, as have our previous Mach 6 test bikes. The difference with the new version is a longer front end that allows for a shorter stem and improved handling.
Pedaling: With the dw-link suspension design, the pedaling efficiency of this bike is noteworthy. It seems that Pivot designed the Mach 6 suspension to be plusher than the suspension on some of its shorter-travel bikes, as well as plusher than that of many other dw-link bikes; however, Pivot did not throw the trademark anti-squat characteristics the dw-link is known for out the window. The Mach 6 pedals like a bike with less travel and rides close to the top of its travel, creating an efficient-feeling platform to put the power down.
Climbing: Thanks to a lightweight frame, top-notch build kit and some clever geometry tweaks, Pivot has built a bike that's not afraid to climb to earn the descents. The new geometry is improved over previous generations, with a steep 74-degree seat angle that puts the rider in an aggressive position right over the pedals. Smaller riders can even benefit from this improved geometry in every size, down to the extra small, without worry of clearance issues. As icing on the cake, the lightweight Reynolds rims and snappy Industry Nine hubs provide a responsive and lightweight wheelset that can handle long grinding climbs or short and punchy technical climbs with ease.
Cornering: Pivot claims the new Mach 6 is "longer, slacker and lower" than the previous generation. Our tape measure confirmed the longer part, and it certainly feels slacker on the trail. The lower part is debatable, as the bottom bracket on the two versions is nearly identical. That said, we were impressed with the second-generation Mach 6, and this bike improved on its handling. The third-generation Mach 6 has a longer front end that's more compatible with short stems, which quickens handling without compromising stability or riding position. The bike retains the already short rear end, which keeps the bike nimble and poppy in tight corners without forfeiting the high-speed stability a true enduro bike needs.
Descending: The climbing and pedaling efficiency of the Mach 6 has always been solid, but it's the descending prowess that keeps this bike in heavy rotation for the Mountain Bike Action test crew. The new bike sports improved geometry that makes it more than capable of handling the steepest chutes and gnarliest lines. The new-generation Mach 6 still loves to find the fastest lines on any enduro course when it's race day. It also loves to seek out the most fun lines when the rider isn't racing against the clock. What sets it apart is the improved and longer front end and lower center of gravity. This makes the Mach 6 feel even more planted on technical and steep lines, and allows the rider to feel centered on the bike, even when the trail gets rough. The combination of this dialed geometry, dw-link suspension design, and top-notch Fox fork and shock make for a bike that's always wiling to point down the hill.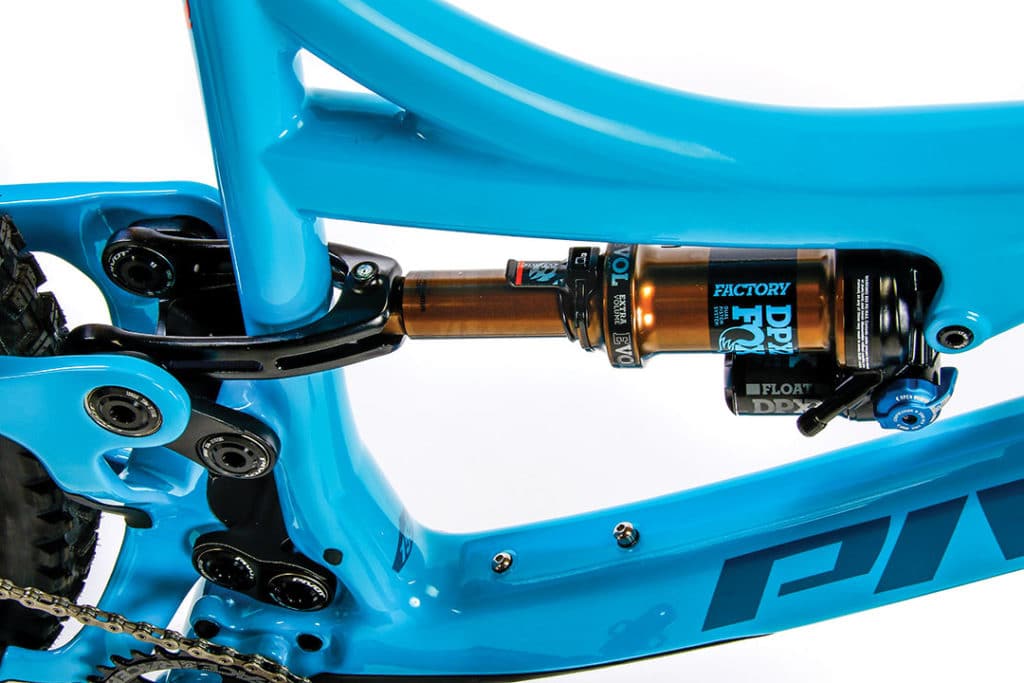 TRICKS, UPGRADES OR TIPS?
One of our main complaints with the previous-generation Mach 6 was the rattling cable routing for the dropper post. We even rode it with a fixed post for a while to avoid the racket. Pivot has solved this with bolt-on caps that hold the cable in place and prevent any noise. Do not get your generation-three Mach 6 without a dropper. There are several build kits available from Pivot to bring the price down on this bike. They even make an aluminum version with all the same geometry and suspension advantages as the carbon version tested to bring the price down even more. Bottom line: this is a high-end bike, but don't let the crazy-high price tag in the spec sheet turn you off immediately.
BUYING ADVICE
The Mach 6 is a true enduro bike in every sense, but that doesn't mean it has to be on an enduro racetrack to be happy. This bike works exceptionally well as an aggressive trailbike or even a light-duty gravity machine. It's versatile enough for the rider who only wants one bike to do it all because it's aggressive and light enough to handle both ends of the spectrum. The previous-generation Mach 6 was great and left little to be desired. This one picks up the crumbs the generation two Mach 6 left and truly improves on the concept. We claimed the last Mach 6 was perfect, so I guess we'll have to say this one is "perfecter."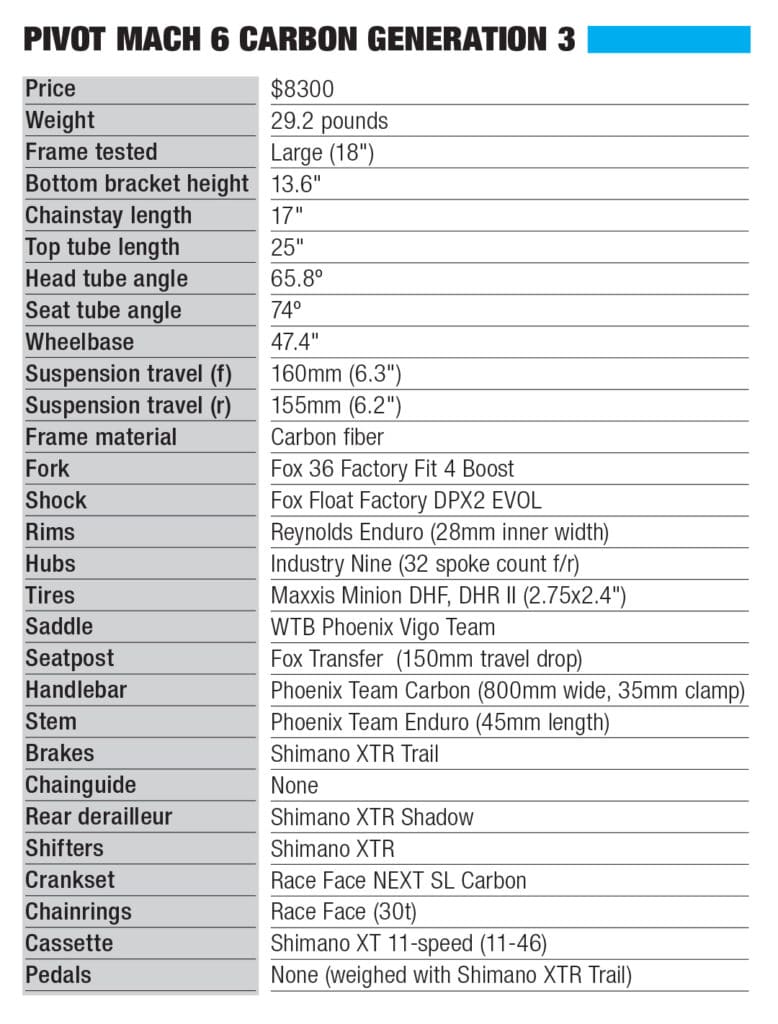 ---
THERE ARE SO MANY WAYS TO GET MOUNTAIN BIKE ACTION
Mountain Bike Action is a monthly magazine devoted to all things mountain biking (yes, that's 12 times a year because we never take a month off of mountain biking). It has been around since 1986 and we're still having fun.
Start a subscription by clicking here or calling (800) 767-0345.