FIRST RIDE CANYON SPECTRAL 125
CANYON'S NEW MOUNTAIN BIKE
CANYON SPECTRAL 125
Welcome the all-new Spectral 125 to the Canyon family. Canyon has intended for this to be its Swiss army bike and a quiver killer. We saw Spectral's all-new platform launch last year with multiple options from carbon to alloy with various component specs available for riders to receive a value-driven trail weapon. Sticking to their usual program, the German brand is doubling down on its commitment to creating the ultimate trail bike family with the five new models of the Spectral 125 launched today.
CANYON SPECTRAL 125 FRAME  AND GEOMETRY
Right out of the box, there is no denying that the Spectral 125 is a slack and aggressive short-travel 29er. While it's not our preferred terminology to describe a bike's capabilities, Canyon has deemed the Spectral 125 as, "a rowdy trail bike." It has 125 mm of rear travel that is meant to manage gnarlier terrain, even while being pumped through compressions and popped off every trail feature in sight. While 125mm may sound short, modern bikes should not be singled out on their capabilities because of their travel measurements. The progressive frame geometry, suspension quality, chassis strength, lightweight construction (reported to be 100 grams less on the carbon frame than its bigger sibling), and stiffness are all factors to determine whether a bike truly shines on technical singletrack.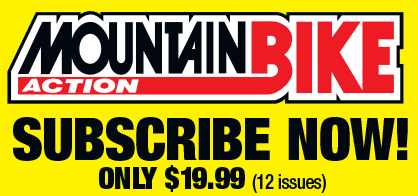 Using its longer-travel sibling as a base, the new 125 ups the playfulness with a more supportive suspension that is also great for climbing. The Spectral has also upped the efficiency numbers when it comes time to pedal, with more anti-squat on its streamlined frame. It also got a rather slack 64-degree head tube angle that is stable for going down, but to our surprise, in control on steeper climbs as well. While we were impressed with the Spectral 125's comfort in going uphill, this is a bike that wants to get playful (and borderline wild in the right hands) on even the flowy mellow trails. At just 2,500 grams, the Spectral 125's full-carbon chassis is impressively light. The Canyon team was able to optimize the carbon fiber layup and reduce the frame weight while giving the short-travel Spectral the same Category 4 strength rating as the enduro-race-winning Strive. The high durability and stiffness may make it less forgiving on big hits, but those same traits also allow rowdy riders to push the Spectral 125 and defy the limits of what a "trail bike" is defined as. Just like the longer-travel Spectral, all CF models use double-sealed bearings, replaceable thread inserts, full internal cable routing, and a flip-chip geometry adjuster that lets riders tweak their headtube and seat tube angles by a half degree and raise or lower their bottom bracket by 8 millimeters. On our first ride, we had the bike set in the low setting as this seemed the best for the steep terrain we were going to be riding. Although we've been on the carbon version, we are impressed with what the AL version of the Spectral 125 has to offer. Coming in with a weight of 3,000 grams for the frame, the alloy bike was designed to take its carbon sibling's characteristics while maintaining the same bombproof Category 4 rating. Keeping things simple, it's worth noting that the alloy version loses the geometry-adjusting flip-chip, but keeps the slack head angle and low bottom bracket numbers used in the Spectral 125's LOW setting as well as the steeper seat tube angle provided by the HIGH flip-chip setting to mix both worlds. Toss in a value-oriented spec, smart cable routing, steel pivot threads, and you get a remarkably capable machine for the hit to your wallet.
The AL chassis is designed to replicate the ride qualities of the CF platform. Simple, reliable, awesome, and affordable.
Canyon is offering five different Spectral 125 models with today's launch: two alloy models and three carbon versions. The Spectral 125 range starts out with the Spectral 5 and its steadfast alloy frame, Shimano Deore groupset, RockShox 35 Gold fork, and tubeless-compatible tires and rims. The flagship Spectral 125 CF 9 is kitted with wireless GX AXS transmission, Fox Factory suspension, and light but tough DT Swiss XMC 1501 carbon wheels. Riders looking for something in between will have plenty to choose from.
CANYON SPECTRAL 125 FIRST RIDE IMPRESSIONS
Rather than "rowdy," our wrecking crew preferred to categorize the all-new Spectral 125 with a more approachable term like, "limit defying." To put it simply, it's without a doubt a trail bike that can be pushed to almost enduro-bike limits, yet it's lightweight with just the right amount of pedaling efficiency to take on cross country-esque trails or all-day rides. In the right hands, we could turn our typical flow trails up a kick with the Spectral 125's playful feel. Our CF 8 test build comes in at a great value and there is little to complain about for $5200 that this build comes stock with. It offers a full Shimano XT drivetrain and brakes, a proven DT Swiss XM1700 wheelset, a Fox 36 Performance Elite fork with 14omm of travel, and a Fox Float X Performance shock to top things off. Our crew hasn't spent much time yet aboard this machine, but so far, we are really liking what the Canyon 125 has to offer a rider who wants to ride aggressive trails. It's been a poppy bike to whip around our local spots and dive down steep terrain with its modern slacked-out and low geometry, but we'll have more details soon with our full breakdown and review. Stay tuned, fellow riders!
---