Product Test: Magura MT7 Brakes
Magura brakes can be seen on the bikes of pro riders and amateurs racers alike due to their precision control and customization. The MT7 from Magura features a wide range of customizations, which we had a first-hand experience with when we visited Park City, Utah, to meet with Magurasponsored athlete Eric Porter. Our goal was to try out two different levers, as well as two different pad options to see just how customizable the MT7s really are. With some pro tips from Porter, we installed the MT7 to our Santa Cruz Bronson from this month's test fleet and headed out for a few days of riding on the trails.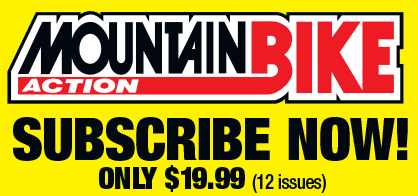 Tech features:
Magura's MT7 brakes are packed with cool features that set them apart from other options on the market. What is likely to grab your attention first, however, are the large four-piston calipers Powerful brakes with excellent customization that use two sets of brake pads to modulate speed and help keep riders in control. The pistons are magnetic, helping to keep the pads in place during the installation process—a highly sought-after feature by all of our test riders. Magura offers multiple lever options—from carbon to aluminum, and one- or two-finger lengths. Swapping out the levers is a quick and painless process, but is best done in the shop, not out on the trails.
During our testing we tried two lever designs—from a simple aluminum twofinger lever with reach adjust to Magura's top-tier HC3 levers that offer further adjustability. We then experimented with Performance brake pads, as well as Comfort pads.
Magura offers ShiftMix adapters so riders can run Shimano or SRAM components on the same clamp to provide a cleaner look to the handlebars. The MT7's retail price is $235 each without rotors and weighs in right around 255 grams.

Field test results:
Once the MT7 brakes were installed on our bike we looked to customize them to best match our needs and riding style. We also focused on aesthetics by replacing the caliper covers with ones that closely matched the color of our bike. Riders who live for small details like that can also replace the rear clamp with various color options.
Out on the trail we noticed the longer two-finger levers provided an extreme amount of leverage, making it easy to lock up the brakes on demand. We only used one finger towards the outside of these levers, and while they offered tons of power, their reaction time seemed a little slow. Once the HC3 levers were installed, we noticed a huge jump in performance that allowed us to quickly find the braking power we were looking for. Furthermore, the HC3 levers offered additional adjustments that made them more ergonomic.
Our testers then decided to swap out the Performance brake pads, which had offered a strong and constant braking feel with Magura's Comfort pads. After more laps down the trails, we noticed the Comfort pads tended to be a touch quieter and appeared to offer longer durability, but provided our testers with less bite. Our tester riders preferred the shorter-composite HC3 levers over the two-finger aluminum ones hands down, but were torn between which brake pads were best. Ultimately, it comes down to personal preference whether the rider wants a strong initial bite or improved durability. Regardless of how you set up your Magura MT7 brakes, we believe you will enjoy their superior performance and engineering.  www.magura.com
---
THERE ARE SO MANY WAYS TO GET MOUNTAIN BIKE ACTION