STOMPCYCLES STOMPUMP REVIEW – PUMP SMARTER NOT HARDER
A different take on trailside tire inflation.
STOMPCYCLES STOMPUMP REVIEW
Tech features:
The Stompump is a fairly compact, high-volume foot pump. Instead of using your hands to inflate a tire, you can now use your leg and body weight to accelerate the process. The pump is made of machined aluminum with a large 25mm-diameter piston that moves about three times more air than a typical hand pump. At the end of its coiled hose is a head that can fit Schrader or Presta valves with a simple swap of the adapter end. It includes a frame mount, frame-protector pads and a hook-and-loop strap.
Field test results: Some of our testers chuckled when they first saw the Stompump, but the laughs stopped after they tried it. Most of us have wrestled with a hand pump on the trail. Even the best ones can give your arms a forearm-pumping workout. This small pump not only eliminates the burn, but inflates very quickly and with surprisingly minimal effort. The hose and fittings are very good quality—better than we see in most hand pumps—and the overall construction is very robust.
We would use this pump exclusively if not for its shape and storage constraints. Not only are we not willing to give up a water-bottle cage spot, but vain testers did not like the bulky look on their bike. It fits in a hydration pack but not quite as well as a long, skinny mini-pump. Our favorite spot for it is in a fanny pack where its shape seems to fit nicely.
HITS: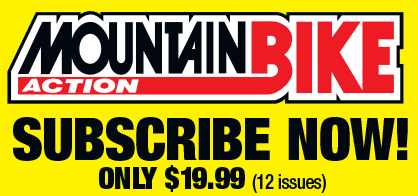 • Effectively fills shocks and tires
• Easy-to-read, accurate gauge
• Well built
MISSES:
• Can unscrew loose Presta cores
STAR RATING: ★★★★½
Price: $70
Contact: www.stompump.com