XC GEAR HAMMERHEAD 360 STEM REVIEW – IMPACT AND VIBRATION ISOLATION WITH A FEW DRAWBACKS
Taking the edge off.
XC GEAR HAMMERHEAD 360 STEM REVIEW
Tech features:
In 2014, XC Gear founder Lance Smith developed an idea for a completely free-floating handlebar mount with no metal-to-metal contact to enhance comfort for motorcycles. The design is capable of absorbing vibrations and impacts in all directions. After proving the concept, he later created a version for mountain bikes.
This second-generation stem features two large outer clamping areas that house polymer rings. In between these is another bar clamp with a protrusion that extends into the stem body called the "Shark Bite," which controls bar rotation. The cavity that the Shark Bite goes into houses another polymer ring that, in conjunction with the large outer rings, completely isolates the bars from the metal stem assembly.
The stem includes three different durometer rings and two different durometer Shark Bite inserts. It is recommended that the polymers be replaced annually to maintain performance, because they have a tendency to harden over time. The stem is only available in a 40mm length and for 31.8mm bars. For an extra $20, you can also have the stem personalized with lettering up to eight characters.
Field test results: Installation is not overly complicated, but it takes roughly three times as long as a normal stem. You need to follow the instructions, because installing the components in the right order is key to a smooth process. We did notice a tendency for the outer strap bolts to want to cross-thread. Take care to ensure everything is aligned and straight.
It was immediately noticeable that something was different with the front end of the bike when riding with the Hammerhead stem. It is extremely compliant and does an incredible job of isolating vibrations and small impacts from the rider's hands. Because the bars are isolated and can move in every direction, riders could feel some deflection when pedaling hard out of the saddle; however, they were otherwise unnoticeable except for the comfort they provided.
The longer and rougher the descent, the more we appreciated the benefits and lack of fatigue in our hands. Steering and overall bike handling were very normal. There wasn't enough deflection to cause vagueness in the steering. We tried all the elastomer combinations but ultimately preferred the aggressive green outer rings with the orange Shark Bite insert.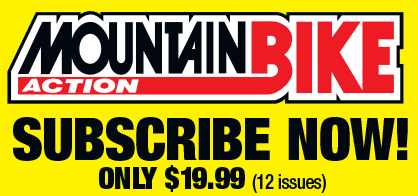 The two biggest drawbacks of this system are weight and bar size. At 368 grams, the stem is roughly twice the weight of normal versions, and it is only available in a 31.8mm-diameter bar size. We actually like the smaller diameter. Some of the wrecking crew prefers it to the larger 35mm size because it tends to be more compliant; however, bar choices are far fewer in the smaller size.
HITS:
• Extremely compliant
• Tunable
MISSES:
• Heavy
• Bulky looking
• 31.9mm bar size only
STAR RATING: ★★★★
Price: $300
Weight: 368 grams
Contact: www.xcgear.com